Jennifer Powers peered around a metal stick man in Downtown Longview, investigating the figure frozen in mid-weld of a flag pole.
As she scrutinized the city's newest sculpture, she delighted in the details. Among her favorites were a replica bubble level made all of metal, and "all of the little 'Easter eggs,' " referencing people and groups dear to the artists, she said.
Powers joined nearly 50 other people on Saturday at the corner of Commerce Avenue and Vandercook Way for a first look at "Building America," a temporary addition to the Longview Outdoor Gallery designed and constructed by Lower Columbia College welding instructor David Pittsley and his student, Mark Speranza.
"We hope our sculpture fills you with the same sense of pride it fills (us)," Pittsley said just before unveiling the sculpture. "We hope it inspires future tradesmen … at this gateway to LCC."
The piece features a stick figure welder, scaled to size based on Speranza.
"We had him stand there like he was going to weld on this flag pole, and we used an angle finder to find every angle on his body," as a model, Pittlsey said.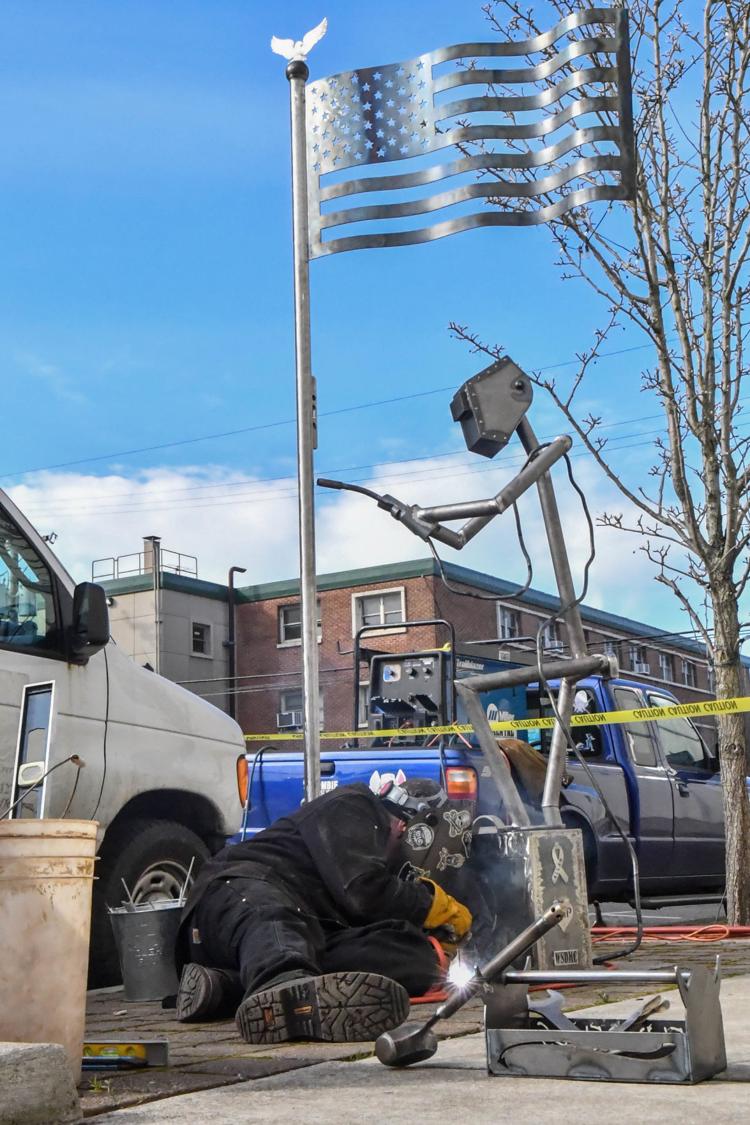 Hidden in the design are several small tributes to LCC and the people who inspire Pittsley and Speranza. For example, a cancer ribbon emblem on the side of the welding machine honors the late Allan Evald.
"I owe my whole entire career to Allan. He taught me how to weld," Pittsley said. Evald also led Pittsley to his apprenticeship with the union boilermakers, and later recruited Pittsley to take his place at LCC.
At the unveiling ceremony, Evald's widow, Sheri, gathered her family for a photo with the sculpture.
"I was aware of the tribute, but I wasn't expecting the welder. … I think Allan would be proud," she told TDN.
The artwork also moved Evald's daughter.
"My dad had this elaborate plan for a sculpture he wanted for campus, and it was going to be for veterans," said Amber Lemiere, who teaches language and literature at LCC. "Seeing the American flag aspect of it made me really happy."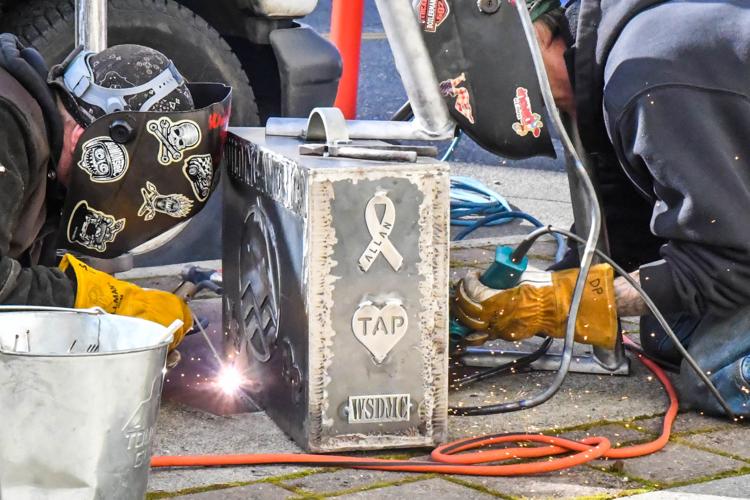 Pittsley pitched the idea for the sculpture to the outdoor gallery last July after his wife, Tanya, motivated him to weld a major art project. "Building America" is his first sculpture, though he's made trinkets and yard ornaments as the instructor of the college's metal art class, which he took over when he started teaching at LCC four years ago.
"(My wife and I) go on vacations all around the country, and everywhere we go, she finds … random metal sculptures. For years she's been telling me, 'Hey, you should do this. You can do this.' "
Pittsley recruited the LCC "Weld Devils" welding club to help, and Speranza showed the most dedication to the project, Pittsley said. All of the work had to be completed outside of regular class period; Speranza wanted to put in the extra hours.
"My goal here is to become the best welder I can be," said Speranza, who will graduate LCC's welding program at the end of this term. "Dave is an exceptional welder. He is a highly skilled journeyman, so getting the opportunity to spend extra time with him and soak up the knowledge he has to offer was an opportunity I didn't want to pass up."
The project was a valuable learning experience because there's no instruction manual for art welding, so a lot of the project was "learning how to think around a problem," Speranza said. Pittsley told his pupil he is someone who will be "a fantastic craftsman of your trade some day."
The sculpture cost about $500 and is made mostly of scrap metal and donated materials. It will stay downtown on display for about a year. Then it will return to Pittsley, who wants to install it permanently at LCC.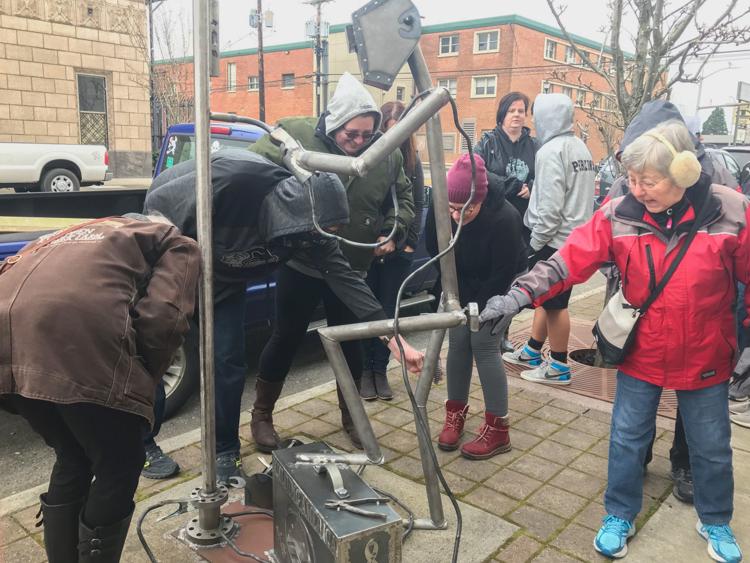 And Pittsley is planning a second sculpture to install across the street, where the Longview Outdoor Gallery is reserving him a spot, he said. He intends to once again recruit LCC students to help.
The artist is keeping the design under wraps for now, but he hinted that the second piece will have more Easter egg shoutouts, including a nod to "Building America."
"My plan is to do this until my career is done," Pittsley said. "As soon as one sculpture is done, I will pick the next student or two, and we will work on another one."
Get local news delivered to your inbox!
Subscribe to our Daily Headlines newsletter.