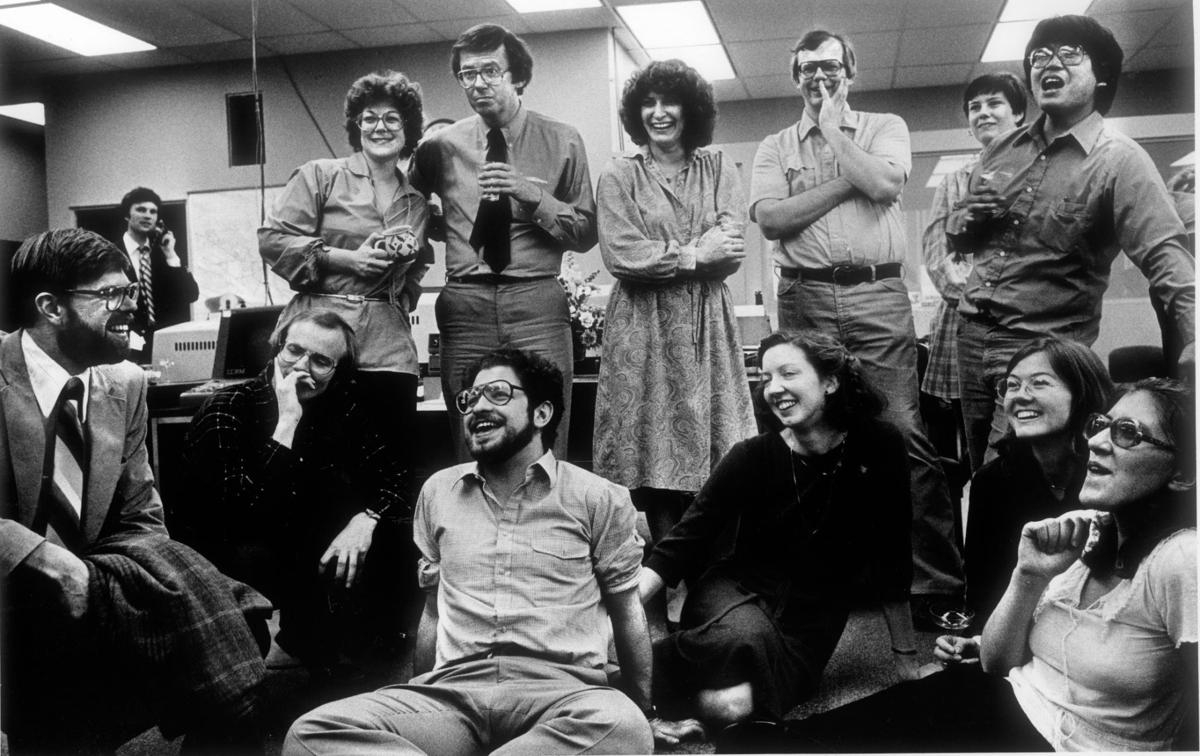 The Daily News bids a sad farewell today to longtime city editor Andre Stepankowsky. After more than 41 years at TDN, Stepankowsky is hanging up his red pen and retiring.
For many in the community and for the staff of The Daily News, Stepankowsky has become as synonymous to TDN as the paper and ink it's printed on. He leaves behind an impressive legacy.
Stepankowsky is ending his storied career at The Daily News on an especially high point. On Tuesday, the Washington chapter of the Society of Professional Journalists announced Stepankowsky would receive the June Anderson Almquist Lifetime Achievement Award.
"Although his contributions to the Pulitzer Prize-winning coverage of the eruption could have bought him a ticket to a more illustrious career at a larger newspaper, Andre made the conscious choice to stay in the Longview community. That decision set him down a path to becoming one of the greatest pillars of institutional knowledge in Southwest Washington and the heart of the newspaper," TDN staff wrote when nominating him for the award.
In his more than four decades with the publication, Stepankowsky has weathered many changes to both the newspaper and the industry. From frequently moving deadlines and a switch from afternoon to morning deliveries, to smaller pages and numbers of pages, Stepankowsky has weathered them all.
Stepankowsky began his long-running career at The Daily News in 1979 as a reporter. Not long after joining the publication came the story that would change his life: the eruption of Mount St. Helens. It was a story that would bring him recognition and earned the paper and staff a Pulitzer Prize. It was also a story that would stay with him his entire career. In the years since the eruption, Stepankowsky has become an expert on the volcano, writing hundreds of stories about the eruption, its aftermath and the mountain's future.
But there have been many other stories as well. Local government, local businesses, the Longview Wye, the EGT strike in 2011, the homeless crisis, local election results, the Kalama flooding in 2015, and countless breaking news stories, Stepankowsky has covered them all.
In recent years, Stepankowsky turned his writing talents to the editorial column. Along with serving on the newspaper's editorial board, he's also penned numerous columns on local issues. Stepankowsky often shared details from his personal life, like the 2016 column he wrote about the deaths of his two younger brothers. A 2018 column about the passing of his mother was especially poignant. Both columns resonated deeply with readers.
"While I've only worked with Andre for a very short period of time, it is very clear he is leaving big shoes to fill. His passion for mentoring and developing young journalists is second to none. Our paper and community are better for having had Andre at the helm for the last 41 years," said TDN General Manager David Cuddihy.
For the past 21 years, Stepankowsky has been the paper's city editor. Along with ensuring readers get the most accurate and thorough news delivered each day, he's also guided and shaped the careers of dozens of young journalists.
"His fierce passion for journalism inspired me and a generation of young reporters," said former reporter Rose Lundy, who left the paper earlier this year after being awarded a journalism fellowship in Portland, Maine. "Andre was much more than my editor. He was a mentor, role model, sounding board and friend. ... I hope to someday live up to the example he set."
Reporter Alex Bruell said he is one of the many Stepankowsky helped become a better journalist.
"Andre has newspaper ink for blood. No one with a shaky faith in the profession could have lasted 40 years at this paper," Bruell said. "He could always cut to the heart of a story and show a reporter exactly which questions they had put off asking and why they needed to get back on the phone and ask them."
Former reporter Marissa Luck, who now works at The Houston Chronicle, described working with Stepankowsy "like going to journalism boot camp or graduate school."
"I'm convinced his mentorship and support helped me grow as a journalist more than any other graduate class would have done. His influence reached well beyond the boundaries of the TDN newsroom. Andre helped teach a generation of young reporters how to dig deeper, ask better questions, build better sources and craft better stories." Luck said.
In the newsroom, he's also well known for his impromptu Shakespeare quotes, thorough knowledge of Russian history, command of Yankees statistics, and ability to relate modern-day issues to at least one episode of the 1960s "Star Trek" television series.
Although he's going to miss the "action" of bringing the newspaper to life each day, Stepankowsky said he's looking forward to spending more time with his wife, Paula, and grown children Nicky and Anastasia.
The Daily News is actively in the search process for our next editor. In the meantime current Features and Community Editor Nancy Edwards and Online Editor Shari Phiel will be picking up additional duties, while Andre stays on board part-time to aid in the transition.
Get local news delivered to your inbox!
Subscribe to our Daily Headlines newsletter.