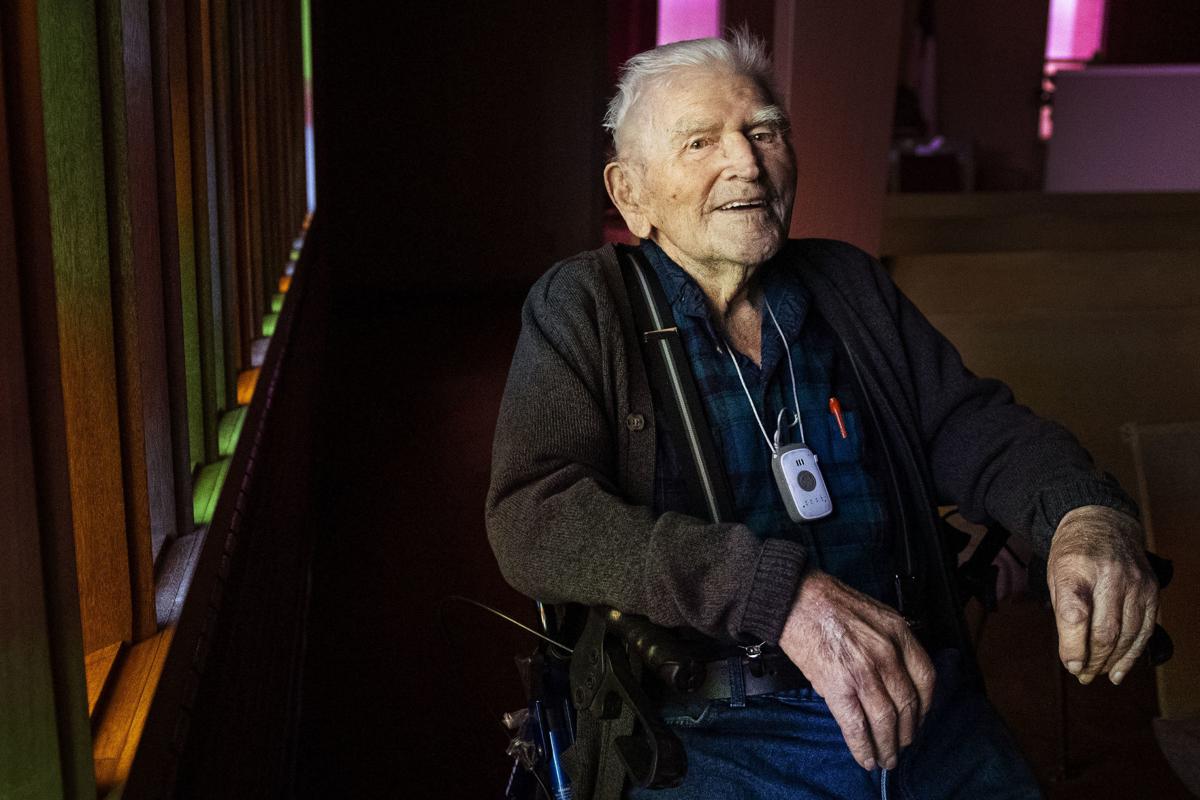 WOODLAND —When Charlie Ferguson attended Lower Columbia College, he ate lunch in the R.A. Long School cafeteria and studied in the Longview Public Library. LCC looked very different in 1935, said the 103-year-old Woodland resident, who is believed to be the only surviving member of the college's first graduating class.
When Ferguson joined the one-year-old school, the president was called the chancellor and most of the buildings on campus today were years away from construction.
"For P.E. we went down to the YMCA," Ferguson said. "That was nice because you would get to shower."
Ferguson was born in 1916 and graduated from Woodland High School in the middle of the Great Depression. His daughter, Margaret Beck, said high school graduates who didn't have a job lined up were allowed to return to WHS for a year of "enrichment" classes, which is what her father did.
After that, he scraped together enough money to enroll at LCC.
"I don't know how I got in, but I went down and got a job pitching sawdust," Ferguson said.
In exchange for staying in a family's spare bedroom on Florida Street, he would do lawn work and shovel sawdust deliveries into the basement. Back then, people used sawdust to heat their homes, he said.
"It was efficient and made the house smell really nice," Ferguson remembered.
He shoveled sawdust for a family a block and a half away in return for meals, too, he said.
"People were doing anything they could to help the students and keep the college going," Ferguson said.
He took chemistry, psychology and English classes, he said, and there was one instructor in particular who gave a small group of students extra help.
"There was one professor who took five or six of us on weekends and helped catch us up in chemistry," Ferguson said. "He said 'I'll get you up to speed.' I don't think he got paid for that."
That spirit of community support was the norm then, he said, especially in the midst of hard times.
"It was a different world," Ferguson said. "Things were cheaper. A shirt cost 37 cents."
Although when he was in school, he said he didn't even have a dime to buy a girl a Coca-Cola.
Instead, he told them tales of his wild travels, which he said seemed "fine by them." Ferguson habitually fulfilled his wanderlust by train-hopping. One time, he said he made it all the way out to New York City before buying a car and heading down to Mexico.
"In those days you would just get out in the road and put your thumb up and you'd get a ride," Ferguson said.
In 1937, he recalled a man picking him up and saying, "If you keep me awake, I'll take you to San Francisco." So off he went.
However, while he studied at LCC, he would also go home to his family's Woodland Bottoms dairy farm on weekends to help out. He said he had no problem balancing studies and work.
"I was used to long hours on the farm, so it was no problem to pitch the sawdust and then go up to my room (and study)," Ferguson said. "It was nice to sit and do my homework."
He typed out his essays on his grandmother's typewriter, he said, until an accident with some home-brewed beer ruined it. He said it was someone else's beer, but his daughter remembered differently.
"The stories change a little over the years," Beck chuckled as Ferguson denied involvement.
His classes usually had about 10 students, and "20 would be awful big."
There weren't many sports available to play then, and he said was "just too small". He used to play softball at noon, but that ended when he broke his collarbone. However, he liked swimming at the YMCA, because "then I didn't have to take a bath that day."He also took dancing classes.
"We hired a fellow to teach us how to dance, thinking it might come in handy," Ferguson said. "And it did come in handy at WSU, because there were sorority dances."
Even though he "had a suspicion I'd have a tough time transferring to a bigger college," after a year at LCC, Ferguson transferred to Washington State University to study agriculture. Then, it was called Washington State College, just as LCC was known as Lower Columbia Junior College.
Ferguson went on to run one of the last remaining dairy farms in Cowlitz County. He also served on the LCC Foundation Board from 1988-91. He also participated in the Woodland School Board, in the diking commission, the Port of Woodland, and with the Fire Commission.
He said overall, he felt fulfilled at school, but said it's important to remember that there are many facets of education.
"You want a balanced education," Ferguson said. "There's a little bit more to that now."
Get local news delivered to your inbox!
Subscribe to our Daily Headlines newsletter.