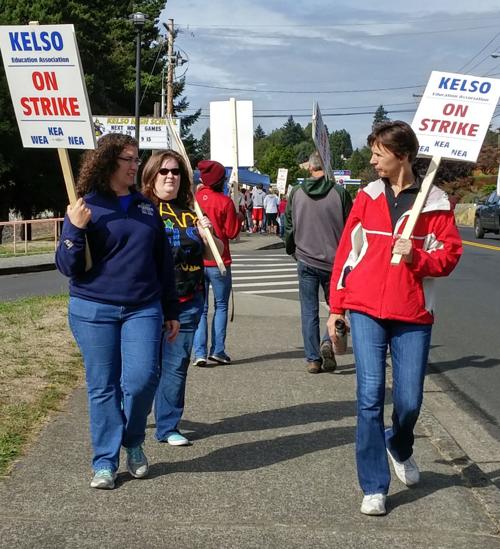 Editor's note: The percentage difference between Longview and Kelso teachers salaries that was previously reported was incorrect. In the 2014-15 school year, Longview teachers earned about 3 percent more than their Kelso counterparts.
Though there were plenty of smiles and laughter on the picket line Wednesday, Kelso special education teacher Sally Doss said she's not happy to be on strike.
"Nobody wants this. It doesn't feel good to not have your kids," said Doss, clad in red and holding a picket sign in front of Barnes Elementary School on Wednesday.
Kelso teachers went on strike Wednesday morning for the first time since 1972, closing down the district because the two sides could not agree on terms of pay in a new labor contract. The district Wednesday filed an injunction with the courts to forced teachers back to work, according to a district spokeswoman. A hearing is scheduled for 2 p.m. Friday.
The Kelso Education Association — which represents about 300 teachers — has been negotiating unsuccessfully with the Kelso School District since April and has been working without a contract since June.
By Sunday night, the district reported that it had agreed with the union on 30 contract issues, but salary remained a sticking point, even after a state mediator assisted three rounds of talks last week. A fourth round of mediated talks failed Tuesday, a day after the union voted overwhelmingly to strike.
Doss acknowledged that the strike could hurt her students academically and make it difficult for low-income families to find day care. But she said she feels she deserves to be compensated for extra time she's putting in. Doss said she stays for several hours after school every day to work and wants to be paid more for them.
"My kids are very scheduled. This takes them off their schedules," she said of her 12 special education students.
Barnes kindergarten teacher Karen James said she's not being paid fairly for the time she devotes to her job and for her education level. James has been teaching at Barnes for 16 years, has a master's degree and has been in public education for 30 years.
"I'm making what most corporations wouldn't consider ... a beginner's salary," she said.
While she said she's not teaching for the money, James said she still wants to be paid fairly for it.
"The workman is worthy of his hire," she said.
James makes a base salary close to $63,000 a year and said as a single mom of a foster child, she struggles to make ends meet each month.
"I've had a lot of opportunities to leave," she said of her jobs at Barnes. "I don't want to."
James said because of the raises administrators have received in recent years and because the district maintains a cash reserve of 8 percent, she believes the district has money to share.
School Board President Patty Wood said while administrators have received raises, teachers receive automatic salary-step raises as their classroom experience and education increase, and they have received pay for several more non-teaching work days over the years.
Teachers have criticized the board for not having one of its members on the district's negotiating team (which now only consists of Finance Director Scott Westlund and Human Resources Director Jenae Gomes). Wood said it's not a common practice across the state to have a board member at the bargaining table. Wood said she feels that the board has been active every step of the way and added that none of the current board members has ever sat in on KEA negotiations.
"We know everything that's happening," she said. "They're (Westlund and Gomes) following our wishes."
Wood added that she doesn't know that the district can offer raises any higher than it already has, especially considering the cuts that those raises would necessitate and that are worrying to her.
"What we're offering them is unprecedented in the history of Kelso. It will bring them up to and surpass Longview (salaries) in two years," she said. "We have the duty and responsibility to be fiscally responsible. ... We know that we gave a fair and competitive offer."
Nancy Karnofski was picketing in red Wednesday outside Kelso High School. The special education teacher said she would be willing to leave the district if pay issues aren't resolved by the end of this school year.
"I could go to Toutle Lake and have a job and be treated fairly as far as pay," she said.
Karnofski said the public doesn't understand the amount of time teachers are not reimbursed for, especially over the summer to boost their teaching credentials. For example, Karnofski said to become qualified to teach in another subject area, it would cost her an estimated $2,000 to $3,000 out of her own pocket.
Kelso school psychologist Jake Alabiso said the district's offer of pay raises isn't high enough considering his work load. Alabiso said teachers deserve more than the district's offer to pay for four extra days teachers are already working this year under a 2014 state mandate that requires they spend more time with students.
The state gave teachers a 3 percent raise this year and a 1.8 percent raise next year, but teachers are asking for more after six years without state-funded cost-of-living increases (though teachers still receive step increases).
"When you are doing such hard work that is absolutely necessary, feeling supported by your district is necessary," he said. "When we don't feel that we're supported, it's a resource question. It's about allocation. … They have the money. Why won't they support us?"