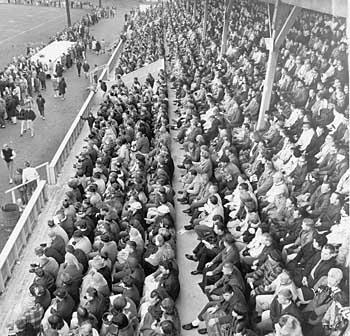 1887: Kelso's first school is held in the home of city founder Peter Crawford, where Third and Columbia streets are today.
1888: First public school house is opened for grades 1 through 8, where the Cowlitz County Administration Building stands now.
1891: New public school building, known as the Columbia Street School, is erected near Seventh and Columbia.
1905: Kelso's first accredited high school classes begin at the Columbia Street School.
1909: First senior class graduates from the Washington School, formerly the Columbia Street School.
1922: The "new" Kelso High School at North Seventh and Academy Street is completed Oct. 7. Two years later Carl Puckett Junior High is built adjacent to the school.
1936: Junior and senior high schools are joined together thanks to federal grant.
1956: Huntington Junior High is built in North Kelso and Carl Puckett Junior High becomes part of the High School.
1970: Kelso High School on Allen Street is built and classes were moved there.
1977: Stadium at Schroeder field on Allen Street burns down. Kelso games are held in Longview
1979: Kelso's new Schroeder Field is opened at the high school campus; the old Schroeder Field is eventually sold to the state for office buildings.
1980: Mount. St. Helen's eruption shuts down school for a week.
1983: Kelso wins class AA state football championship with 28-7 win over Sedro-Wooley.
1987: Old Kelso High School on North Seventh and Academy is torn down.
2004: Students return to a remodel school in September. The $29.9 million, two-year remodel included pool improvements, a new gym floor and bleachers.
2007: School unveils 27-foot-long mural featuring pride, football and diversity above Kelso High School's commons.
2008: School graduates its 100th senior class.
Be the first to know
Get local news delivered to your inbox!