Keep doing what you're doing, Gov. Jay Inslee told staff and students at Lower Columbia College on Friday.
The governor toured the college to learn about how it's shortening the path between high school and college degrees. He commended LCC's University Center, through which LCC students have access to more than 10 bachelor's degree and two master's degree programs. Inslee said the center, opened in 2013, is a way to discourage brain drain by providing higher education that keeps workers close to home.
"There's no better way to get people up the ladder than this," he said.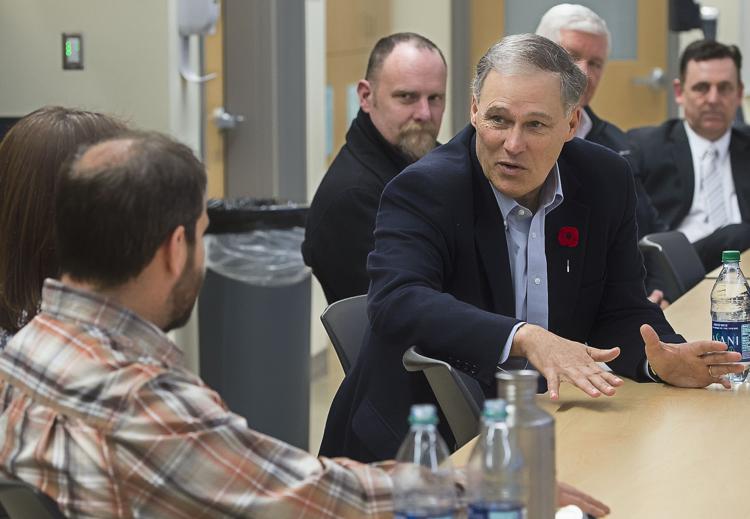 According to the latest U.S. Census data, only about 15 percent of Cowlitz County residents over 25 have bachelor's degrees, half the state average.
LCC President Chris Bailey hopes the University Center will change that. Students earning bachelor's and master's degrees at the University Center generally do so in the same amount of time as students who earn them at the four participating four-year schools. By eliminating the need to move, some students can cut the total cost of higher education in half.
Through the University Center, Eastern Washington University offers LCC students degrees in interdisciplinary studies, business and children's studies. It started a master's in business administration program this year.
"This is not my generation's education," Eastern Washington University assistant professor Heidi Connole told Inslee about the MBA program. "We're a 'buy-local, think-global' kind of program."
Five students from the University Center spoke to Inslee about their experiences. Among them was Mindy Leasure, a mother of two who finished her bachelor's degree 10 years ago and who is now getting her master's in organizational leadership from Warner Pacific College at LCC.
"I just couldn't figure out how to do that (go back to school)," Leasure told Inslee.
Inslee also praised the college's Running Start program, through which high school students get college credit for classes taken at LCC.
Five Running Start students met with Inslee in the recently built Health & Science Building and spoke about how the program has benefited them.
Inslee was pleasantly shocked to hear that before they graduated high school, the students will have earned their associate's degrees through the Running Start program.
"It's hard, yes, but it's manageable," R.A. Long student Ashley Hall told Inslee.
"You have to be committed," R.A. Long student Rose Wilson said.
Inslee said the state needs more programs like Running Start and the University Center.
"The more we can replicate your experience, the better," he told the Running Start students.