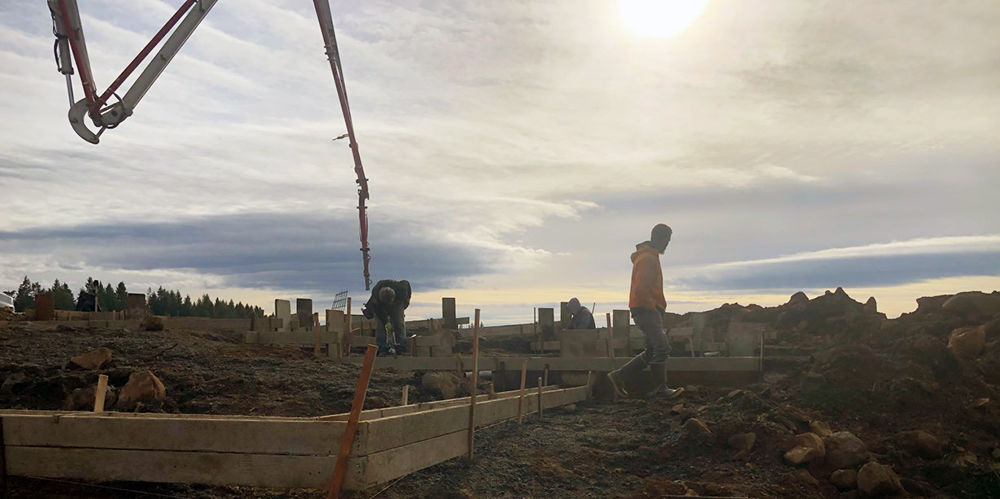 Homebuyers could see thousands of dollars added onto new home costs by revised state building codes.
Industry officials estimate that new state energy-efficient standards and other updated building codes, which both took effect Feb. 1, could increase the price of new construction up to $20,000.
Eric Pucci, who owns the home builder New Rock Homes in Longview as well as RE/MAX locations in Longview and Chehalis, said evolving state standards hinder locals' ability to afford homes, particularly in today's tight market, made tighter by the pandemic.
"I've been in the real estate business for 25 years, and we're seeing more and more regulations, which equals more cost," said Pucci. "Home ownership is getting out of the grasps of more and more people's hands."
Pucci said about four of his Lewis County clients can no longer afford their planned homes due to the state changes.
Pucci said builders with plans to place heating systems in garages couldn't afford to pay extra to redraw designs, now that energy codes require systems to be inside homes. They also couldn't afford pricier equipment like heat pumps.
Janelle Guthrie is with the Building Industry Association of Washington, a nonprofit that supports home builders and the housing industry.
She said installing heat pumps and air handlers — which recirculate warm and cool air as opposed to producing them like furnaces or air conditioners — can cost builders an additional $5,900.
Guthrie said the state's insulated-compliant windows can cost an additional $1,800.
Home additions are subject to the new energy-efficient codes, said Pucci, but not existing home features, like replacing hot water tanks.
The state's energy efficient standards are based on a system that awards points for home features that reduce energy, like added insulation. Homes need a state-regulated number of points to be built.
Under the updated codes, points increased by 1.5 for homes 1,500 square-foot and under; 2.5 for homes above 5,000 square feet; and 2.5 for homes in between.
Guthrie estimates the energy efficient code upgrades, alone, will cost an extra $10,000 per home, while updating other codes like plumbing and fire will cost another $5,000-$10,000.
The pandemic has fueled high demand for an already low inventory of area homes, according to brokers.
Remote workers are moving out of the city to lower populated areas like Lower Columbia and the Federal Reserve lowered interest rates to boost the economy which makes housing more affordable.
Diane Lokan, real estate broker and co-owner of John L Scott Real Estate based in Longview, said remote workers are looking to leave the city for the country where their dollar goes further, but there are fewer options.
"We have far more buyers now than we do listings," said Lokan.
A report by Northwest Multiple Listing Services, a membership-based not-for-profit comprised of real estate brokers, shows that available Northwest MLS houses and condos on the market in Cowlitz County declined 43% from 2019 to 2020.
Northwest MLS listed inventory across the state averaged about one month in 2020, as opposed to what the report calls "a balanced market," which favors neither the buyer nor seller at four to six months.
Lokan said low listing inventory has been trending in the Lower Columbia region for a few years.
Available homes staying on the market for only a month means there is a high demand, which can lead to bidding wars among buyers.
The Northwest MLS report stated that Cowlitz County's median sold price of homes and condos rose about 11% from 2019 at $275,000 to $305,000 in 2020.
Even with rising costs, Lokan said interested buyers who were previously priced out of homes can now afford to buy thanks to interest rates as low as 2.5%.
But builders are paying more. Increased construction has upped material prices. Pucci said "lumber specifically has skyrocketed this past year."
He estimated his New Rock laborers have built 30% more houses in 2020 than 2019. They also do a little remodeling, particularly for homebound homeowners with free time during the pandemic.
"It's easy, when you're sitting in your living room, to think of the changes you want to make," he said.
The new building codes took effect after a six-month grace period that Washington state Gov. Jay Inslee gave builders to prepare for the price increase during the economic crisis caused by the pandemic.
Many builders expected the start to be pushed back again until July, but Inslee vetoed the Washington State Building Code Council's extension in January to have the codes take effect Feb. 1.
Guthrie said the codes' start date should have been postponed.
"[An extension] would have provided a little more relief at a time when the economy is still struggling, the supply chain has been disrupted, people are working remotely and housing supply is already failing to keep up with demand," she said.