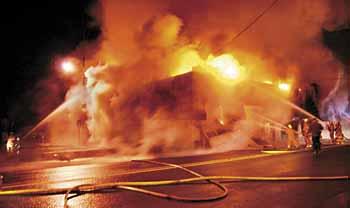 Fire departments from across the Northwest are offering to loan or donate gear to the Ilwaco Fire Department after learning of a fire Thursday night that burned the city's fire station and destroyed most of the equipment inside, including the department's only ambulance.
"I can't believe that it happened. But I'm standing her looking at it and it's gone," Fire Chief Tom Williams said Friday. "This little department has been here since 1887."
Long Beach and Chinook departments are providing backup emergency service.
Williams said Ilwaco's department may be able to operate by this weekend, using its remaining trucks and equipment donated from other departments. Offers have help have come from as far away as Bainbridge Island and the Columbia River Gorge.
Nobody was in the station when fire alarms in the two-story cement building started going off around 11 p.m. Thursday. Because almost all their gear was trapped inside, Ilwaco firefighters mostly looked on in shock as colleagues from nearby departments fought to control the blaze.
"We were helpless," Williams said.
He and a secretary manage a staff of about 26 volunteers.
Williams, a lifelong Ilwaco resident and a firefighter since 1973, lives four blocks away. He said he was in bed Thursday night when he got a call that something was wrong. He walked to the building and spent the rest of the night at the scene.
"We didn't get this thing put out until about 4 o'clock," he said.
Firefighters were able to save Ilwaco's newest fire engine and a smaller truck, both of which were kept in bays further from the fire. The building and remaining equipment were destroyed.
The charring was most intense near the ambulance, Williams said. The fire burned away the vehicle's back doors, as well as part of the second-story floor and the roof.
Both building and equipment are insured.
An insurance inspection was scheduled for Tuesday. Ilwaco City Clerk Lori Mossman said she wasn't sure if other agencies would become involved.
The blaze isn't considered suspicious. Electrical problems are one possible cause, because the wall near the ambulance houses an electrical panel, Williams said.
Most of the building, which also houses a City Council meeting room and Red Cross office, went up in 1947 and was expanded in 1980.
"It's a huge loss to the community," Mossman said. "This is a community that doesn't have a whole lot of money anyways. It'll be months, maybe even a year, before we see a new building."
In the meantime, she said, the department will likely operate out of the city's garage.
"I don't think that it's going to effect response times," Mossman said. "I can't be sure."
Along with the city's lone ambulance, the blaze wrecked a pumper truck, firefighting gear, and a 1956 fire engine that had still been kept in service. A restored 1846 hand pumper, housed in the nearby historical museum, was undamaged.
Regular checkups of electrical systems aren't required in any building, Williams said.
"I don't know if there has been any inspection on electrical system since the system was put in," he said. That was during the 1980 expansion. "As far as I know, there was nothing that was faulty. My knowledge is that everything would have passed an inspection if we'd had one done."
Williams said the fire had shaken his assumptions about safety.
"If you had said that the fire department was going to burn up, I'd have said you were crazy," he said. "The trucks had a lot of fuel in them. They were in a confined building. We don't have a sprinkler system, of course."
Be the first to know
Get local news delivered to your inbox!