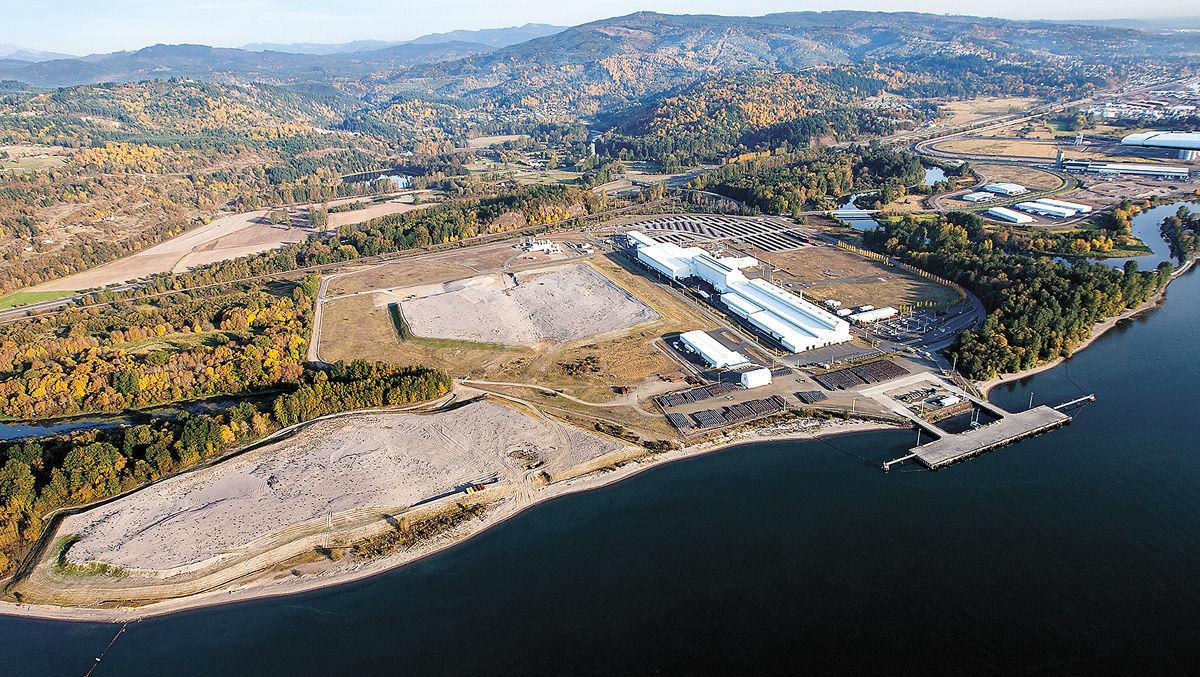 The chances of a methanol spill in the Columbia River are small, and ecological damage from even a large spill would be minimal, an expert testified Wednesday on the last day of public hearings into the proposed $1.8 billion Kalama methanol refinery.
Ships carrying methanol would be double-hulled to reduce the risk of spills if the ships ran aground on the Columbia, said Michael Kavanaugh, a chemical and environmental engineer at Geosyntec, in a presentation to Hearings Examiner Mark Schiebmier.
The ships are designed to have excess cargo space, so methanol in a ruptured holding tank on a ship could be pumped to other areas of the ship to limit spills, Kavanaugh noted.
If a methanol ship collided with another vessel, up to 2 million gallons of methanol could leak into the Columbia, Kavanaugh said, but the chance of this accident is low. Methanol is toxic, but some of it would evaporate and the rest would biodegrade and break down without leaving a gooey legacy, like the 1989 Exxon Valdez crude oil spill in Alaska's Prince William Sound.
"It's worth stressing that methanol is not like crude oil … It quickly dissipates compared to oil," said Kavanaugh, who was hired by the methanol plant proponent to do a spill safety analysis.
Kavanaugh cited an analysis from Geosyntec published in the final environmental impact statement, which found that any potential spill would result in only short-term impacts to salmon.
Geosyntec looked at three different possible locations of a methanol spill: at the plant site at the Port of Kalama, at river mile 35 near Puget Island and at the estuary at the mouth of the Columbia River. Generally, methanol would not directly poison fish except in the immediate vicinity of worst-case spills, the analysis found. While dissolved oxygen levels in the river could be depleted as methanol degrades, they would not fall low enough to kill or severely stress salmon, Kavanaugh said.
"There is some potential mortality in immediate vicinity, but overall the toxicity issue does not appear to be acute. Reduced dissolved oxygen would cause short-term, moderate stress" in fish, he said.
Kavanaugh spoke on the final day of the three-day hearing on whether Northwest Innovation Works, a China-backed company, should be given a shorelines permit for the 90-acre project at the Port of Kalama. The permits are among the key hurdles for the project, which environmental groups and some citizens have opposed but which others, including local public officials, have rallied behind because of its economic benefits.
Schiebmier is expected to make his decision on the shorelines permit within a few weeks, and then the state Department of Ecology will review his action and issue a final decision.
Proponents brought forward a bevy of experts and engineers to defend the project's safety. The consultants, working on behalf of Northwest Innovation Works, highlighted how the project has limited air emissions and is built to withstand a 9.0 earthquake and reduce the risk of explosion.
A safety panel of experts answered questions by Schiebmier and attorneys for Columbia Riverkeeper, which opposes the project.
Earlier in the week opponents again raised concerns about explosion risks, air pollution, effects on fish and risk of spills from the plant.
"Neither DEIS nor the Shoreline permit application sufficiently addreses worst-case scenarios for fires or spills involving the enormous amounts of methanol this refinery presents," said Diane Dick, a Cowlitz County resident who testified Tuesday. Dick pointed to a 2014 spill in West Virginia of 4-methylcyclohexane methanol (a form of methanol) that contaminated a nearby river. "We should be reminded of the large consequences even relatively small toxic spills can produce."
Taylor Aalvik, councilmember for the Cowlitz Indian Tribe, said the environmental review and the mitigation plan don't go far enough to address permanent impacts to the landscape.
"We request that you to take a hard look at meaningful mitigation, which this proposed development considerably lacks," Aalvik told the hearing examiner.
The plant would create nearly 200 permanent jobs, 1,000 construction jobs and generate millions of dollars in taxes. Proponents say it would help reduce global greenhouse gas emissions by replacing coal-based methanol with natural-gas based methanol. (Methanol is used to make plastics.) But opponents say there is no way to prove the Northwest Innovation Works project would replace coal-based methanol, and they say the large amount of greenhouse gas emissions from the plant itself would exacerbate climate change.
Contact Daily News reporter Marissa Luck at 360-577-2539