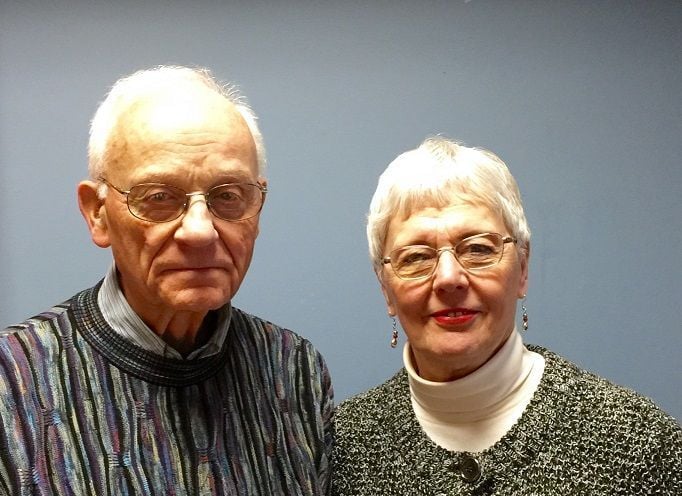 Pete and Karen Pickett are optimists. Though others may focus on Longview's drug problems and struggles to attract young people, the Picketts love the city for its theater and music scenes, beautiful parks, proximity to Portland and industrial muscle.
"I think the best days are still ahead," Pete said. "There's no reason to be pessimistic. There's lots of reasons to be optimistic about Longview's future."
Pete, 82, a former president of Lower Columbia College, and Karen, 76, a former deputy director for the Port of Kalama, never intended to stay 36 years in Longview after they moved here from Cedar Rapids, Iowa, in 1980.
"We got here, and we'd been here four or five years, and we still had kids in school. The longer we stayed, the better we liked it," Pete said.
And of course, being the members of the '23 Club, they love the city's history, and studying it has brought them closer to the city.
For 20 years, Karen has been on the history committee for the Longview Community Church, whose establishment was inspired by the town's founder, R.A. Long. She's also on the board for the Cowlitz Historical Society.
"It just seemed like a natural thing" joining the 23 Club, she said.
"She's become more of a history buff than me," Pete said with a laugh.
The Picketts both love the story of R.A. Long's planned city, and Pete especially likes studying the history of Lower Columbia College, where he retired as president in 1997 after 17 years.
Though Pete said he empathizes with young people who worry there's not enough to do in Longview, the Picketts stay busy between their volunteerism and enjoying the theater and music scenes. In the years that they've lived here, the Picketts say Longview's culture has only improved, excepting its lack of good restaurants.
"People complain that there's nothing to do in Longview. I don't think that's true," Karen said.
Though they love their lives in the town, the Picketts see plenty of room for improvement. Karen wishes that the leaders of more of Longview's major industrial players were as active in the community as they used to be, and she wants to see more young people involved in the town's leadership and volunteer community.
"That close personal leadership is gone," she said.
Pete wants to reduce congestion in town, and both he and Karen hope more progress is made to reduce obesity, teen pregnancy and drug- and smoking-related health problems.
But the Picketts said, like other problems in town, there are organizations such as The Health Care Foundation, which gives grants to health care-focused agencies in town and on whose board Pete's been a longtime member, and Lower Columbia School Gardens, that are working to solve the town's health problems.
"I take some comfort in knowing that people are trying. They're not sitting here thinking, 'Huh, everything's fine,' and sitting there not doing anything about it," he said.