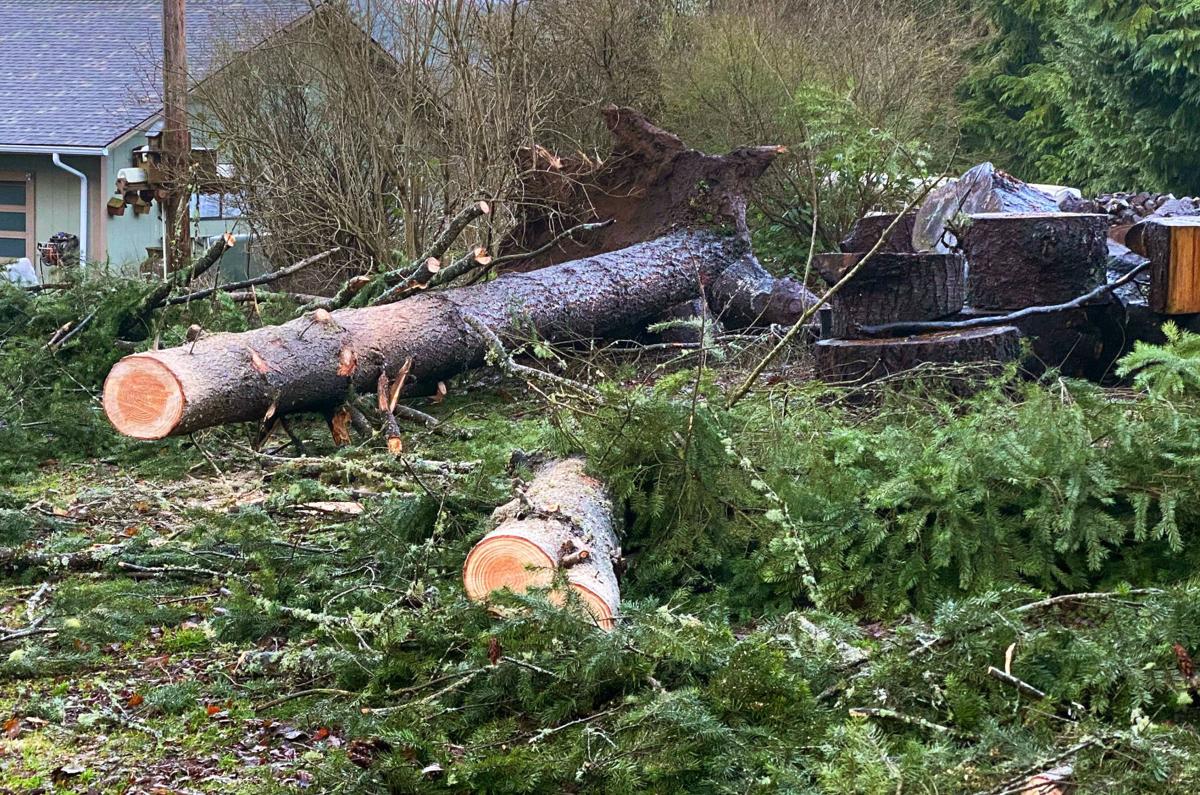 Tuesday's heavy winds and rain left their mark throughout Cowlitz County and neighboring areas.
As of 11 a.m., Wednesday, staff of the Public Utility District No. 1 of Cowlitz County reported that 3,732 customers were without power, and that workers had recently restored power for 6,372 customers. By 4:30 p.m., 1,401 customers were without power.
Cowlitz County PUD outages occurred in Longview, Kelso, Castle Rock, Silver Lake, Toutle, Cougar, Ariel, Kalama, Ryderwood and Woodland.
At around midnight, a little under 9,000 customers lost power, mostly due to fallen trees on lines, said Alice Dietz with the PUD.
Since most of western Washington was affected by the storms, Dietz said the staff could not bring extra help from neighboring utility services to speed up power restoration.
The power outage on Spirit Lake Highway, east of Tower Road, was expected to last until 7 p.m., as of Wednesday morning, and 130 customers were affected.
The outage at Lewis River Road, between Dubois Road and Woodland Park Road, was expected to be restored by 10 p.m., and 254 customers were affected.
Dietz said PUD staff were calling residents in those area to inform them of wait times.
Yale Elementary School, of the Woodland School District, closed for the day due to a power outage. Toledo Middle School, of the Toledo School District, only held online classes due to a downed power line on their campus.
Judy Albright of Castle Rock said that around midnight on Wednesday, five trees fell on her 5-acre property on Melton Road, and one was "barley holding on to its roots."
She even witnessed a large fir fall and block her driveway.
"It sounded like a freight train coming through at the height of the wind storm," she said.
At around 9:30 a.m., Wednesday, Cowlitz County Public Works staff reported that the 3100 block of Coal Creek Road was closed as crews clear dozens of downed trees. By the afternoon, one lane was open. Staff also reported that Hooper Road was closed, but opened by the afternoon.
Albright said her rain gauge measured 4.25 inches of rain since Monday.
"The ground is so saturated that I'm not surprised the trees went down," she said.
A flood warning from the National Weather Service in Portland is in effect for the Cowlitz River at Kelso until midnight, Thursday. The river crested at 21.6 feet on Wednesday morning, just over flood level. The warning stated that the river was expected to rise another foot, then fall below flood level later Wednesday or Thursday.
A flood advisory is still in effect for Cowlitz and Wahkiakum counties until 12:15 a.m., Thursday. At around 8:20 a.m. Wednesday, National Weather Service staff reported that several creeks and small rivers in the area were "over-topping their banks."
Cowlitz County Public Works crews are still offering sandbags until 7 p.m., Wednesday, and from 6 a.m.-4:30 p.m., Thursday. Fill and bag your own bags at 2215 Talley Way in Kelso. Don't enter the building due to COVID-19 restrictions; staff will assist residents outside. Staff suggest bringing your own shovel to avoid waiting, and hours may be extended if needed.
As of Wednesday morning, the Grays River at Rosburg peaked at 15.5 feet, about 3 feet above flood level. National Weather Service staff expect the river to fall below flooding on Thursday.
As of 6:30 a.m. Wednesday, The Wahkiakum County Sheriff's Office reported the following roads closed due to high waters: State Route 4 at Seal River Road, Covered Bridge Road, Barr Road, Altoona-Pillar Rock Road, and West Valley Road.
A landslide closed both lanes of eastbound I-84, near Troutdale, on Wednesday, according to the Oregon Department of Transportation.