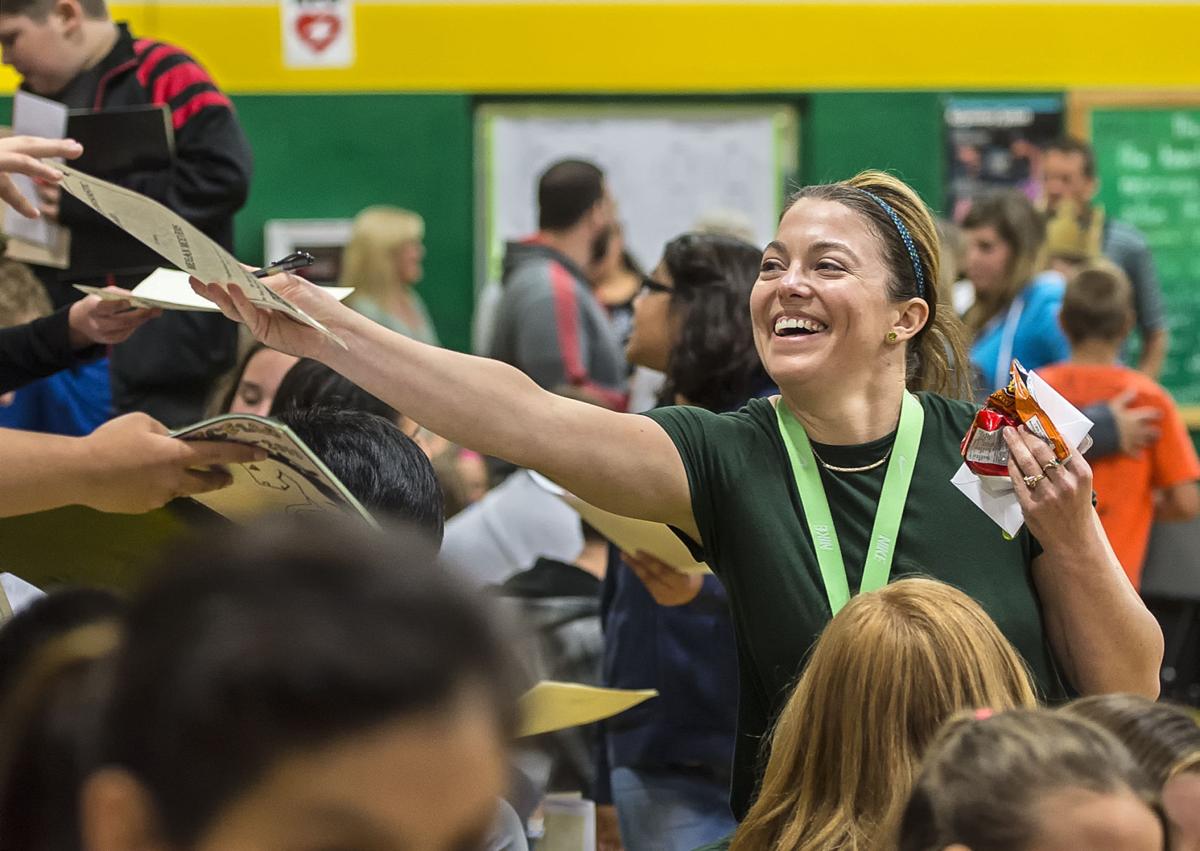 During school spirit days at Monticello Middle School, Principal Angela Allen often wore goofy and colorful outfits.
In a video welcoming students to the 2015 school year, she and Vice Principal Scott Merzoian dressed as cheerleaders in school colors — green and yellow — and pumped iron at a gym while blasting inspirational music.
From time to time, she'd run the mile with PE students.
She invited students to write "awesomeness" notes to their teachers.
These are the little ways that Allen led with flair. Allen, who stepped down at the end of the school year, had a style that built bonds and trust between staff, students and parents and is helping a failing school rebound.
"Her interaction with students was infectious," said teacher Misty Velke. "She went above and beyond."
When Allen was hired in 2011, she was the school's third principal in three years.
"When she took over she really worked to change the climate. We were really discombobulated" by the unexpected departure of Principal Sandra Yager after less than a year on the job, said school secretary Brenda McCown. "Everyone was working hard, but not together."
As a Monticello graduate, Allen took the mission to turn around the school personally.
She handed out staff awards for awesomeness, for data and technology expertise, and for upholding the school motto, "Believe. Inspire. Succeed." She hosted monthly staff breakfasts with fun games. She and McCown hung photos of staff outside their doors, each with a word describing the person's best quality.
'All of those little things are probably time-consuming, but they're done so teachers feel appreciated and valued," Velke said.
"I have a 40-minute commute (from Vancouver) and she makes you want to be there," said teacher Kelly Jensen. "It gives you an air of confidence that doesn't make you feel like an outsider."
She didn't shy from the elbow grease it took to spruce up the school. During weekends and evenings, she, her mom and McCown painted hallway doors, walls and the front office.
Allen said she's proud of recruiting a strong staff and boosting morale despite a stereotype she said labelled Monticello as a bad school for its low test scores.
"Now people want to be at the school, and they come over and ask to be a part of the building and the culture that we've created here," Allen said.
Chris Lyons, a parent of two daughters at Monticello and a school volunteer, said when his daughter had trouble at school, she went right to Allen to discuss it.
"She has an open-door policy at school and an open door to who she is," Lyons said. "I've never seen her lose her cool. I think she's rattle-proof. I think the kids respond to that solid rock."
It's part of the reason Allen successfully slashed the number of monthly student discipline offenses during her time at Monticello. Allen said the discipline policy was essentially unenforced when she arrived. With the help of teachers, she made discipline policies more consistent and rewarded students for good behavior.
"There were a lot of behaviors that just weren't being taken care of," including students walking out of class when they felt like it or going to detention on purpose, Allen said. Improvement occurred "once they knew that there was going to be a process and a protocol, and that we were going to treat them fairly, but we were also going to hold the line."
Allen inherited a low-income school that the state labeled "persistently low achieving" in state test scores. With $1.45 million federal school improvement grant, she hired two instructional coaches to lead changes in math and literacy instruction (there's now only one).
The coaches, Allen said, helped standardize how students learned new vocabulary. So when students in any class — in math, science, English, social studies — they could use the same three-part method to learn a new word no matter the subject.
"We were focused on working on math problems but not giving students time to talk about what they were doing and why they were doing things a certain way," she said.
Over Allen's tenure, state test scores in reading and math haven't budged much, perhaps in part because the state changed the test last year. Allen said she's more pleased that 77 to 88 percent of the students have shown growth each of the last three years on classroom math and reading tests. She also said that the disparity has narrowed between Monticello students' state test scores and the state average.
Allen will become director of instructional leadership for the Battle Ground School District, evaluating administrators at the district's secondary schools. Allen said while it's tough to leave Monticello, she wants to be a superintendent someday and a higher level administrative position is an important next step for her.
"I know it's an exciting opportunity for me but ... it's really bittersweet because you want to continue what you've got going because you've had an opportunity to build the staff ... and have all these programs and systems in place that are really working," she said. "I feel like I can walk away. I know it's just going to keep trucking along and just keep getting better."
Allen's confident that Merzoian, who takes over as principal, will keep up the momentum.
"I think what she has put in place will stand at Monticello, will continue," said instructional coach Ryan Chinchen. "That's the mark of a great leader."
"Now people want to be at the school, and they come over and ask to be a part of the building and the culture that we've created here." — Angela Allen
"Now people want to be at the school, and they come over and ask to be a part of the building and the culture that we've created here."

— Angela Allen