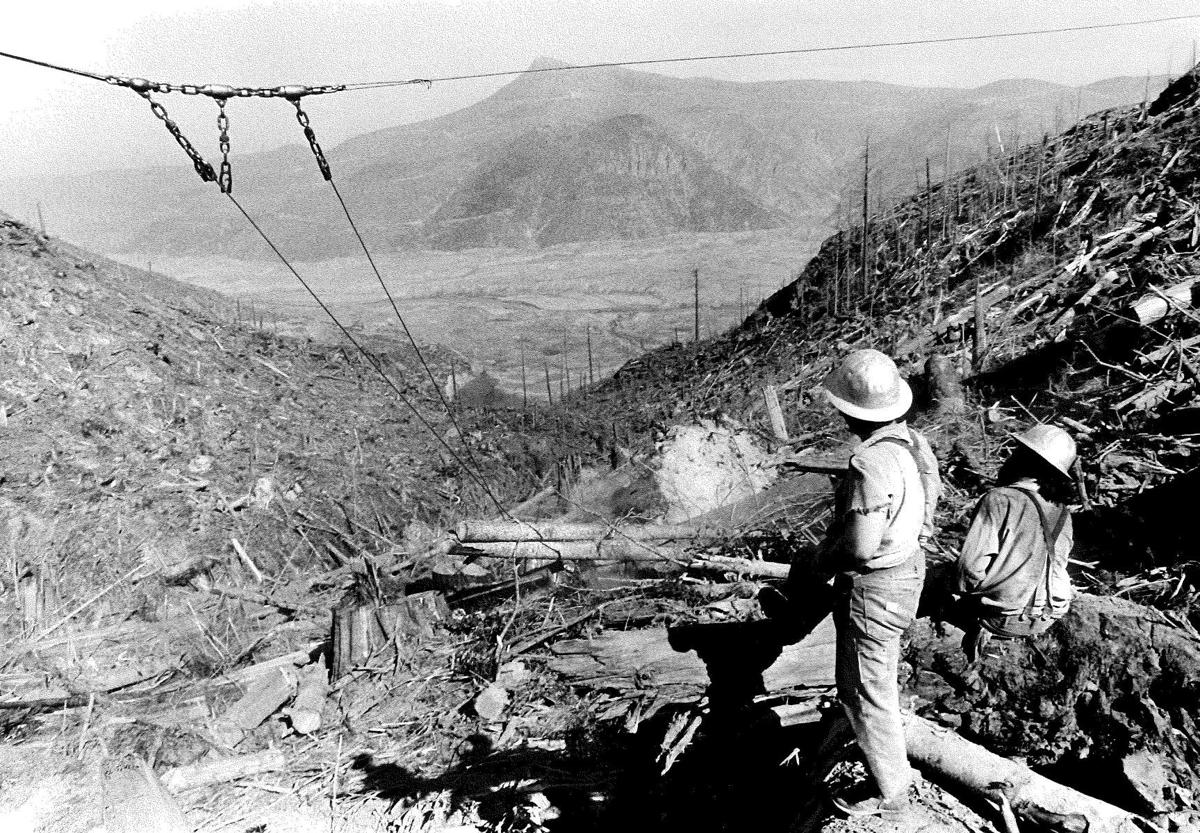 Editor's note: This is the fifth story in our ongoing series marking the 40th anniversary of the eruption of Mount St. Helens on May 18, 1980. Stories appear in a collection on TDN.com as they appear in print and online.
Retired contract logger Daniel Stanley has some unpleasant memories of salvaging the forests splintered by Mount St. Helens, and he likens the experience to living with the coronavirus.
"Everything was grey and just covered in ash," recalls Stanley, now 84.
"It was awful because in the summertime the stuff blew about like powdered sugar, and the guys working out on the rigging ... wore what the people are wearing now – face masks," Stanley said.
"In the wintertime, I don't know how to describe it, it was like a very liquid pudding. It just oozed."
Stanley was one of hundreds of loggers who braved ash and the dangers of working around trees that had been strewn about like matchsticks and could roll or lurch suddenly and wallop a worker without warning. He was a log loader operator for contract logger Jensen & Grove, a now-closed Woodland company. Stanley, a Longview resident, spent two years salvaging downed timber in the blast zone.
Stanley said he never developed any lung problems related to the ash, which was a concern for loggers at the time.
"I did not wear any face masks at the time, because I was in a machine and up in the air," he said. "The guys on the ground wore the face masks."
The May 18, 1980, eruption destroyed about 150,000 acres of forest, and Stanley and hundreds of other loggers were called in to salvage much of it. He had romped through the Toutle Valley in his youth and, like many people who remembered the enchanted area, he's a bit wistful remembering what it used to look like.
"It was a beautiful place," Stanley said. "We used to go up there in the summertime and even in the wintertime to play and water ski on the lake. And then after it blew up it was several months before they let us go in" to start salvaging timber.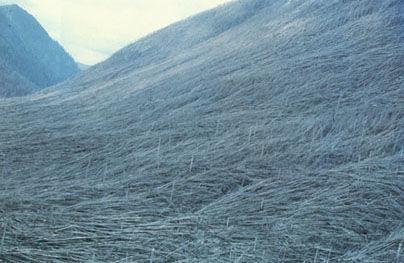 About 68,000 acres of Weyerhaeuser-owned forest was flattened in the blast, and that's where his logging efforts focused.
Spirit Lake Highway had been destroyed east of Camp Baker, the old Weyerhaeuser Co. logging camp along the North Fork of the Toutle River, and much of the thousands of miles of company logging roads in the Toutle Valley had to be cleared or reconstructed.
"There were a lot of people out there," Stanley said. "A lot of loggers. Weyerhaeuser hired all the loggers they could find. ... Weyerhaeuser wanted to salvage as much as they could."
At its peak, the company hauled 600 log trucks per day out of the blast area between September 1980 and late 1982. It salvaged 850 million board feet of timber, enough to build 85,000 three-bedroom homes, according to Weyerhaeuser.
The company Stanley worked for bought old school buses to bring in their loggers, Stanley said, and had seven of its eight logging towers on the mountain. The conditions were tough, he recalled, with huge logs, four feet in diameter, splintered and buried in ash.
"A lot of times the stumps of the trees were blown clear over. You didn't have anything to hang the lines on," Stanley said. "We'd have to dig a big hole and wrap the cable around a chunk of log and bury it (to hold the towers up). We called it a dead man."
To get the choker chains around the logs to yank them out, loggers would sometimes have to dig deep into the ash, he said, though some got more inventive.
"Some of the guys got very creative and cut stick a of dynamite into little pieces, maybe an inch and half long," Stanley said. "They'd put an electric cap on it, take a stick, poke a hole under the log and toss it in. That would blow a hole under the log so they could get a choker around it."
And it didn't get any easier if the log was exposed, Stanley said. When they "bucked" the logs, or cut them into standardized pieces, the ash embedded in the tree bark was so abrasive that it "just ate the chains up."
"It was like you'd buck a couple logs, and then the chain (looked like) you took a file to it," he said.
Eventually, he said an Oregon company came up with a tougher chain that lasted longer, with teeth made of carbide steel.
However, Stanley said he and other loggers also got to watch nature rebound as saplings poked through the ash and animals returned.
"After a while the vegetation did start to grow back on the valley floor," he said. "And the different plants that grew native up there (came back), and eventually the elk came back."
After the blast and salvage logging, Weyerhaeuser contractors hand-planted 18.4 million trees between 1981 and 1987. The U.S. Forest Service has replanted 10 million trees on 14,000 acres of National Forest land, according to the website, and the state Department of Natural Resources also did extensive replanting.
Stanley remembered one afternoon when he and his fellow loggers were eating lunch by Hanaford, Elk and Forest lakes. Somebody threw a piece of their lunch out into the water, and he said "a little fish jumped up and took it."
"We were surprised, because we thought the fish got boiled," Stanley said. "So everyone was bringing stuff out and feeding the fish after that."
Stanley said he has not been back to the mountain since then, though he always think about visiting. For now, his most recent memory of the mountain is still grey ash and splintered trees, as well as the lingering nervousness that came with working in the blast zone.
Five smaller explosive eruptions occurred during the summer and fall of 1980. Each eruption shot columns of ash eight to nine miles into the sky and belched pyroclastic flows that raced down the volcano's north flank. The eruptions in June, August, and October also erupted lava in the crater to form a dome. Most of those eruptions were past by the time salvage crews started working in the blast area, although another relatively small explosive eruption occurred on March 19, 1982.
"Once in a while you'd see a big puff a smoke and wonder 'uh-oh will it blow up again?' " Stanley said. "But it didn't."
He logged for decades, and along with his time in the blast zone, he also had to run for cover near Cathlamet during a massive Columbus Day wind storm in 1962, which killed 46 people, injured hundreds and blew down far more timber (about 11 billion board feet timber in northern California, Oregon and Washington combined) than Mount St. Helens.
"We've had some excitement around here, a time or two," he joked.
Be the first to know
Get local news delivered to your inbox!