LONG BEACH — World Kite Museum Director Holli Kemmer's roots in the Washington State International Kite Festival run deep.
Her grandmother, she said, was one of the original kite festival committee members. She still remembers years ago helping her grandma pick up festival posters at a Portland printer.
"(My grandmother) always drug me around everywhere with her so yeah, I was there from the beginning," Kemmer said on a recent Saturday morning at the museum.
It's almost been a year since Kemmer replaced Kay Buesing as museum director, a position that itself has undergone changes. In addition to overseeing the museum, Kemmer is now responsible for the annual kite festival.
In the past, the Long Beach Merchants Association managed the event. Last year, however, the museum transitioned to a more active role managing the festival in conjunction with the merchants association. This will be the first year the museum director is solely responsible for the annual event, which is held the third full week in August.
Kemmer doesn't seem to be sweating the new responsibility, though.
"Everything is going great," she said. "There are going to be no changes this year. Everything will be pretty much the same. We do have some ideas of things we would like to expand on, but it's going to be a couple of years."
Those ideas, she said, are focused on attracting younger generations to the festival.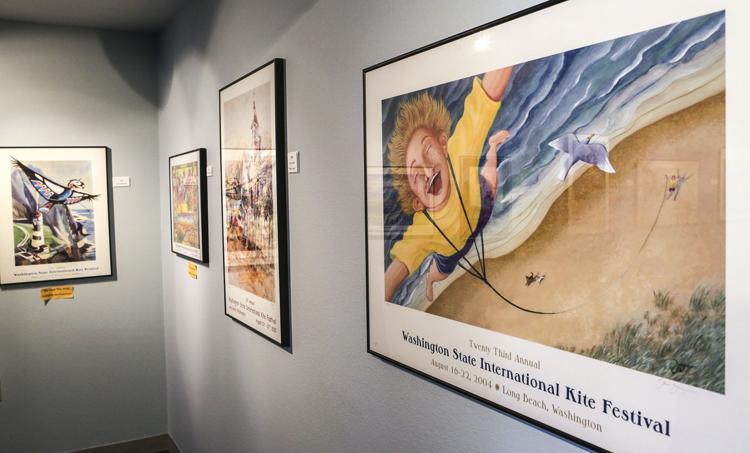 "We'd like to get more youth involved and maybe stretch a little into the technology end of kiting – more blowcarts, kite buggies, people on their kite boards as far as skateboards and kiting," she said. Kemmer said she's targeting the millennials – young professionals in their late 20s and early 30s. She said she believes such activities as riding kite buggies will attract that age group.
"They've got expendable income, and they're into these kind of sports," Kemmer said. "It's not a cheap hobby by any stretch of the imagination. The newer (kite buggy models) cost about $2,500 just for (the buggy), then you have to buy your different kites and a lot of people have multiple kites they use depending on weather situations." Kite buggies typically require parafoil kites, she said.
"It's really a neat way to educate people on another angle of kiting," she added. "I definitely see this as a wave of the future."
Museum updated with computers, new posters
Along with the festival's impending face lift, Kemmer also has kept busy updating the museum's interior. Computers and TVs are now a common sight in the museum, several steps up from its humble beginnings. The museum first opened in a four-room house in 1989. It later moved to its current building, which previously served as a fitness center and, before that, a candy factory.
Using a $12,000 technology grant, Kemmer said the museum was able to purchase five TVs, two computers and one 80-inch smart TV that greets visitors downstairs. They also used the money to erect a 17-foot wall to section off the space surrounding the smart TV so it resembles a small theater. The grant also paid for LED track lighting for the modest theater.
In addition to sectioning off the theater, the 17-foot partition created additional wall space – a commodity in short supply at the museum's current digs. To add even more room, they covered two nearby windows.
"As fabulous as our building is it's got a lot of windows and not a lot of wall space. You have to become really creative in trying to display things and give it that museum feel," Kemmer said.
Kemmer used much of the new wall space to display 28 framed kite festival posters dating back to 1987. (The festival began in 1982. The first poster was created five years later.) She framed the posters using $200 in donations and a portion of a $2,000 grant from the Loren H. Corder Foundation.
"It always struck me that there was nowhere on the peninsula that you could go and look at the entire collection (of posters). They were never up for public display anywhere," Kemmer said.
It cost the museum $1,700 to frame the posters, Kemmer said. Framing wasn't cheap, but Kemmer said the posters are an important asset to the festival. The annual event does not require an entry fee, so a catchy poster design is vital to funding future kite festivals.
"That's the money that we make to put on the festival for the following year," Kemmer said. "It says a lot that people are still into that kind of stuff and that we've been able to keep it going all these years."
The museum posters line the walls in the museum in no particular order, depicting images of kiters - both past and present. Eventually, Kemmer said she wants to add a display of famous kiters, complete with QR codes people can use to gather more information from websites.
In the meantime, Kemmer has enough to keep her busy.
"There's a lot of changes that have occurred in the last year and that will be occurring over the next couple of years," Kemmer said. "It's going to be a fun ride."