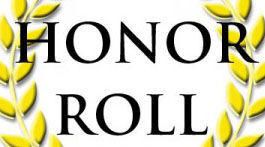 Editor's note: This honor roll ran on Page C6 of the Feb. 9 print edition of The Daily News.
The Wahkiakum High School first semester honor roll for the 2019-20 school year has been announced.
12th grade: Nai'a Freeman.
11th grade: Beau Carlson, Logan LaBerge, Jake Leitz, Daniel Martin, Mary Jane Neves and Nalani Schultz.
You have free articles remaining.
10th grade: Emmi Grangroth, Megan Leitz, Landon Luce and Gabriel Moon.
Ninth grade: Brodie Avalon, Sofia Goldniov, Reigha Niemeyer, Selena Salas and Malia Ana Silva.
12th grade: Zayne Meneou, Joseph Savelio, Kenneth Beery, Heidi Bruntmyer and Novella Hokkanen.
11th grade: Kaleo Silva, Jonathan Hauff, Ashden Niemeyer, Shannon Dela Cruz, Ellie Wiltse-Hiatt, Shelby McEneny, Paige Mace, Mackenzie Lawlor, Jansi Merz, Teylor Sauer, Luke Bohn, Zachary Brandon, Evangeline Davidson, Bryson Havens, Rebekah Neves, Tristan Collupy and Braxton Johns.
10th grade: Colten Vik, Courtney Carlson, Kalena Bowcutt, Margaret Ames, Anthony Mellis, Olivia Long, Cory Grangroth, Juliah Clark, Jerimyah Johnson, Akira Rutherford, Alexzandria Watkins and Ifel Chanwharanya.
Ninth grade: Miya Kerstetter, Klayton Scuito, Sebastian Britt, Abigail Ames, Landon Nielsen, Hannah Mendez, McKenna Mendez, Kamryn Watkins, Shayla Russell and Kaiden Ray.