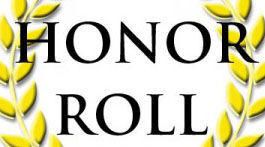 Editor's note: This honor roll appeared on Page B7 of the Saturday, Feb. 20, 2021, Daily News print edition of the newspaper.
The Wahkiakum High School first semester honor roll for the 2020-2021 school year has been announced.
12th grade: Shannon Dela Cruz, Logan LaBerge, Jake Leitz and Ashden Niemeyer.
11th grade: Cooper Grasseth, Jerinyah Johnson, Megan Leitz and Josephine Young.
10th grade: Sofiya Goldinov and Reigha Niemeyer.
Ninth grade: Klauvinia Cernal, Nathan Garrett, Galina Goldinov, Svetlana Goldinov, Lilian Hale, Solei Langan, Pierce Leavitt, Grant Wilson and Avrey Wiltse-Hiatt.
12th grade: Luke Bohn, Beau Carlson, Tristan Collupy, Jonathan Hauff, Bryson Havens, Braxton Johns, Paige Mace, Daniel Martin, Shelby McEneney, Jansi Merz, Mary Jane Neves, Rebekah Neves, Teylor Sauer, Nalani Schultz, Kaleo Silva, Mason Wilson and Ellie Wiltse-Hiatt.
11th grade: Margaret Ames, Courtney Carlson, Cory Grangroth and Landon Luce.
10th grade: Abigail Ames, Adrianna Ashe, Brodie Avalon, Sebastian Britt, Gabriel Gumucio, Miya Kerstetter, Hannah Mendez, McKenna Mendez, Landon Nielsen, Selena Salas, Malia Ana Silva and Elijah Thompson.
Ninth grade: Amirah Abdul-Kariem, Zakkary Carlson, Kyri'e Clark, Quincy Evans, Lana Goff, Arwynn Haney, Jordan Montgomery, Daniel Spisla-Hongel, Vera Tsybikova, Alison Will and Marek Wynn.