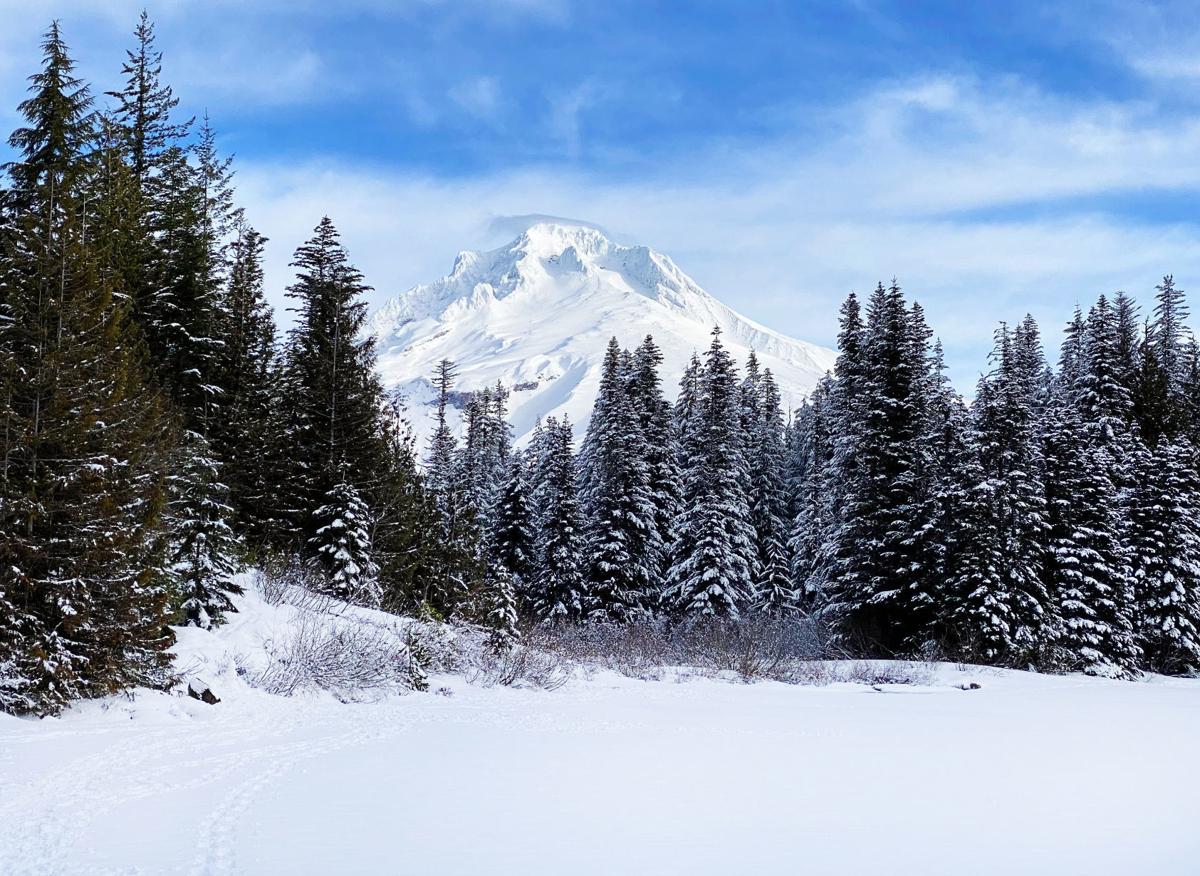 From time to time the circumstances of life will conspire to make us long to be somewhere, anywhere, else. Sometimes the morning toast falls butter side down and sometimes there's a nationwide insurrection that puts a damper on the day. In any case, when those old U.S. Blues begin to creep in, the best course of action is often to simply let yourself out.
So when my son proposed that we should go camping as I prepared dinner in the kitchen Wednesday night, I was not surprised. After all, even four-year-olds are not immune to an acute rash of cabin fever. Mostly, though, I think he just wanted an excuse to roast marshmallows and if that means making Dad hike for miles in a snowstorm carrying all the gear (uphill both ways, of course), so be it.
As I stirred the pot and chortled at his suggestion he added an unexpected caveat: "You've got to bring your gun, Daddy."
Since we weren't planning a hunting trip I set about explaining that you don't need a gun just to sleep beneath the stars. Moreover, bringing along a firearm is often more hassle than it's worth, unless there's a good reason.
But, as we all know, dads don't know much that matters and my son quickly informed me that there was a reason to stay armed and ready, and it was a big one; because bears!
Laughing off his fears I explained that most bears are no trouble for humans at all, especially the black bears that call this damp swatch of tree stands home.
"Bears are kind of like daddies," I told him. "They're not much to worry about unless they think you're going to hurt their babies."
Standing still and unusually silent he mulled this update over for a long moment and then replied, predictably, with another question: "Then what do bears eat?"
I explained that bears love berries and honey and salmon, and unattended pic-a-nic baskets when they can find them. But in the middle of winter they prefer to laze about in a state of quasi-hibernation, living off their hard earned fat until the climate once again suits their clothes.
This seemed to make sense to my son's churning brain and I thought for a moment that the conversation was over. But I was wrong.
With a flash of brilliance that lit up his face and caused him to speak rapidly with specks of spittle flying he proposed a brand new idea.
"We should go camping AND bring salmon to the bears!" he said.
Charmed by his generosity and unwilling to break his heart by admitting that bears are much better at coaxing salmon from the river than his papa, I let the notion linger. In an age of rampant selfishness, I simply didn't have it in me to quell the sincere notions of his selfless soul.
And anyway, my silence will presumably allow me to be useful again someday in the future. That's when I will explain precisely why it's best not to feed the bears, and what it is, exactly, that they do in the woods after gorging on all that honey and berry marinated salmon.
FISHIN'
For the second week in a row the WDFW was unable to provide a creel sample report for Lower Columbia River tributaries, but based on the amount of rainfall that's splattered this verdant swatch of God's country over the last week it's a safe bet that the prospects at nearly every honey hole have turned to split pea soup. Several rivers have been on flood watch for the better part of a week and it will take a serious dry spell before rivers round back into fishable shape.
With most salmon and steelhead fishing out of the question at the moment one option anglers were banking on was the catch-and-keep sturgeon fishery that opened last week in the Columbia River dam pools. However, changes to those river monster harvesting opportunities have been arriving fast and furious as a runaway log barge this week. As Monday turned into Tuesday sturgeon retention in The Dalles pool was closed. Then, as Thursday turned to Friday, sturgeon retention was shuttered in the Bonneville pool. According to fish managers, the early turnout and harvest rates for both pools was much higher than anticipated, which led to the quick closures. The waters between John Day Dam and McNary Dam will remain open for sturgeon harvest until further notice.
Salmon anglers, especially those with a taste for steelhead, received more bad news this week when the WDFW announced additional restrictions on coastal tributaries. These newest coastal fishing regulations arrive on the heels of a similar announcement in December, with the addition of several new tributaries to the list. Beginning immediately, anglers on nearly all coastal streams will have to fish without the use of bait or scents, while utilizing only single-point barbless hooks. Fishing from boats has also been banned and all rainbow trout must be released. Then, at various times this spring, those waterways will be closed to fishing entirely for an undetermined amount of time. (See info box.)
According to a statement from WDFW that accompanied the latest press release on the matter, "These measures are being taken to protect wild steelhead stocks. The majority of coastal wild steelhead runs are expected to return below escapement targets as they have the past four seasons and have failed to meet management objectives. These rules are expected to result in a reduction of wild steelhead encounters by more than 50 percent."
Hatchery trout stocking efforts in area lakes and ponds by WDFW crews have been ongoing in the New Year and that's good news for antsy anglers.
Kalama's Kress Lake, which received a load of rainbow trout just before Thanksgiving, received 2,000 more rainbow trout weighing under a half pound each on Jan. 5.
The dole was more generous in Pacific County where 100 ten-pound surplus steelhead were delivered to Black Lake on Jan. 4. Snag Lake and Western Lake also received deliveries that day, with 15 ten-pound steelhead landing in each lake.
Likewise, Horseshoe Lake in Woodland notched a delivery on Jan. 4, with 25 triploid rainbows weighing just under ten pounds each and another 50 triploids weighing about five pounds each landing in the former channel of the Lewis River.
Not to be lost in the mix, Silver Lake near Toutle was planted with 2,000 rainbow trout weighing less than a half pound each on Dec. 31. Lastly, on Dec. 28 Longview's Lake Sacajawea was planted with 25 triploid rainbow trout weighing just under ten pounds each and another 50 lunker rainbows that tipped the scales at around five pounds apiece.
HUNTIN'
Time has nearly run out for hunters to take advantage of a bonus incentive from the WDFW.
Hunters technically have until the end of January to submit reports for any black bear, deer, elk, or turkey tag in their name. However, anyone who completes the task by Sunday will be entered into a drawing for one of nine special deer and elk permits for the 2021 season.
Reports are mandatory regardless of hunt success. Failure to comply can result in a $10 penalty when it comes time to purchase a new license.
Water bird hunting is about the only name in the game these days in lower Columbia drainages, with duck season open through the end of January. Additionally, most of Southwest Washington will remain open for goose hunting through the end of January. In Pacific County, a seasonal brant hunt will begin on Saturday. That opening has a two bird limit daily limit and will close when the calendar flips to February.
A special identification permit is required before bagging honkers in Goose Management Area 2. Additionally, in GMA 2 (Coastal), which includes Pacific County and the portion of Grays Harbor County west of Highway 101, goose hunting is allowed only on Saturdays, Sundays and Wednesdays. In GMA 2 (Inland), which includes the section of Grays Harbor County east of Highway 101, goose hunting is open Saturdays, Sundays, and Wednesdays only through Jan. 17.
If waterfowl hunting doesn't suit your fancy then perhaps small game hunts are more your style. Through the Ides of March hunters may legally take bobcat, fox, racoon, cottontail rabbit and snowshoe hare in Washington. Additionally, beavers, badgers, weasels, martens, minks, muskrats and river otters may be harvested until the end of March, but only by means of trapping.
Of course, like some strange science-fiction frontier, the sun never sets on coyote hunting season in the Evergreen State.
SNOWIN'
What's been bad for anglers on the river over the last week has been excellent for shredders on the mountain. After all, when it rains drops in the valleys it pours snow in the peaks.
At White Pass Ski Area on Thursday afternoon temperatures on the mountain were around 29 degrees with high clouds. One new inch of snow had accumulated over the previous 24-hours and a half foot of new powder had fallen over the previous day and a half. That load of snow brought the snowpack at the summit up to 85 inches, with 50 inches stacked up closer to the lodge.
A snow report from White Pass noted that, "Surface conditions are excellent this morning with a smooth groom over skier packed powder. Plenty of powder stashes remain and we expect you'll be slaying those in the sunshine."
While bluebird skies were expected for Friday, and lifts are currently operating 8:45 a.m. until 4 p.m. daily, life tickets for the weekend runs have already sold out. Daily lift tickets are being sold online and in advance only due to COVID-19 restrictions, but season pass ticket holders can hit the slopes at their leisure.
The White Pass Nordic ski area is open Thursday through Sunday, and the tubing area opens at 11:30 a.m. Wednesdays and Fridays, and at 9:30 a.m. on Saturdays and Sundays.
The powder prospects are just as promising at Mt. Hood, if a bit colder. Temperatures around Meadows on Thursday afternoon dipped below 27 degrees in some places with two new inches of snow over the previous 12-hours. Looking back two full days, a total of seven new inches of snow had graced those slopes.
A snow report from Mt. Hood Meadows on Thursday noted, "Packed powder over a hard pack on the grooms. Off the groom you will find variable conditions with pockets of fresh snow over packed powder, and wind scoured frozen hard pack… The stormy weather turns to partly cloudy skies, with enough fresh snow to keep the conditions good."
As with most spaces in the age of COVID-19, masks are required anywhere people congregate on the mountain. Unsurprisingly, some folks have been unwilling to cooperate, even in exchange for a proximity closer to the heavens. As a result, Mt. Hood Meadows has adopted a hardline stance on maskless scofflaws.
"Please mask up — covering both your mouth and nose snuggly," read a plea on the Meadows website. "Sticking your face in your jacket or wearing a neoprene mask with breathing holes won't cut it, and in fact, will earn you a two week suspension or longer if you don't mask up."