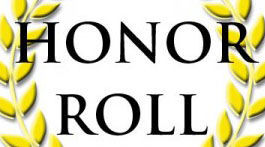 Editor's note: This honor roll appeared on Page C4 in the Sunday, Feb. 2, print edition of The Daily News.
The Toutle Lake Junior/Senior High School first term honor roll for the 2019-2020 school year has been announced.
4.0 grade-point average12th grade: Emily Buker, Destiney Doodigian, Griffin Sauters and Keeley Studebaker-Smith.
11th grade: Lexie Emerson, Natalie Higgins, Jessa Little, Ryder Moss, Riley Walsh and Jacob Wambold.
10th grade: Alex Benson, Jackson Cox, Cortlyn McDaniel, Kaleb Mitchem and John Nicholson.
Ninth grade: Courtney Kysar and Karlie Smith.
Eighth grade: Natalie Bair, William Davis, Grace Hadaller, Ileigh Lynn and Kamdyn Rodeback.
Seventh grade: Riley Graunitz
3.99-3.512th grade: Brenden Dunnagan, Blaise Janke, Zoe Nelson, Tamarind Steele and Robert C. Wason.
11th grade: Jaret Benson, Emmalee Lender, Taylor Lundquist, Jenna Marshall, Halle Triana, Kylie Vandehey and Fisher Wassell.
10th grade: Joshua Buker, Edward Gould, Jordyn Grabenhorst, Kaiyah Kemp, Kayla Lukas and Haliegh Swofford.
Ninth grade: Bearityn Elf, Cloe Erskine, Kathryn Foster, Olivia Grose, Kennady Lake, Allen Mitchell, Tyler Orzel and Brooklyn Wassell.
Eighth grade: Matisyn Chapman, Blake Chrisler, Samantha Clemens, Haylie Coder, Connor Cox, Kayla Crane, Nathen Dahl, Jesse Emerson, Chloe McNew, Jacob Nicholson, Kaisa Reinbold, Zachary Swanson, Cadence Thayer, Ava Triana, Cole Wendler and Noah Younker.
Seventh grade: Caleb Buck, Lacey Byman, Katelin Cousins, Hailey Johnson, Jaeger Johnson, Lindsay Kysar, Mark Laufmann, Jaycie Little, River Moss, Elizabeth Pegoraro, Abraham J. Quinones-Ruiz and Sophia Thomas.
3.49-3.012th grade: Chandler Berry, Aden Heinzman, Elijah McCully and Savanna Swogger.
11th grade: Logan Brady, Emma Brandhorst, Reyna Cobb, Dylan Dahl, Alison Deffenbaugh, Molly Donald, Tarin Fadden, Kylie Johnson, Ethan Kandoll, Zackery Keller, Madison Kruse, Holley Ludwig, Austin Mathes, Nathan Orth, Ryan Orth, Nikarra Smith and Travis Vetter.
10th grade: Makinnley Byman, Zackary Jorgenson, Tre Kandoll, Chloe Payne, Adrianne Peters and Raina Peters.
Ninth grade: Naomi Chavez, Kendal Huff, Jaxon Johnson, Lane Keeton, Sophia Kuhlman, Kellan Little, Ashley Porter, Taylor Sells, Kyler Shellenbarger, Jasmine Smith and Desmond Swofford.
Eighth grade: Dylan Fraidenburg, Claire Fulton, Cristian Galvan, Aurora Hasson, Jayne Jacobs, Linzi McLean, Violet Porter, Brandon Runyan, Rielly Strozyk and Leala Swett.
Seventh grade: Presley Cokley, Emily Higbee, Connor Holverson, Jacob Lafever, Lucas Lamb, Gabriella Lemus, Hunter Lundquist, Jesse Mathes, Vanessa Ruelas, Trent Sheperd, Maddox Walker, Caleb Webber and Tristan Wheatley.
Be the first to know
Get local news delivered to your inbox!