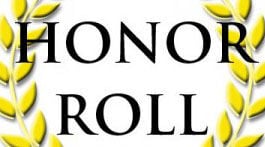 Editor's note: This honor roll ran on Page B7 of the Tuesday, July 14, print edition of The Daily News.
The Toutle Lake Junior/Senior High School honor roll for the second term of the 2019-20 school year has been announced.
4.0 grade-point average12th grade: Logan Brady, Emily Buker, Destiney Doodigian, Griffin Sauters and Keeley Studebaker-Smith.
11th grade: Jaret Benson, Lexie Emerson, Jessa Little, Marissa Smith, Kylie Vandehey, Travis Vetter and Riley Walsh.
10th grade: Alec Benson, Joshua Buker, Jackson Cox, Edward Gould, Kaleb Mitchem and John Nicholson.
Ninth grade: Kailee Camp, Olivia Grose, Courtney Kysar, Kellan Little, Allen Mitchell, Karlie Smith, Kylee Veach-Chavez and Brooklyn Wassell.
Eighth grade: Natalie Bair, Samantha Clemens, Haylie Coder, Connor Cox, William Davis, Ileigh Lynn, Linzi McLean, Chloe McNew, Jacob Nicholson, Kamdyn Rodeback and Cadence Thayer.
Seventh grade: Caleb Buck, Jakob Grabenhorst, Jaeger Johnson, Lindsay Kysar and Sophia Thomas.
3.99-3.512th grade: Chandler Berry, Brenden Dunnagan, Madison Hald, Blaise Janke, Elijah McMully, Zoe Nelson, Jessica Sharon, Alexis Sosa, Savanna Swogger and Cam Wason.
11th grade: Emma Brandhorst, Dylan Dahl, Tarin Fadden, Natalie Higgins, Kylie Johnson, Ethan Kandoll, Zackery Keller, Madison Kruse, Holley Ludwig, Taylor Lundquist, Jenna Marshall, Ryder Moss, Ethan Thiner and Halle Triana.
10th grade: Jordyn Grabenhorst, Kaiyah Kemp, Kayla Lukas, Cortlyn McDaniel, Dylon Paulson, Chloe Payne, Adrianne Peters, Raina Peters, and Haliegh Swofford.
Ninth grade: Naomi Chavez, Bearityn Elf, Cloe Erskine, Jay Foster, Kathryn Foster, Kendal Huff, Piper Jacobson, Jaxon Johnson, Lane Keeton, Caden Kimball, Sophia Kuhlman, Kennady Lake, Katelynne Medford, Tyler Orzel, Ashley Porter, Taylor Sells, Kyler Shellenbarger, Jasmine Smith and Desmond Swofford.
Eighth grade: Matisyn Chapman, Blake Chrisler, Kayla Crane, Nathen Dahl, Jesse Emerson, Claire Fulton, Cristian Galvan, Grace Hadaller, Aurora Hasson, Jayne Jacobs, Kale Kimball, Inara McNew, Kaisa Reinbold, Zachary Swanson, Carter Thiner, Ava Triana, Cole Wendler and Noah Younker.
Seventh grade: Lacey Byman, Presley Cokley, Katelin Cousins, Riley Graunitz, Tucker Hart, Emily Higbee, Connor Holverson, Hailey Johnson, Tristan Kassik, Jacob LaFever, Lucas Lamb, Mark Laufmann, Landon Lee, Jaycie Little, Hunter Lundquist, Leah Luurs, River Moss, Elizabeth Pegoraro, AJ Quinones-Ruiz, Anna Reinbold, Tristan Wheatley.
3.49-3.012th grade: Adin Forbes, Gillian Madden, Macie Smith and Tamarind Steele.
11th grade: Kendal Bennett, Alison Deffenbaugh, Molly Donald, Patricia Dunnagan, Natalie Larson, Emmalee Lender, Nathan Orth, Ryan Orth, Isaac Porter, Katherine Rogge and Fisher Wassell.
10th grade: Ashlee Brooks, Makinnley Byman, Jacob Chapman, Danyel Galvan, Sydney Hald, Zackary Jorgenson, Tre Kandoll, Hunter Lee, Chase Lynn, and Gene Mendiola.
Ninth grade: Pride Alumbaugh, Makaila Burbank, Crystal Koski, Madilyn Lorentzen, Makiley Nelson, Angelina Schnitger, Emily Swift, Noah Wescott, Camden Wheatley and Riley White.
Eighth grade: Layni Brandhorst, Kendall Byman, Haileigh Cooper, Jedediah Foultner, Jack Fowler, Dylan Fraidenburg, Conner Kruse, Ella Kuhlman, Justus LaFever, Gracie McDowell, Lilli McLean, Eduardo Rodriguez-Humbyrd, Brandon Runyon, Emily Sosa, Rielly Strozyk and Leala Swett.
Seventh grade: Neviah Chavez, Thomas Jacques, Tzeitel LaBaum, Gabriella Lemus, Jesse Mathes, Brooklynn Rodeback, Vanessa Ruelas, Trent Sheperd, Maddox Walker, Hunter Wall, Caleb Webber and Faith Zigler.