Customs of Scotland and time-honored-traditions took center stage at the Sept. 13 nuptials between Longview resident Karla Dudley and her beau, David Bell, of Portland.
Dressed in the blue plaid of the Bell clan, they exchanged vows at the Longview Woman's Club building during Kelso's Highlander Festival activities.
Karla said she planned the wedding for the festival weekend in order to snag nationally acclaimed highland dancer Trish Bacon and her bagpiper husband, Andrew, for entertainment. A Portland pastor crafted a Celtic service. The St. Rose Bell Choir, of which Karla is a member, performed a traditional wedding march. And the elaborate Gaelic ceremony concluded with the traditional "jumping of the broom" by the bride and bridegroom.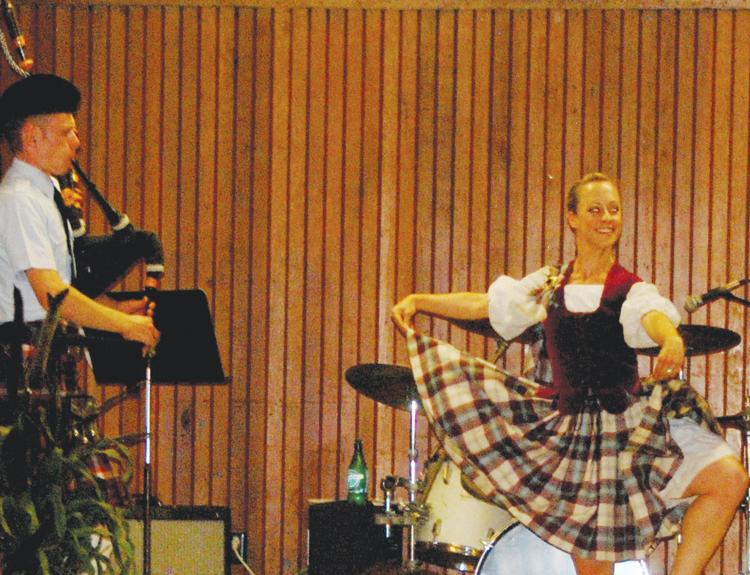 Karla and David met through an online dating service a decade ago. They both love spending time outdoors and hiking and were looking for partners with the same interests.
They "chatted" online for about a month. David even provided Karla with "references," such as contact information for his daughter so Karla could "check him out," if she wished.
The first time the couple met, they hiked at Ramona Falls in Oregon's Mount Hood National Forest.
"Ten years later, we are still together," said Karla, a retired local school music instructor who runs a piano studio out of her home.
David works for Intel in Portland. He also is an avid nature photographer. Examples of his work line the living room of the couple's Longview home.
While his job centers around computers and may seem "geeky," he is romantic, Karla said.
"He writes me a poem each February," she said, holding a stack of his prose, each one laminated for safe-keeping.
Scouting for all things Scottish
Karla became interested in David's Scottish heritage after he showed her a photograph of his late father wearing a traditional Scottish hat, a balmoral, while hiking on Mount St. Helens.
"I got him (David) a balmoral for Christmas," Karla said. "He has quite a lot of Scottish heritage, but he hadn't explored it too much."
They started researching his family name online, discovering it rich with history.
As they planned their nuptials, the Scottish theme emerged.
They visited a shop in Portland specializing in items from the country. They attended the 2013 Highlander Festival to harvest ideas. David said he began to "feel part of something a lot like a large family" after meeting different clan members.
For authenticity, Karla wanted David to wear a kilt at their wedding.
"That was a big issue for him," Karla said. "He's 30 years military, and he's a he-man kind of guy."
Wearing a kilt was "very unsettling," David said, but he acquiesced.
The couple ordered one from Scotland. It cost about $1,000.
"There are eight yards of cloth, three buckles ... no belt," David said. Besides the kilt, he wore a sporin, a traditional Scottish pouch, and a sgian-dubh, a small knife tucked into the top of his sock.
While he was comfortable from the waist down temperature-wise, David said he was concerned the kilt would fall down. And it did, "after the wedding in the parking lot, much to the amusement of my brother and sister," he said.
Combining history and families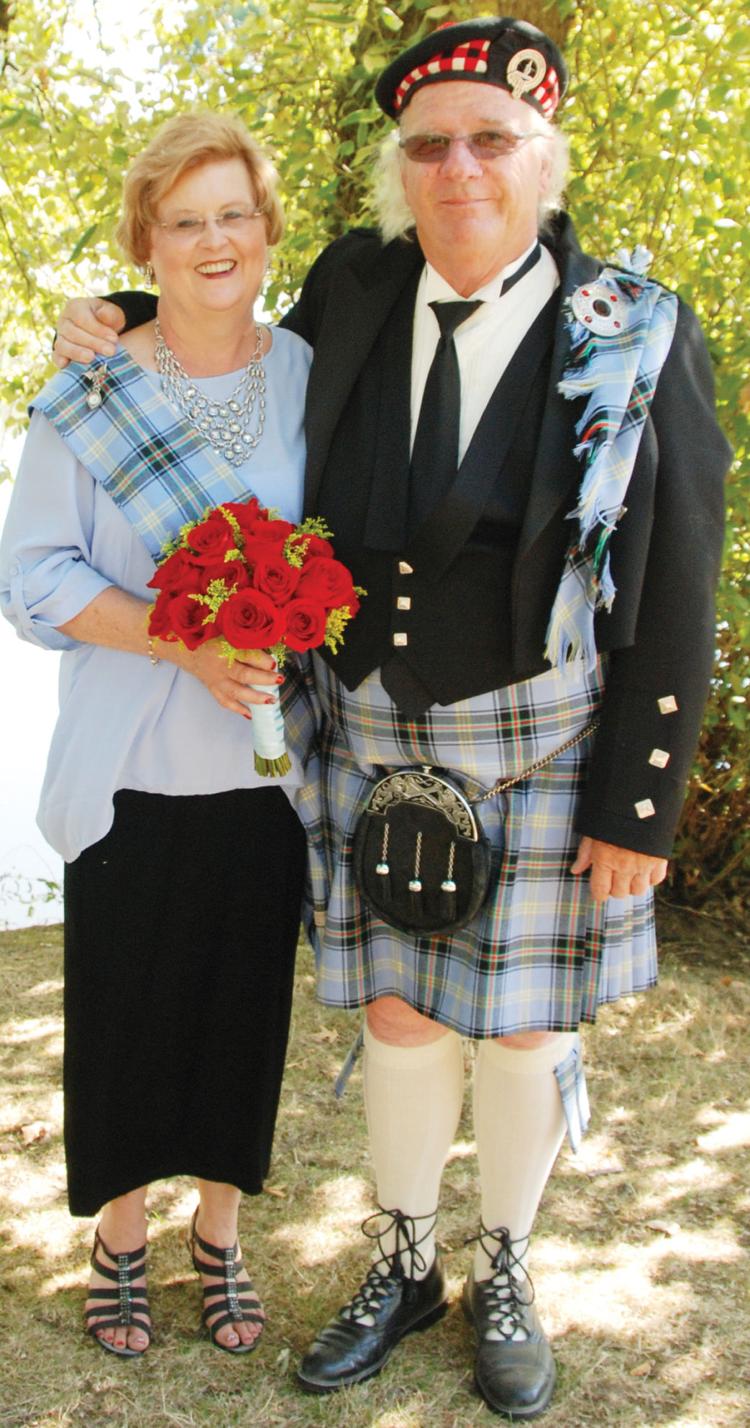 Why not just go to Las Vegas to get married? people asked.
The two families had not had not had much of a chance to spend time with each other, Karla said, and she wanted to bring her and David's grown children together in a meaningful way.
"I wanted us to feel like we were connected," she said.
To welcome Karla into the family and bring her into their clan, David's relatives presented her with a Bell family plaid sash. And Karla's family presented David with a salmon.
"To symbolize abundance," she said. "One of my former piano students caught me a nice salmon and froze it whole. Then my son gave him (David) the salmon."
And of course, there was the jumping of the broom.
"We sort of stepped over the broom," Karla said, laughing.
After they married, the couple discovered that to be "true to his ancestry," they should have been married by a blacksmith.
During a trip to Scotland next summer, "we will probably get married by a village blacksmith," David said.
Their wedding was meaningful and enjoyable, the couple agreed.
"It was a wonderful way to join two families," David said. "I liked being part of the traditions and customs of the old world."