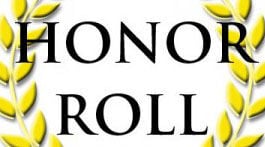 Editor's note: This honor roll ran on Page B7 of the Tuesday, July 14, print edition of The Daily News.
The R.A. Long High School honor roll and honorable mention roll for the second semester of the 2019-2020 school year has been announced.
Students named to honor roll had between a 4.0 and 3.5 grade-point average. Students named to the honorable mention roll had between a 3.49 and 3.0 GPA.
4.0 grade-point average12th grade: Rene Alvarez, Faliha Amjad, Brady Anderson, Mitchell Bergquist, Sarah Brazier, Zachary Duschik, Jacob Johnson-Valencia, Mary Knowles, Akimbek Kurlys, Aracely Leon Saucedo, Brayden Lewis, Rhylee Maynard, Anna McCoy, Morgan Minnier, Keely Morgan, Piper Nguyen, Blake Nixon, Jessica Radillo-Padilla and Kailey Sirnio.
11th grade: Melea Alexander, Penelope Anderson, Madeline Barker, Myah Bodily, Skyllar Estill, Jadon Garwood, Myranda Gates, Noah Gilchrist, Marissa Gregory, Wayne Keegan, Megan Mahoney, Aemelia McBride, Shayla Nguyen, Jagger Norris, Sarah Ramirez, Skylar Rhode, Ally Richardson, Jetzibe Rocha Andrade, Bethany Rutherford, Claire Rutledge, Sarah Smith, Roman Stalick and Shelby Stevens.
10th grade: Natalie Bargen, Mariah Boyd, Cardin Chung, Jayla Clark, Lily Duschik, Ian Elmore, Sabra Fitzgerald, Carinne Hammons, Brayden Highley, Jaxyn Jones, Kami Larson, Miranda Lomax, Rachel Lopez, Lizbeth Lopez-Robles, Kha Ngo, Hewson Nguyen, Aaron Ofstun, Ahmya Sage, Abby White and Chloe Yordy.
Ninth grade: Sydney Akinsuli, Leo Askeland, Emma Barkley, Kailey Beaudoin, William Benjamson, Mariah Bergquist, Lisbet Bueno-Aguilera, Silas Burchim, Helen Byman, Meredith Chesley, Lucas Davies, Rosalie Faul, Jasper Keller, Taylor King, Tyler Kish, Megan LaDue, Sandra Martinez-Mondragon, Aiden McCoy, Micah Miner, Rosa Murillo, Jay Nickerson, Alehandra Ornelas, Angelica Reyes-Ramirez, Natasha Ruddell, Criselia Salas Valencia, Sarah Sparks, Adam Verd, Noah Vining and Keyan Whitney.
3.99-3.512th grade: Anel Alvarez Cervantes, Jeremiah Bailey JR, Jordan Barenberg, Ada Beasley, Bailee Brookhart, Lacey Brunelle, Harper Buffham, Everardo Carapia-Velarde, Elias Farland, Brandin Farris, Savannah Fesler, Raphael Fleming, Cole Foley, Sarah Frisk, Maricela Galvan, Katie Hammock, Devany Hubbard, David Jennings, Andrea Martinez Duran, Elizabeth Most, Matthew Murray, Savannah Nash, Kylee Newman, Joshua O'Neal, Katrina Osborne, Djuro Petrovic, Simone Poole, Edwin Reyes-Ramirez, Alondra Santana Hernandez, Roxanne Scott, Ayla Secrist, Jarrod Serrano, Madison Spicer, Hunter Tornow, Caylie Troendle, Clyde Waters Jr. and Madison Wolbert-Wells.
11th grade: Miranda Allen, Jake Anderson, Jonathan Baker, Devin Bowers, Erika Braack, Kiana Burback, Bobbi Clark, Todd Flood, James Genero IV, Blake Girt, Reagan Gosselin, Baylee Gregg, Keeli Hash, Jayde Hooper, MaKayla Jenkins, Madison Jennings, Josiah Jones-Rein, Kenna Kolbaba, Laura Le, Giselle Lopez Lopez, Pricilla Luevano Basurto, Ernesto Luna, Ashton Mertes, Conner Moses, Allison Nisbet, Chloe Oberloh, Evan Pithan, Madison Pittman, Jesus Reyes, David Simila, Tammy Smith, Kiana Strahan, William Vazquez Aguilar, Maria Virgen, Damien West Weber and Zhicheng Yu.
10th grade: Jorge Aguilar, Sophia Allen, Malea Ball, Sierra Batdorf, Isabella Bates, Coral Benjamson, Miranda Bergquist, Natalie Brower, Brooke Burns, Gracie Byrnes, Zachary Campbell, Hope Childers, Kennedy Dahlquist, Kylee Epperson, Jessie Fisher, Lillie Anne Glenn, Mylee Grimm, Roberto Hernandez DeLaGarza, Danni Hopper, Kylie Hueth, Kaeden Kersavage, McKenna Leff, Katrina Lender-Aberle, Destiny Losolla, Alexis Maggs, Maddie McCoy, Isabella Peiffer, Evan Prewitt, Dylan Quick, Gabriella Radillo Padilla, Alfonso Ramirez Montes, Shelbyann Resech, Samantha Swarts, Y Ta, Lisa Thompson, Hannah Tornow, Nicole Tosh, Sarah Tran, Jorden Williamson and Hunter Worel.
Ninth grade: Haylie Abercrombie, Monique Alvarado, Emily Anderson, Lacey Baker, Nathan Bloomfeldt, Dominique Booth, Jordyn Brantley, Morgan Brazier, Kenia Castro, Zoe Coble, Amanda Daggett, Kora Elam, Essence Fleming, Natalie Gaston, Kiara Geonzon, Logan Goldner, Trinity Henson, Gracelyn House, Aiden Landers, Mekah'E LeClair, Jacy Lewis, Austin Melcher, Hope Miranda, Shaun Mize, Avery Moon, Lizbeth Nava, Nika Nesbit, Layne Oberloh, Nicole Owens, Gerardo Paradis, Miriam Pelayo, Jaxon Pleas, Kylei Ritchie, Maria Rodriguez, Aizik Rothwell, Evan Russell, Theodore Smith, Jamie Strozyk, Aristala Tarrant-Malouff, Rae Taylor, Jadyn Terry, B-Jay Karl Tommy, Kassandra Tunthakit, Spencer Welborn and Tajsa Wetmore.
3.49-3.012th grade: Marcello Baeza, Nailynn Bingman, Lindsey Deisher, Jillian Gregory, Camille Hammons, Cierra Hobson, Kamryn Holmdahl, Felix Huhs, Hanna Kirkpatrick, Louisa Kuerzi, Bianca Luevano Basurto, Christian Luna, Francisco Martinez Duran, Castine McDermid, Samantha McNurlin, Antonio Naal-Meza, Patience Nelson, Megan Olsen, Diego Pirola Ramos, Ryan Plampin, Elora Rios Munoz, Jonathan Rivera-Tejada, Rylee Rodriguez, Alyssa Ruiz, Tajveer Sandhu, Asia Taccori, Brooklen Thill, Gillian Vandermeer, Brian Webster, Jasmine Williamdyke, Kassidi Williams, Jadon Williamson, Mildred Williquette and Jacqueline Zarazua Soltero.
11th grade: Marcos Alba-Estrada, Tessa Baker, Faith Barker, William Beasley III, Jacob Broadway, Kaliah Brower, Kylee Bullock, Isabel Carleton, Jared Chandler, Rhys Cronk, Jaden Eiche, Eriano Eram, Alexis Evans, Logan Gollersrud, Drew Grothoff, Ethan Heriford, Gabriel Higginbotham, Madison Holm, Macey Jenkins, Ferran Johnson, Kennedy Keith, Christopher King, Jonathan Mace, Jose Magana-Herrera, Gavin Martinsen, Colin Mendenhall, Alice Meyers, Sydney Nguyen, Jon Olive, Ashton Ragan, Michelle Ramirez, Kyle Roussin, Kaydence Smith, Sariah Smith, Jing Tan, Jonathan Williamdyke, James Wills, Hayden Witham and Brynn Wronkowski.
10th grade: Jaime Alvarez, McKenzie Anglin, Dyllan Barton, Parker Beisse, Alejandra Chave Messner, Logan DeDeaux-Olds, Star Estill, Jaylene Fuchs-Dickerson, Adam Hartley, Yazmin Ibarra-Salas, Robert Kennedy, Gabrielle Kensof, Tristin Morgan, Martha Pena Guitron, Juan Perkins, Sidney Phillips, Travis Ruddell, Benjamin Serrano, Maria Sheldon, Elizabeth Surber, Brianna Sweet, Braden Wallace andTyler West.
Ninth grade: Rosalia Basurto-Caballero, Madison Batchelder, Valeria Cabrera, Fatima Caldwell, Kelsey Catlin-Alapeteri, Julian Claypool, Mathew Cooper, Alex Dacus-Sweetin, Janet Douglass-Clemmer, Brianna Dual, Noelani Erece, Marisa Foister, Eric Garcia-Gordian, Audrey Glaser, Ella Gonzales, Braydon Greene, Karlie Griffith, Zachary Hoskins, Patience Jones, Caitlin Kane, Austin Landis, SorrowLily Lindorff, James McDonald JR, Amy Meza-Balbuena, Evelyn Most, Gage Norwood, Kasinda Page, Conner Person, Adrianna Pihl, Sherlin Rios Rivera, Kaley Schlecht, Josiah Smith, Greggery Teel Jr., Gabriel Tootoosis-Didier, Isaiah Torres, Reagan Vandermeer, Elisa Wallin., Savanna Weekley, Lilyonna Wells and Diego Woodall.