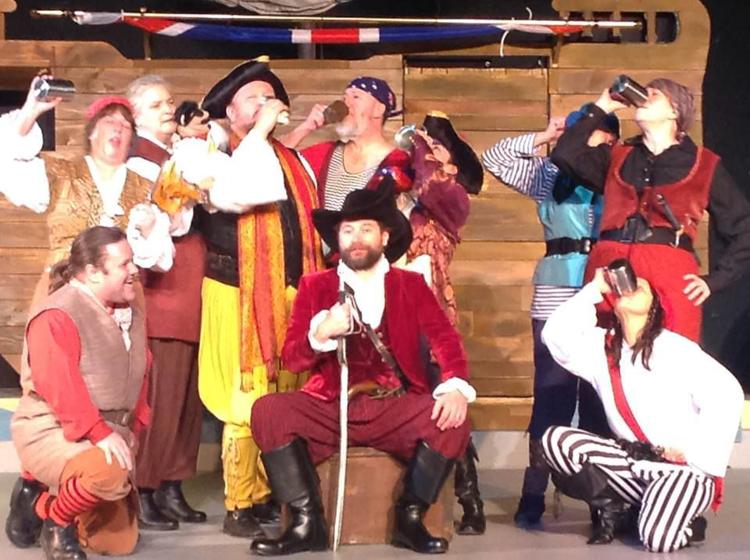 I always thought I would play a pirate," said Joey LeBard, taking a break from swashbuckling during recent rehearsals for "The Pirates of Penzance," which opens Friday at Stageworks Northwest.
"The Pirate King is a lot like me, I think," he said. "He's a really nice person inside, but he has his rough exterior. I love playing an antihero. I love the dichotomy. He's dangerous but gentle. He's whimsical, but he still has a code."
The subtitle of Gilbert and Sullivan's 1879 operetta is "The Slave of Duty," and every comic situation in the show spoofs the rigid adherence to duty. No one suffers more from this obligation than Frederic (Peter Curtis), an apprentice pirate by accident since he was 8 years old. His nurserymaid, Ruth (Lorraine Little), was supposed to apprentice him to a pilot, but she's slightly deaf.
Curtis describes Frederic as "the straightest straight man I've ever played. Gilbert and Sullivan do such great ironic mockery of the British character."
The play begins as Frederic tells his fellow pirates that although he is duty-bound to be a fully committed pirate until the end of his apprenticeship at precisely noon, at that point he will switch to being duty-bound — as the son of a nobleman — to "devote myself heart and soul to your extermination." To the tender-hearted pirates, this is disappointing, but makes sense.
Frederic falls in love with Mabel (Laura Tack), the youngest daughter of a pompous major-general (Patrick Hale), who sings one of the most famous patter songs in musical theater history, "I Am the Very Model of a Modern Major General."
Mabel "feels that she is the favorite daughter, so she's entitled to be the center of attention," Tack said. "She also feels a very strong sense of duty. I think it's because she has been so blessed in her life, it's her duty to extend the same to others every chance she gets."
The show is directed by Scarlett Clark, with musical direction by Clarance Knutson, who delights in the music, particularly the contrapuntal numbers, which Gilbert and Sullivan made their trademark. In one of his favorite numbers in Act II, pirates and policemen sing different songs simultaneously as they prepare to fight each other. The pirates' tune was borrowed from a popular song, "Hail, Hail, the Gang's All Here," Knutson said.
Others in the cast are Claire Beck, Kari Cavaness, Cassandra Charles, Cyndi Deaton, Mary Hoover, Rochelle Larsen, Rick Little, Robert Mumford, Peter Ouellette, Susan Sherwin, Angela Skaugset, Rachel Welsh and Adam Wolfer.