Mead wins CAA best of show
Krista Mead, a watercolor artist from Longview, recently won the Columbian Artists Association's Best of Show Award at the group's 42nd annual Spring Show which opened Saturday, March 10, at the Three Rivers Mall, 351 Three Rivers Drive, Kelso.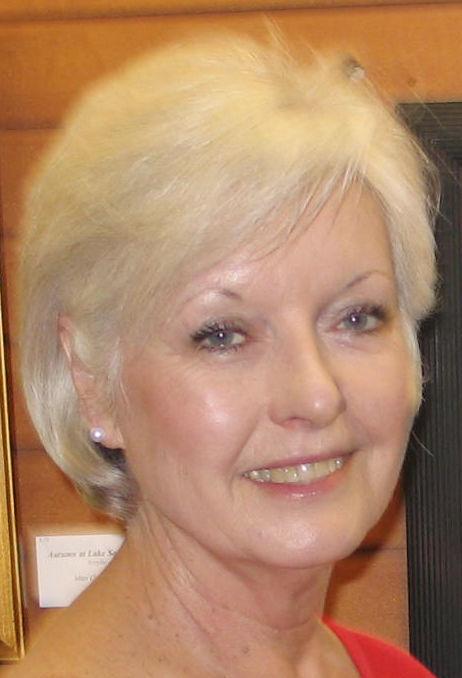 The free event is open daily from 11 a.m. to 5 p.m. through Sunday, March 25, next to the former Macy's store.
The public is invited to attend and vote for the People's Choice Award.
For the Best of Show Award, 81 entries in four media were professionally judged by Lee Baughman of Clark College and Daniel Tate from the Longview Public Library. Winner Mead is a former Longview elementary school teacher who retired in June 2016 after teaching 33 years. She taught at Mint Valley and Columbia Valley Gardens schools.
After she retired, Mead decided to spend her time watercolor painting. She has no formal art education and according to a press release, she "learns something new with each piece."
In the past 18 months, she has entered five shows and won awards at each show.
"My retirement couldn't be better," she is quoted in a prepared statement. "I am never so happy as when I can spend time in my tiny studio watching my photos of everyday people become works of art."
She said her camera always is ready to capture local people engaged in simple pleasures.
"So watch out," she said, "you may wind up becoming a work of art."
Mead thanks Linda McCord of McCord Atworks for inspiring her to develop her skills in portrait painting.
People interested in seeing Mead's work are invited to visit the Koth Gallery at the Longview Public Library in September where her and fellow artist Leslie Pogue will have a public show and sale.
Students named to UW dean's list
Several local students have been named to the fall 2017 dean's list at the University of Washington in Seattle.
To be named to the list, students must complete at least 12 graded credits and have a 3.5 or higher grade-point average.
• Kalama: Cody Aceveda, Brooke Nugent, Nathan Parcel and Kaitlyn Specht.
• Kelso: Azamat Berdiyev, Davis Boswell, Claire Cowan, Blake Fletcher, Dylan Fletcher, Averie Freund, Collin Greig, Wyatt Hazel, Tanner Helem, Neil McGhee, Deena Osman, Samantha Poplasky, Sidharth Shankar, Jessica Singo, Hannah Suh and Leah Suh.
• Long Beach: Amanda Bell, Anthony Fruehauf and Zachary McNulty.
• Longview: Zubair Amjad, Kaleb Anagnostou, Carlie Arledge, Tayana Barr, Kento Burke, Sierra Hughey, Hiro Kusakabe, Riku Kusakabe, Isabella Larson, Elizabeth McCarthy, Jolee Melink, Brian Schatzel, Bailee Strong, Amber Torell and Alex Wisdom.
You have free articles remaining.
Ellis receives Elks award
Joanne Ellis, who founded the local clothing ministry The Storehouse approximately 25 years ago, recently received the 2017-2018 Kelso Elks Lodge No. 1482 Distinguished Citizenship Award for "Outstanding and Meritorious Service to Humanity."
Ellis was featured in a September 2001 Daily News article for her efforts of giving away jackets, pants, shirts and other clothing items to people who needed a helping hand.
In addition, she was mentioned in an October 2013 Daily News article about a Longview church opening its doors to a clothing ministry 20 years after Ellis opened her heart to the idea.
Keyser takes fire training
Morgan Keyser of the Longview Fire Department is among 26 firefighters who took a 12-week Recruit Academy training at the Washington State Fire Training Academy in North Bend, Washington.
The training meets National Fire Protection Association 1001 and 472 Standards for firefighter professional qualifications at the Firefighter I, Firefighter II, Hazardous Materials Awareness and Operations levels.
The recruits learned fire service principles through classroom instruction and rigorous hands-on live training, according to a press release.
Bartlett gets a scholarship
Eagle Scout Rob Bartlett, a member of Boy Scout Troop 385, has been awarded a Cascade Pacific Council Eagle Scout scholarship.
Bartlett, who has been a member of Troop 385 for eight years, will attend either Gonzaga University or Washington State University in the fall of 2018.
• Troop members will visit Winter Lodge on Mount Hood this month.
• Troop members are getting ready for the Pinewood Derby race and are making their cars. For details, contact Misty at 509-889-4531 or mistylaflamme@yahoo.com, or Ann at 360-560-9477.
• The troop meets from 7 to 8:30 p.m. Tuesdays at Father Mulligan Hall, 676 26th Ave., Longview (across from St. Rose School). Members are being accepted. They must be boys between 11 and 17 years old in fifth through 11th grade. For details, contact David at 360-751-3218 or dwschatzel@gmail.com, or Ann at 360-560-9477.
Woman receives law school award
Linda Smithies of Woodland recently received the Sue Lane Award at the 27th graduation ceremony of Kaplan University's Concord Law School.
The graduation for students of the fully online law school took place at the Skirball Cultural Center in Los Angeles. The class includes 45 graduates of the Juris Doctor program and 56 graduates of the Executive Juris Doctor program.
In memory of Sue Lane, the first Concord Law School registrar, the award is given to a student from the graduating class who embodies a strong worth ethic, compassionate nature and service to the community, according to a press release.