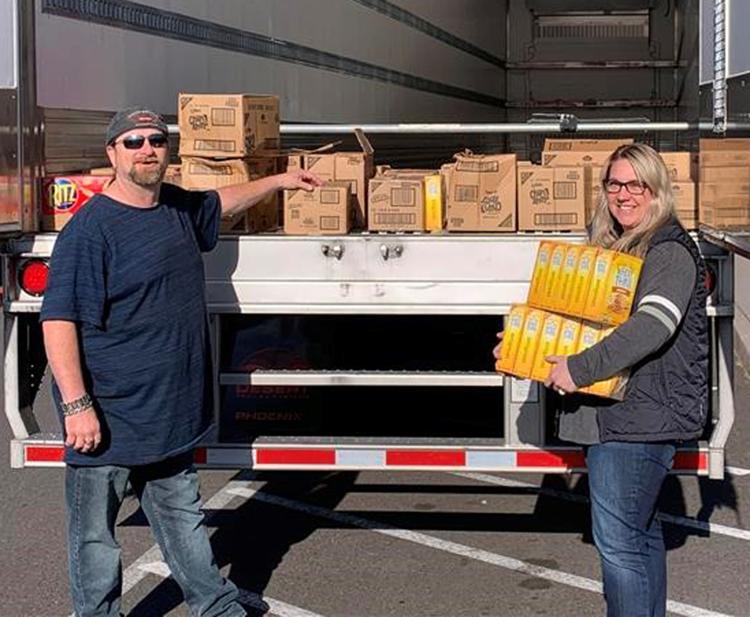 Numerous community residents, organizations and people have been donating services and supplies to Woodland schools to help the area's children during the COVID-19 pandemic.
According to a press release from Woodland Public Schools, "truck drivers continued to donate snacks and meals that clients refused as a way of thanking Woodland Public Schools for opening the high school as a temporary truck stop and rest facility for long-haul drivers during March and April.
Recently, a driver for Landstar Ranger Trucking, Shawn Fenmore, delivered 25 cases of cookies and crackers.
"The cases were considered surplus because their shipping boxes were damaged in transit," WPS' director of facilities and safeties is quoted in the release, adding "However, the product was perfectly intact inside."
And long-haul driver Russell Thomas, who works for John Christner Trucking, donated more than a thousand breakfast sandwiches when a client refused the order. (For more about his story, visit https://www.woodlandschools.org/article/229796.)
In addition, Fibre Federal Credit Union donated $3,500 for the Woodland School District to buy food for families in need.
In April, at the WPS' Family Community Resource Center (FCRC) began distributing weekly distributions of food bags for families, distributing 40 at a time.
According to Gabirelle "Gabby" Meador, the program specialist who manages the FCRC, because of Fibre's donation, they should be able to provide families with food for what would have been the remainder of the school year.
The Woodland Dollar Tree and the SchoolHouse Connection have provided school supplies students need for their remote learning. With the donations, the school district assembled and distributed 60 bags of school supplies to families.
"The amazing support we've received helps to bridge some of the gaps caused by this pandemic," Meador is quoted in the release.
"In a time filled with closures and cancellations, it's wonderful to see the community's compassion has not been cancelled."
Be the first to know
Get local news delivered to your inbox!