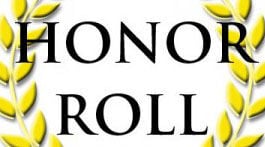 The Mount Solo Middle School honor roll for the second semester of the 2020-2021 school year has been announced.
Eighth grade: Benjamin Bilger, Ciara Booth, Isaiah Bradley, Hunter Gaylord, Lyla Khlee, Madelyn Lyda, Aaron Mark, Adrian Martinez-Gonzalez, Emily Naillon, Jaydyn Nordquist, Alexandra Perkins, Mercedes Scrichfield, Randahl Southworth, Sarah Stewart, Emily Street, Julia Verdugo-Morales, Addie Wisuri and Jorah Yates.
Seventh grade: Julia Barella, Aiden Beaton, Aiden Boone, Gerbrel Bryant, Markayla Bryant-Tover, Paige Byman, Hailey Conrad, Megan Fugleberg, David Gardner, Alina Graham, Justice Hancock, Kennedy Hastings, Gracie Hetland, Brayden Hoffman, Sadee Hopper, Emily Jurvakainen, Emme MacArthur, Samantha Mark, Genevieve Miner, Alex Moreno, Cyauna Moses, Scarlett O'Neill, Rhonda Ojalehto, Ruvim Pisarchuk, Ellie Powers, Alivia St. Germain, Mary Tanie, Bridget Turner, Madison Twaro, Alessandra Verdugo-Morales, Mason Waddle, Sophia Wallace, Jonah Williams, Riley Young and Delanie Zueger.
Sixth grade: Jocelynn Beach, Sophie Brunelle, Trenton Conover, Wyatt Cummings-Smith, Ashton Gomez, Alexa Harrison, Kristen Harvey, Marissa Higgins, Gracie Huhta, Bailey La Fave, Kialani Makaiwi, Vivian Most, Josie Ojalehto, Abram Plough, Addisyn Ross, Alex Schumann and Brent Wagner.
Eighth grade: Hannah Byman, Mason Byman, Hannah Coleman, Mason Henderson, Lundyn Jacobs, Elle Jones, Kamrynne Miranda, Emma Olson, Anna Rubash, Erich Schumann, Jasmine Shepherd, Brooklynn Stevens and Jade Walters.
Seventh grade: Matthew Anshutz, Alianna Avalos-Bazan, Ruben Avila, Lauren Batchelor, Malorie Brunelle, Paige Burleson, Brynn Byman, Bybi Chavez-Gaytan, Ethan Cooper, Lee Cooper, Corvette Cope, Markus Dille, Joslynn Geissler, Bo Godwin, Alana-Grace Hansen, Marlee Harper, Ava Heim, Makenzie Henthorn, Ayden Huddleston, Sutton Jacobs, Sienna Kangas, Myah McElligott, Ethan Pittsley, Kayden Prichard, Natalie Ramirez, Zowie Ramirez, Aidan Rogers, Jacob Romero-Trotter, Kiah Rozema, Kayli Samontry, Katrina Strang, Samantha Toney, Jaren Whitright and Brycen Wonser.
Sixth grade: Tobias Anderson, Joshuah Askay, Autumn Beaton, Landon Beaudoin, Luke Bilger, Edward Booth, Owen Bowen, Lia Byman, Anthoney Creech, Penelope Curry, Alexis Duscha, Axton Flemens, Abigail Frazier, Connor Garoutte, Kamrie Guizzotti, Boden Harrison, Jaidyn Hillendahl, Conner Johnson, Karly Keith, Griselda Macias, Kayla Mahoney, Aela McNeilly, Rebecca Montgomery, Samantha Montgomery, Hadley Murray, Carson Nichols, Elizabeth Olson, Evelin Reyes Ramirez, Azared Sanchez, Aylah Sturdevant, Ryan Whitney Jr. and Cierra Wofford.
Eighth grade: Tad Alwine, Ella Blair-Breidt, Gabriel Brummitt, Aimen Flemens, Bella Gilbert, Ethan Gray, Alyssa Green, Ashlyn Hampton, Ryane Hayes, Gracie Hendricks, Carter Huhta, Isabella Hutcheson, Koji London, Kealohilani Makaiwi, Quinn Maynard, Alexis Nguyen, Gabriella Paradis, Isaac Plough, Neyzen Ramirez-Morales, Kaylee Rinker, Kayleigh Spaulding, Eden Tschida, Matthias White and Isabelle Whiton.
Seventh grade: Acadia Anderson, Brooklynn Baker, Deker Bartell, Joshlyn Beebe, Michael Canham, Paige Coffman, Nickolas DaSilva, Hunter Drinnon, Cooper Edgemon, Vanessa Fitzgerald, Hallie Greig, Karly Grothoff, Keaokamaha'o Hamakua, Ashley Johnson, Beau Manes, Miguel Paradis, Zoey Shaw, Braydon Sweetin, Sosambra Thacker, Nikolay Tsvetkov and Iris Zimmerman.
Sixth grade: Teagan Adams, Gabriella Birtchet, Olivia Collins, Emma Eaker, Avery Millus, Carter Munsch, Ryan Nordquist, Lauryn Reid, Josiah Williams and Caylea Zimmerman.