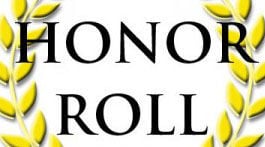 Editor's note: This honor roll ran on Page B7 of the Tuesday, July 14, print edition of The Daily News.
The Mark Morris High School honor roll for the second semester of the the 2019-2020 school year has been announced.
4.0 grade-point average12th grade: Emma Anderson, Ella Bilger, Cole Busch, Maria Fleckenstein, Emily Harrison, Melaina Hayes, Jadyn Hemberry, Grace Huhta, Nathan Naillon, Charles Norton, Ryan Pospichal, Bryce Sampson, Gabriel Slind, Connor Toler and Caleb Treichel.
11th grade: Macie Balkan, Jakob Burleson, Alec Busby-Frey, Antonio DaSilva, Emma Jewell, Emma Johnson, Skyler McCoy, Phenwyck Parsons, Lucinda Sieler, Ilinca Slabu, Mikayla Taylor, Caleb Thayer, Aubrey Vaillencourt and Andee Whitman.
10th grade: Elise Aguirre, Jenna Ballantyne, Katlynn Beech, Seth Beres, Natalia Breeden, Johanna Clark, Brianna Johnson, Brodey Lamb, Mckenna Longtain, Aleydis Matiaz, Carson Ness, Adam Nixon, Joshua Pond, Emily Provolt, Jillian Salais, Ashley Smith, Rudi Soetamin, Charli Swanson, Alyssa Thomas, McKenzie Verdoorn, Elisabeth Weber, Taylor Wilkinson and Anna Wisuri.
Ninth grade: Jamaica Atad, Kelcie Balkan, Stefan Byman, Jiarong Chen, Kaylee Chrisman, Kellen Desbiens, Ava Escudero, Ainsley Hayes, Lillian Hinton, Braden Huhta, Ian MacArthur, Isabella Merzoian, Madison Noel, Olivia Pickett, Madeline Pospichal, Brooklyn Schlecht, Cameron Scrichfield, Travis Sherman, Selah Shulda, Kyle Stanton, Chloe Swanstrom, Trey Varney, Maria Vera-Alvarez and Paige White.
3.99-3.512th grade: Olin Barnes, Peyton Bohannon, Olivia Bollinger, Caleb Buck, Baylee Carrico, Tino Cemulini, Eric Chen, Hannah Cheney, Paige Curley, Tyler Dixon, Emil Ekenborn, Clarissa Escudero, Madeline Flint, Elijah Garcia, Heather Gower, Hannah Hapgood, Hannah Harlin, Noelle Harriman, Jasmine Hoadley, Cassandra Hogsed, Andrew Hoyt, Kaitlyne Hylton, Isaac Jurmu, Cara Kittelson, Sara La Sarge, Toby Larson, Deyon Magee, Neeson Moon, Garrett Ness, Mitchell Pelton, Alexis Perkins, Isabelle Plough, Elian Quezada Gonzalez, Gabriela Ramirez, Luis Ramos-Aquino, Jacob Robertson, Caleb Royce, Jalin Salais, Andrew Sawyer, Madeleine Schreier, Hunter Settle, Kate Sprague, Katherine Troy, Bryson Webb, Payton Welch and Julia Wright.
11th grade: Raeanne Allen, Timothy Arnold, Armando Baeza-Dachtler, Cameron Barrett, Josie Boultinghouse, Arina Bulat, Laurette Burckhardt, Raedyn Catlin, Autymn Clancy, Makenna Crandell, KaytLynn Croy, Alyssa Davis, Grace Deering, Alba Del Rio Merlo, Coletyn Everdell, Jennifer Foister, Mikayla Hardee, Felicity Jenkins, Jayde Keithley, Lily Koski-Haase, Devyn Lindsey, Brock Messinger, Dennis Mihai-Lazar, Angel Miller, Logan Moe, Emma Nichols, Paxton Nippert, Jacob Ojalehto, Logan Piper, Dianna Sanchez, Joseph Sanchez, Simon St. Martin-Shook, Kaemon Stupek-Chamberlain, Kathleen West and Valorie Worden.
10th grade: Carson Allen, Ireland Allen, Christian Arevalo, Nakita Beard, Rylee Berry, Finnegan Boyd, Joshua Butler, Vaughn Byman, Colton Carlson, Yadira Cisneros Hernandez, Makayla Davis, Emily DeWitt, Jaxon Eaton, Noah Epperson, Edgar Gonzalez, Gavn Hart, Ella Hedlund, Diego Hernandez, Adrianna Huhta, Julianna Hutta, Piper Jenkins, Corbin Jensen, Trent Jurvakainen, Elle Keele, Jaren Koenig, Jason Kooiman, Maya Lewis, Alyssa Lomax, Joshua Martinez, Edgar Matias-Hernandez, Elmer Matias-Hernandez, Brynn Phillips, Abigail Plough, Ashley Provolt, Stephen Rooklidge, Caleb Selzler, Kaylina Smith, Erica Snyder, Draven Stephenson, Nathan Swain, Kaitlynn Westerby, Jaden Whitright and Emily Williams.
Ninth grade: Kiley Anderson, Joyce Arnold, Andrew Bingham, Kendall Blondin, Jason Bost, Dorian Brickert, Dakoda Brown, Brooklyn Dillinger, Cassidy Drew, Emma Fisher, Adyson Hampton, Miller Harman, Alexandria Hass, Cassia Heim, Kody Holliman, Isabella Hoptowit, Conner Hurse, Ethan Larsen, Madison Mauck, Justus McCann, Magan McDonald, Aisley McLean, McKenna Nugent, Anna Opgrande, Sierra Paine, Kobe Parlin, Gracie Perkins, Mahalia Perkins, Catherine Pfannes, Donavin Pickner, Ramzi Prewitt, Brooke Sampson, Elsie Sanchez, Madison Scudder, Katelyn Stanton, Caleb Stewart, Brynna Swain, Luc Swain, Odalis Vasquez-Castro, Drew Wallace, Reagan Wilkinson, Jase Wygant and Ailah Yaple-Lopez.
3.49-3.012th grade: Elijah Arnold, Briana Barron, Giulia Beltrani, Megan Bodin, Kaden Breien, Kendall Breuer, Joseph Brombach, Raven Charles, Jacob Crippen, Morgan Ebert, Braden Foultner, Aidan Honga, Antonio Huffman Aquino, Grace Huffman, Kasey Huls, Jenna Jensen, Phoenix Joplin, Tyler Kooiman, Alison Kraushaar, Colton Laulainen, Alexis Lepe, Melchora Lopez Lopez, Cameron Mansker, Searoth Mao, Elizabeth Martin, Mayra Matias-Hernandez, Quincy McClung, Kirstyn McGregor, Chance McPherson, Kaden Michaud, Simon Moe, Ryan O'Neill, Alinne Peralta Parra, Eric Philbrook, Makenzie Pickner, Isabel Platt, Aaron Prince, Dahlia Prince, Emilee Rahier, Hailee Reynolds, Ashley Rinke, Christopher Robinson, Victoria Sampson, Kaden Schafer, Aurora Schoonover, Martha Segundo Ortiz, Jack Shipley, Kodee Soetamin, Cade Spenker, Olivia Taormina, Hilke Tegethoff, Marco Valdivia-Aldana, Mary VandenBerg, Candelaria Vasquez-Lopez, Camden Vinton, James Widdifield, Katherine Williams, Andrew Wilson, Syd Wood, Leslie Yan and Matthew Young.
11th grade: Alexander Bashor, Luna Blake, Kurt Bosler-Eisenhauer, Wyatt Boyd, Taylor Burdick, Trina Byman, Kaya Cardenas, Jason Carter, Signe Clarke, Charlie Curry, Ireland Desbiens, Savannah Dominiak, Varonica Gomez Bracken, Breanna Greenwalt, Gracie Guizzotti, Bebs Hack, Chloe Harris, Logan Harris, Kaylee Heitz, Gunnar Henthorn, Erika Inocencio, Sofia Laulainen, Charli Martell, Kayla McCarthy, Sophia McMahon, Jared Noel, Hunter Norton, Kamrin Orr, KayLee Platt, Emma Preciado, Esmeralda Rodriguez-Flores, Mariah Roseman, Allie Scudder, Johnine Stoehr, Summer Strong, Molly Thom, Kyla Warren, Emily Wilbur and Ignacio Zambrano.
10th grade: Brittany Bean, Charles Benfield, Hannah Bishop, Gracen Braaksma, Natalia Breien, Trinity Buskeness, Drake Byman, Emily Byman, Sarahi Campos-Quintero, Gavin Clawson, Savannah Coffman, Emily Cox, Hailey Davis, Miranda Doumit, Braydon Everdell, Jordan Farrand, Jake Fitzsimmons, Steven Fox, Noah Frasier, Jazz Frazier, Elizabeth Gutierrez Larios, Rome Hendrickson, Wendy Hernandez, Elizabeth Kalal, Averee Landino, Emily Lott, Austen Lovingfoss, Jeffrey Mace, Melany Manzano-Tellez, Pennelope Martin, Kirsten May, Elisa McElligott, Kellen Mendez, Miguel Morales, George Mosier III, Chastin Murders, Hayly Peterson, Ryan Robertson, Anthony Rodriguez Palomera, David Rodriguez, Antonio Rojas, Naiset Santos-Pelayo, Zoey Shine, Grace Sims, Adeline Sloan, Evan Swain, Olivia Trucke, Ellen Turcios, Joseph Whalen, Natalie White, Mildred Whiteside and Colter Workman-Hall.
Ninth grade: Jaya Ainslie, Sterling Anderson, Langston Bartell, Olivia Beisel, Caden Bolin, Amy Broderius, Tyler Buchanan, Gabriel Clemons, Maxwell Crapo, Matthew Davis, Rainey DeJong, Jacob Dille, Tynlie Doherty, Lauren Drake, Kylee Eastman-Moore, Ethan Ekman, Erma Esperanza, Ashley Forward, Anthony Grube, Stephen Hammergren, Jacob Hammond, Hayley Harlin, Hal'Lee Harris, Quinn Harvel, Ryan Haynes, Noah Herrera, Owen Huhta, Tevin Larson, Kenji London, Precious Merritt, Adam Newton, Tyson Ojalehto, Ariesteo Ramirez Lopez, Colten Reynolds, Chayton Rodman, Alex Rodriguez Flores, Alexandria Sampson, Colten Sinkler, Alisa St. Louis, Hunter Stoneking, Sebastian Vasquez-Lopez, Hallie Watson, Payton Wilson, Kelly Wood and Zackary Ziegler.
Be the first to know
Get local news delivered to your inbox!