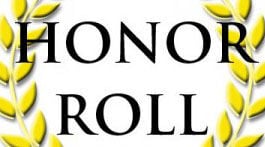 Editor's note: This honor roll appeared on Page B7 of the Saturday, Feb. 27, 2021, Daily News print edition of the newspaper.
The Mark Morris High School honor roll and honorable mention roll for the first semester of the 2020-2021 school year has been announced.
Students named to honor roll received between a 3.5 and 4.0 grade-point average. Students named to the honorable mention honor roll received between a 3.0 and a 3.49 grade-point average.
12th grade: Macie Balkan, Alec Busby-Frey, Raedyn Catlin, Alyssa Davis, Grace Deering, Gracie Guizzotti, Chloe Harris, Kaylee Heitz, Emma Johnson, Skyler McCoy, Paxton Nippert, Phenwyck Parsons, Avery Pense, Dianna Sanchez, Allie Scudder, Ilinca Slabu, Mikayla Taylor, Caleb Thayer, Andee Whitman and Valorie Worden.
11th grade: Carson Allen, Jenna Ballantyne, Seth Beres, Natalia Breeden, Johanna Clark, Brianna Johnson, Elle Keele, Joshua Martinez, Aleydis Matiaz, Adam Nixon, Emily Provolt, Jillian Salais, Ashley Smith, Rudi Soetamin, Mildred Whiteside and Taylor Wilkinson.
10th grade: Jaya Ainslie, Jamaica Atad, Kelcie Balkan, Olivia Beisel, Andrew Bingham, Kendall Blondin, Dakoda Brown, Stefan Byman, Kellen Desbiens, Ainsley Hayes, Ian MacArthur, Madison Mauck, Isabella Merzoian, Madison Noel, McKenna Nugent, Mahalia Perkins, Olivia Pickett, Madeline Pospichal, Alex Rodriguez Flores, Cameron Scrichfield, Travis Sherman, Selah Shulda, Chloe Swanstrom and Trey Varney.
Ninth grade: Isabelle Allen, Charlize Blain, Marley Boaglio, Nara Brown, Alizabeth Chavez Gaytan, Emily Foytack, Elle Hendrickson, Madelyn Hetland, Kiandra Huhta, Rylan Jewell, Rhossili Johnson, Javen Kent, Jessalyn Kloke, Natalya Larson, Cera Lesh, Austin Lomax, Braydon Olson, Tyler Pearson, Grace Phillips, Lillienne Plough, Gladis Sanchez Matias, Nina Soetamin, Elysa Taylor, Adrienne Zoe Tuazon, Maria Vasquez, Matthew Verdoorn and Cade Warren.
12th grade: Raeanne Allen, Armando Baeza-Dachtler, Cameron Barrett, Alexys Bennett, Luna Blake, Cassidy Bonser, Josie Boultinghouse, Laurette Burckhardt, Taylor Burdick, Derek Byman, Trina Byman, Jason Carter, Antonio DaSilva, Emerald Dykes, Bebs Hack, Samantha Heim, Erika Inocencio, Emma Jewell, Lily Koski-Haase, Charli Martell, Kayla McCarthy, Jenica McKercher, Brock Messinger, Dennis Mihai-Lazar, Logan Moe, Kamrin Orr, Judith Pergiel-Lopez, Esmeralda Rodriguez-Flores, Lucinda Sieler, Simon St. Martin-Shook, Summer Strong, Kaemon Stupek-Chamberlain and Kyla Warren.
11th grade: Elise Aguirre, Ireland Allen, Christian Arevalo, Nakita Beard, Katlynn Beech, Rylee Berry, Finnegan Boyd, Sarahi Campos-Quintero, Makayla Davis, Emily DeWitt, Jaxon Eaton, Jazz Frazier, Edgar Gonzalez, Elizabeth Gutierrez Larios, Ella Hedlund, Diego Hernandez, Julianna Huhta, Corbin Jensen, Elizabeth Kalal, Jaren Koenig, Jason Kooiman, Brodey Lamb, Casey Lewis, Alyssa Lomax, McKenna Longtain, Jia Wei Luo, Edgar Matias-Hernandez, Elmer Matias-Hernandez, Elisa McElligott, Carson Ness, Brynn Phillips, Abigail Plough, Joshua Pond, David Rodriguez, Breighan Sims, Kaylina Smith, Erica Snyder, Connor Spenker, Evan Swain, Nathan Swain, Ellen Turcios, McKenzie Verdoorn, Elisabeth Weber, Jaden Whitright, Emily Williams and Anna Wisuri.
10th grade: Kiley Anderson, Joyce Arnold, Jiarong Chen, Kaylee Chrisman, Tynlie Doherty, Cassidy Drew, Ava Escudero, Beau Gamble, Anthony Grube, Stephen Hammergren, Jacob Hammond, Adyson Hampton, Hayley Harlin, Miller Harman, Alexandria Hass, Cassia Heim, Braden Huhta, Owen Huhta, Justus McCann, Adam Newton, Sierra Paine, Gracie Perkins, Catherine Pfannes, Donavin Pickner, Ramzi Prewitt, Brooke Sampson, Brooklyn Schlecht, Madison Scudder, Colten Sinkler, Katelyn Stanton, Kyle Stanton, Caleb Stewart, James Treat, Drew Wallace, Kyle White, Paige White, Reagan Wilkinson, Payton Wilson and Jase Wygant.
Ninth grade: Irving Aguilar-Peralta, Alex Bauman, Grace Baxter, Audrey Berndt, McKennah Boaglio, Sadie Burgess, William Clark, Nolan Cox, Charlotte Curry, Jacee Davis, Aidan Davison, Yakima Fallet, Macee Farquhar, Vincent Flint, Laney Frasier, Rema Gravett, Kailea Guinto, Conner Hall, Caitlynn Johnson, Owen Kangas, Scarlett Kelly, Emily Lair, Trenton Lamb, Taylor Mann, Lukas Meeuws, Natalie Mejia, Samuel Mosier, Caidance Murders, Elijah Nelson, Kaylin Oliver, Agata Pisarchuk, Cameron Richey, Anthony Roseman, Marco St. Martin-Shook, Reese Swanson, Chloe Taitano, Evan Thomason, Alexandria White and Eryk Woodruff.
12th grade: Brock Barker, Alexander Bashor, Kurt Bosler-Eisenhauer, Wyatt Boyd, Joseph Burchett, Kaya Cardenas, KaytLynn Croy, Savannah Dominiak, Coletyn Everdell, Varonica Gomez Bracken, Cecilia Huhta, Kelsea Kadey, Cali Kangas, Jayde Keithley, Sofia Laulainen, Sophia McMahon, Michael McNeil Jr, Nathan Millspaugh, Eber Navarrete Vieira, Emma Nichols, KayLee Platt, Emma Preciado, Kaya Ramsbottom, Angela Rivera, Mariah Roseman, Eleora Settlemire, Brenna Siegrist, Kylie Stacey, Johnine Stoehr and Belinda Vazquez.
11th grade: Brittany Bean, Vaughn Byman, Gavin Clawson, Savannah Coffman, Jake Fitzsimmons, Wendy Hernandez, Adrianna Huhta, Piper Jenkins, Austen Lovingfoss, Melany Manzano-Tellez, Kirsten May, Kellen Mendez, George Mosier III, Alivia Most, Ashley Provolt, Caleb Selzler, Draven Stephenson, Charli Swanson, Olivia Trucke, Kaitlynn Westerby, Joseph Whalen and Colter Workman-Hall.
10th grade: Langston Bartell, Amy Broderius, Cole Byman, Gabriel Clemons, Cameron Davis, Rainey DeJong, Deacon Dietz, Erma Esperanza, Yuridia Guzman Dominguez, Noah Herrera, Kody Holliman, Conner Hurse, Emma Jenkins, Carter Kiser, Tevin Larson, Megan Martinez, Anna Opgrande, Kobe Parlin, Logan Pedersen, Jayden Scott, Odalis Vasquez-Castro and Maria Vera-Alvarez.
Ninth grade: Ella Aguirre, Cyprus Bartley, Pace Berry, Ashlyn Bollie, Dakoda Brown, Hannah Coffman, Adreana Coons, Angel De Leon-Velazquez, Brooklyn Harris, Maxwell Holly, Taliah Kidrick, Ivan Linden II, Tiahna Pagan, Victor Royce and Brandon Sandberg, Hannah Sears.