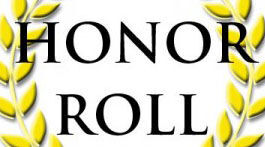 The Lower Columbia College spring 2020 quarter honor roll has been announced.
To be named to the President's List, students must be enrolled in 12 or more credits and earn between a 3.8 and 4.0 grade-point average for the quarter. To be named on the Dean's List, students must be enrolled in 12 or more credits and earn between a 3.25 and 3.79 grade point average for the quarter.
President's list
Caroline Abruzzini, Kaitlynn Adams, Rocio Alcala, Daniel Alonso-Flores, Blake Anderson, Penelope Anderson, Danelle Anderson, Kaden Anderson, Kenan Anderson, Jake Anderson, Courtney Arn, Aira Shannic Aromin, Matthew Arrera, Madalyn Arrowsmith, Charlie Ashe, Viktoria Babicheva, Addison Bailey, Macie Balkan, Linda Ball, Olivia Barella, Hallie Barnett, Sierra Bartolus, Jacob Bass, Mark Bazyuk, Kristen Belisle, Kristin Bighorn, Aaron Bohanan, Matthew Boling, Shana Boling, Nadezhda Bondarenko, Arianna Bowen, Abigail Bozarth, Alexander Bratton, Gavin Braune,
Kendall Breuer, Isabella Brittell, Rachel Brockway, Elizabeth Brown, Krista Brown, Rachel Brown, Jamie Brown, Mikaela Bruer, Ariel Bryan, Harper Buffham, Andrew Bunn, Brady Burns, Katurah Buttrell, Megan Canton, Amy Carrico, Lindsey Carrigg, Tamiko Carroll, Kristen Carson, Kyle Casperson, Asia Castillo, Raedyn Catlin, Sarah Cedar, Michelle Cerruti, Tanja Chaffin, Mckinley Chamberlain, Angeleda Chhav, Lily Chukhriy, Monica Claflin, Kaisa Clark, Summer Comte, Vincent Cone, Joy Connors, Aniya Conrad, Carissa Cook, Laurie Cooley, Emily Coordes, Jade Cox, Kassidy Cram, Katlyn Cramer, Sophia Crane, Esmeralda Cruz Otero, Paige Curley, Bethany Curtis, Hailee Dahl, Blake Dahl, Quynh Dang, Ezra Darden, Alyssa Davis, Grace Deering,
Lindsey Deisher, Lenore Derrick, Janine Devincenzi, Hilary Don't Mix, Destiney Doodigian, Bryan Ebe, Veronica Eggen, Nichole Eggleston, Jaclyn Ellis, Jennifer Elser, Samantha Etheridge, Breanne Fauver, Jen Ferguson, Stephani Finlayson, Kaylee Florek, Janey Forsberg, Ashlee Fowler, Terri Frisk, Dawson Fritz, Sophie Gann, Anthony Garay, Martha Gaylor, Aunnastasia Gaylord, Felicia George, Brian Gilchrist, Mark Goldinov, Pavel Golovin, Andrew Gomes, Juan Gonzalez, Reagan Gosselin, Jane Gott, Taylor Gould, Rose Graff, Greta Grangroth, Kami Gray, Travis Greeley, Nicholas Greenland, Jenny Gunter, Patrick Hachmann, Savannah Hadler, Rachel Hagen, Danielle Hancock, Matthew Hargrove, Hannah Harlin, David Harlin, Aaron Harrell, Chloe Harris, Corlie Hartshorn, Lily Hassett, Aubrey Haynes, Grant Henry,
Griffin Henry, Luis Herrera, Breana Higgins, Ian Hoffman, Riley Housden, Kendle Howard, Kate Huhta, Grace Huhta, Ashley Hulse, Nicholas Iliyn, Valree Irwin, Madeline Jacobson, Shane Jamison, Jade Jennings, Rebecca Jimenez, Jewelia Johnson, Diana Jones, Lucas Jones, Isabelle Jones, Jamie Kafferlin, Meleah Kandoll, Cali Kangas, Ana-Korina Kapmar, Natasha Karvela, Mandeep Kaur, Daiten Kent, Riley Kent, Derrick Kephart, Heather Kern, Liam Kerr, Danielle Kirk, Mollie Kissinger, Kelly Klein, Trevor Knee, Brittany Komes, Julie Koskiniemi, Noura Koskiniemi, Olivia Krieger, Darina Kuchinskaya, Louis Lain, Hailey Latham, Colleen Leigh, Vanessa Leigh, Anthony Leigh, Jeffrey Lenzi, Chih Lin, Kelli Livezey, Faith Livsey, Thomas Longwell, Tiana Macclain, Rosemary Magana-Herrera, Molly Mahoney, Sydney Marsh, Troy Martin, Alexander Martinez, Mariahtaylor Martinez, Justin Marvin, Yuuki Matsunari, Joshua Mattison, Peter May, David May, Mason Mcgowan, Macy McIntosh, Wyatt Mckay, Ryan Mckay-Beach, Matthew Mcnicholas, Kayla Mcsweeney, Julian Mead, Adelia Menn,
Kysa Merchant, Brooklynn Mercier, Trista Miller, Micheala Mings, Julia Mitchell, Christy-Lee Mobley, Randy Mondello, Miah Montgomery, Ariana Morvee, Bobbi Mott, Caleb Mouat, Savannah Moyer, Trinity Naugle, Tessa Navarro, Brian Neal, Ashley Noah, Jodi Noyes, Kristin Nunes, Shannon Nylund, Courtney Olsson, Kamrin Orr, Kayla Ostermiller, Nicole Page, Zachary Parham, Michael Partee, Emery Pederson, James Phelps, Emi Pilant, Deserae Prink, Ryan Ransom, Eastyn Reeves, Maija Reinbold, Yaritza Reyes-Sanchez, Neiromei Riddell, Lindsay Romane, Dillon Rosencrans, Jade Rossi, Darlene Rothwell, Maekaili Russell, Krystal Rutherford,
Bailey Salazar, Jenessa Santi, Gabriela Saucedo, Natalie Savin, Andrew Sawyer, Kenneth Schaupp, Claudia Schiedler, Danica Schmidt, Josie Schmitz, Abigail Sebens, Kiersten Sermino, Emily Sewall, Paul Shiloh, Destiny Shoemaker, Maxwell Shulke, Jack Sieler, Greg Skarberg Ii, Kieran Skye, Ilinca Slabu, Jason Slape, Arron Smith, Railey Smith, Megan Smythe, Bryanna Soares, Paul Soister, Rarey Sommer, Allie Soyars, Jeneaka Spencer, Cade Spenker, Madison Spicer, Vickie Stagner, Roman Stalick, Kendra Steenbarger, Jacob Steffl, Dawn Stickley, Tracy Stone, Natalie Stricker, Nadine Swires, Allegra Taft, Kelly Taylor, Kate Tejada, Caleb Thayer, Josephine Toci, Jamie Tow, Krystyn Tran, Desiree Travers, Autumn Twitchell, Christopher Tygret,
Anastasia Ulrigg, Amanda Van Meter, Elizabeth Vaughn, Karisma Vega, Marlee Vickers, Amanda Vincent, Gabriele Wagner, Jessica Waldo, Ben Wallin, Cody Waltmire, Triniti Wareham, Kayla Warner, Dawson Wheeler, Karyn White, Andee Whitman, Sidni Willet, Ashley Williams, Molly Wilson, Kirsten Wilson, Kelsey Woelk, Shelby Worth, Katherine Young, Mason Young, Greyson Young, Mickey Young, Corin Zahn, Laurien Zahn, Karsyn Zaragoza, Karina Zarazua and Tiffany Zwiefelhofer
Dean's list
Esenia Acosta, Nathaniel Adams, David Adegbami, Meisha Amnotte, Spencer Andersen, Conner Andersen, Pavie Atkinson, Rachel Barcena, Kaylee Barnum, Emily Barnwell, Elizabeth Bartleson, Courtn Benitez-Serrato, Mayson Bisconer, Spencer Bishop, Kelsie Blackwood, Macy Blodgett, Kailana Bloomfeldt, Brianne Bloomfeldt, Amanda Botnen, Max Bott, Devin Bowers, Mariah Boyce, Ashley Bradfield, Logan Brady, Kimberly Brown, Lorene Brown, Caleb Buck, Maria Bueno Aguilera, Emily Burner, Trina Byman, Derek Byman, Joselyn Byrnes, Hanna Callender, Solomon Campbell, Jacob Carroll, Jonah Cash, Candace Chapman, Brittany Chappell, Eric Chen, Donica Chhav, Jerod Cole, Courtney Conary, Amanda Corbin, Eric Cordero, Elizabeth Crawford, Marissa Crisman, Ericka Cuevas, Carleen Culbertson, Jadd Curtis, Sarah Daggett, Kevin Dalbosco Dal Forno, Ethan Davis, Kimberly Davison, Tina Day,
Erin Delmar, Lilia Demko, Madelene Denny, Kellee Doheny, Tammy Drury-Yu, Shekinah Dunlop, Jessica Eastman, Brian Elbert, Janelle Ellis, Clarissa Escudero, Rebecca Fairchild, Madison Fairchild, Shelby Felton, Diane Fernandez, Kristina Finn, Josie Fix, Madeline Flint, Daniel Furman, Emma Gabbard, Arline Garcia, Myranda Gates, Joshua Gerhardt, Daniel Gernon, Saydee Gibson, Caitlin Gibson, Hayden Giles, Sarah Gipson, Sabrina Golden, Leoba Gonzalez-Jimenez, Devon Gotchall, Hailey Graham, Hayden Greelman, Tyson Guerrero, Erica Gunnarson, Chloe Harman, Alexandra Harman, Noelle Harriman, Michaela Harris, Shawn Harrison, Khyrsten Hart, Sara Havnar, Samaad Hector, Lacey Hendrickson, Shay Herr, Emily Higgins, Ashley Hilliker, Ian Hobson, Mackenzie Hodnot, Alena Hoffman, Jayde Hooper, Justus Hornsby, Devany Hubbard, Cadence Hunt, Alicia Jacobs, Amanda Jenkins, Melissa Johnson, Cj Jones, Annemarie Jones, Rachelle Kafel, Juliet Kagwa, Stephanie Kaiser,
Melenaite Kata, Haley Keeling, Matthew Keeling, Paige Keplinger, Elaine Kimball, Shealyn King, Cara Kittelson, Jaime Kittleson, Trinity Klecker, Layci Klein, Maddie Koistinen, Aliya Koistinen, Kenna Kolbaba, Lily Koski-Haase, Adam Kysar, Madison Lafever, Hanna Lair, Cristy Langdon, Jaxson Larson, Natalie Larson, Kelsie Lee, Sylvia Lee, Kaelin Lindsey, Eryiann Loftin, Saraya Lona, Cole Long-Rhyne, Xavier Lootah, Corrinne Lopez, Scot Lorentzen, Mirella Lwai, Michelle Magana, Magdalene Marsh, Nicholas Marty, Melissa Massie, Heather Mcclellan, Abigail Mccracken, Monica Mclennan, Michael Mcneil, Brianna Mcwain, Anna Meadows, Liliana Mendoza, Yasharah Middleton, Ladyd Middleton-Benjam, Sydney Miller, Angelique Modin, Jayanna Moon, Paige Moorcroft, Michael Moreno, Deana Moretti, Geordi Morrow, Conner Moses, Heidi Moss, Elias Muhindi, Hannah Musick, Shaleya Nakaahiki-Teves, Sean Nation, Zoe Naugle, Jasmine Neely, Skylar Nelson, Tyler Nelson, Leanne Nething, Kathleen Neuhalfen, Jacinta Njeri, Chinedu Nnadi, Jagger Norris, Kayla Nulph, William O'Brien, Megan Olsen, Madison Olson, Chloe Olson, David Olson,
Matthew Osier, Kyle Parsons, Haley Paul, Cynthia Peak, Christopher Peterson, Katie Peterson, Wynter Peterson, Logan Piper, David Placido, Kenny Pliler, Kenna Pollock, Taylor Pomeroy, Emma Preciado, Christina Presseisen, Lori Raby, Hannah Reynolds, Michele Rilea, Jace Rintala, Tyler Risher, Mikayla Risner, Angela Rivera, Unica Robert, Sophia Roberts, Tyler Robinette, Britney Rochte, Esmeralda Rodriguez-Flores, Christina Rogge, Katherine Rogge, Joana Rojas Lopez, Serendipity Rosas, Lindsay Ross, Luke Roth, Sienna Rudd, Micah Runnels, Sydney Rutherford, Megan Sales, Neida Sanchez, Jonathan Sandberg, Judeah Sanders, Laquanda Sanders, Aurora Sandoz, Griffin Sauters, Jaylen Schelb, Mikayla Schmidt, Madeleine Schreier, Jessi Schulz, Katharine Seaman, Ashton Service, Chloe Setzer, Eakthapor Shinvoranont, Kyla Shoddy, Marnie Smith, Kaydence Smith, Jayda Speed, Harmony Spencer, Crystal Spreadborough, Travis Squires, Payge Stornetta, Jeffrey Strange, Keeley Studebaker-Smith, Takumi Sugawara, Brooklen Thill, Kylee Thomasson, Mier Tian, Sara Todd,
Miles Trekas, Tyler Tremain, Macey Tucker, Lauren Tuttle, Ava Uskoski, David Van Vleck, Mary Vandenberg, Candelar Vasquez-Lopez, Kyli Vazquez, Travis Vetter, Jacob Vinatieri, Karla Vollmer, Braden Vollmer, Alyssa Walker, Nelly Wangari, Payton Welch, Georgia Welte, Chad Wend, Mackenzie Wenger, Arrah Westling, Dakota White, Alyssa Wilson, Alex Wimpress, Audrey Winslow, Joel Wood, Hayden Woods, Valorie Worden and Jordon Wright.