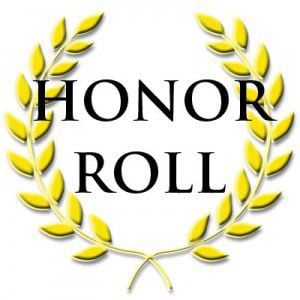 The Lower Columbia College president's and dean's lists for the 2019 summer quarter have been announced.
To be named to the president's list, students must be enrolled in 12 or more credits for the quarter and have between a 3.8 and 4.0 grade-point average. To be named to the dean's list, students must be enrolled in 12 or more credits for the quarter and maintain between a 3.25 and 3.79 grade point average.
President's list
Laine Buck, Rebecca Carbonneau, Lenore Derrick, Ceilia Feroglia, Mariko Fujita, Lois-Ann Garcia, Jennifer Garcia-Caro, Marissa Gates, Shea Gilchrist-Smith, Alexander Goucher, Travis Greeley, Nathaniel Hargrove, David Harlin, Ashley Hilliker, Scott Houston, Antoine Johnson, Derrick Kephart, Louis Lain, Karl Langfield, Brandon Levine, Heather Livesay, Troy Martin, Terry Matuthu, David May, Micheala Mings, Randy Mondello, Brian Neal, Matthew Nein, Jacinta Njeri, William O'Brien, Emmanuelle Olivier, Tom Reynolds, David Rick, Jagger Royce, Jessica Sarabia, Nita Schlumpberger, Jason Slape, Randall Sleeper, Paige Snair, Mark Speranza, Tracy Stone, Stacey Tomaselli, Arwyn Tranholt, Brandon Tyson, Edward Vanboeckel-Jr., Kari Wallace, Ben Wallin, Karyn White, Sierra Willson, Angela Wilson, Katie Yarnell, Anzhela Zamedyanskaya and Elina Zhmurko.
Dean's list
Kenneth Bailey, Aaron Bohanan, Samantha Brock, Zachariah Cantrell, Terry Carlson, Paul Carter, Summer Comte, Bailey Conway, Jeremy Cook, Tamika Eastman, Christina Garver, Tessa Gawley, Joshua Gerhardt, Deyriss Gomez, Hayden Greelman, Nichole Hays, Dakota Hesberg, Nina Holmes, Joseph Huffine, Haley Keeling, Chris Landers, Giana Losson, Melody Lundy, Adriana Malaver, Wyatt McKay, Elizabeth McRary, David Meyer, Edward Mitchell, Lidia Morales-Tena, Martina Moreno, Yeimi Munoz-Solano, Ann Mwai, Trinity Naugle, William Nightingale, Lyndse Norris-Collette, Joshua Parker, Lisa Patton, Haley Pecha, Jessica Pete, Kendra Piper, Kenny Pliler, Jade Rossi, Rosemary Sarabia, Kaitlin Sexton, Greg Skarberg-Ii, Shana Stewart, Takumi Sugawara, Mier Tian, Brandon Tomlin, Kyle Traub, Amber Treichel, Autumn Twitchell, Gabriele Wagner, Millicent Wanjira, Sidni Willet, Audrey Winslow and Abigayle Yeaman.
Be the first to know
Get local news delivered to your inbox!