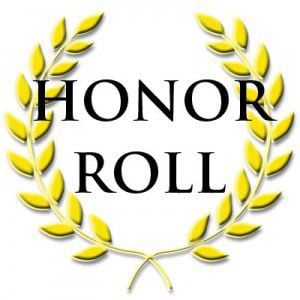 Editor's Note: This honor roll ran on Page C8 of the Sunday, July 14, print edition of The Daily News.
The Lower Columbia College president's and dean's lists for the 2019 spring quarter have been announced. To be named to the president's list, students must be enrolled in 12 or more credits for the quarter and have between a 3.8 and 4.0 grade-point average. To be named to the dean's list, students must be enrolled in 12 or more credits for the quarter and maintain between a 3.25 and 3.79 grade point average.
President's list
Caroline Abruzzini, David Adegbami, Abriana Alba-Estrada, Genna Aldrich, Crystal Allison, Jaimie Amata, Kenan Anderson, Matthe Arquette-Rotman, Michelle Badgley, Addison Bailey, Drew Barlow, Amanda Bartley, Sierra Bartolus, Samantha Beickel, Kristen Belisle, Jacob Berglund, Stephanie Berry, Mariah Blixt, Nadezhda Bondarenko, Lori Boucher, Jacob Bowler, Abigail Bozarth, Zachary Bradford, Kara Bradley, Sarah Brazier, Elizabeth Brown, Lacey Brunelle, Ariel Bryan, Laine Buck, Andrew Bunn, Katurah Buttrell, Joseph Cahoon, Tamiko Carroll, Paul Carter, Tanja Chaffin, Mckinley Chamberlain, Paul Charleboix, Cassandra Charles, Hayden Christopher, Kaisa Clark, Constance Cnota, Callie Colburn, Vincent Cone, Carissa Cook, Hunter Cook, Emily Coordes, Kendra Cordero, Jonathan Costello, Anthony Cox, Casey Cummins, Mckenzie Cupples, Paige Curley, Joshua Dahlquist, Kev Dalbosco-Dal-Forno, Hiep Dang, Melina Davis, Kimberly Davison, Gloria Dawson, Madeline DelCastillo, Trista DeLong, Joel DeWeese, Cameron Dillman, Miriam Dobosz, Elisabeth Eaton, Taylor Eaton, Jaclyn Ellis, Kayleen Ermshar, Breanne Fauver, Tawny Felton, Brea Ferguson, Ceilia Feroglia, Emma Ford, Janey Forsberg, Jordan Foster, Bailey Freeman, Terri Frisk, Greg Futcher, Hannah Gaebel, Sophie Gann, Lois-Ann Garcia, Jennifer Garcia-Caro, Marissa Gates, Mckahen Gatlin, Korry Gilbert, David Gonzales, Rose Graff, Travis Greeley, Valinda Greer, Marcie Harding, Aaron Harrell, Kaila Harris, Brandon Heacock, Frances Helling, Jane Hendrickson, Shelby Hiatt, Breana Higgins, Emily Higgins, Danielle Hillendahl, Thuong Hoang, Aiba Hodroj, Jeromy Hollingsworth, Jacob Hornbeck, Scott Houston, Kendle Howard, Dawn Hudson-Beers, Grace Huhta, Ingrid Huhta, Skylar Hunter, Braedyn Hurd, Austin Inman, Deborah Ith, Gabriel Jackson, Madeline Jacobson, Julianne Jenkins, Jade Jennings, Megan Johnson, Rupam Josan, Tierra Kafel, Juliet Kagwa,
Brenna Kandoll, Meleah Kandoll, Kelsea Kees, Riley Kent, Derrick Kephart, Danielle Kirk, Rebecca Kirkwood, Kelly Klein, Brittany Komes, Karrington Koons-Graff, Levi Kruse, Louis Lain, Ashley Larson, Gracen Larson, Madison Larson, Hailey Latham, Amber Lee, Vanessa Leigh, Rose Lelevich, Mitchell Levy, Chih Hsiang Lin, Chandra Lomax, Case Longtain, Danyelle Lopez, Margrit Lovell, Diana Lumos, Molly Mahoney, Isaac Manning, Wendi Marlow, Sydney Marsh, Troy Martin, Nicholas Massey, Melissa Massie, Scott Matthews, Emmeline McCarthy, Ellia McCoy, Claire McDonald, Ashley McGhee, Melanie McKinney, Elizabeth McRary, Kayla McSweeney, Savannah Meekins, Jurgen Mehlhaff, Alexa Mejia, David Meyer, Rachel Meyers, Nory-Cave Millard, Ella Millikan, Micheala Mings, Edward Mitchell, Julia Mitchell, Megan Moon, Michael Moreno, Amanda Morse, Madison Mosier, Bobbi Mott, Alicia Mowery, Ruth Muchai, Caroline Muonio, Ann Mwai, Trinity Naugle, Megan Ness, William Nganga, Marissa Niemi, Breanna Nigh,
Elizabeth Nigh, Julie Nitteberg-Bryson, Jacinta Njeri, Alexis Oliver, Emmanuelle Olivier, Kaylee Opp, Emma Ortiz, Amber Osmanberg, Emily Packham, Joshua Parker, Courtney Parsons, Sophia Parsons, Lindsey Paul, Sydney Pearson, Michelle Peck, Keiko Pedersen, Karina Pelayo, Laura Pelayo-Uribe, Kortnie Pena, Kathleen Perkins, Joshua Peterson, James Phelps, Emi Pilant, Kendra Piper, Bryan Pippin, Kenna Pollock, Lisa Porter, Sarah Potwin, Teanna Price, Natalie Ransom, Ryan Ransom, Dylan Ravander, Morgan Rawson, Kelcey Ray, Tyler Reed, Michael Richards, David Rick, Emily Rieger, Gabrielle Riggs, Jace Rintala, Sophia Roberts, Estre Rodriguezurquijo, Lindsay Romane,
Serendipity Rosas, Chelsea Rose, Jagger Royce, Eliana Rubio, Elijah Runnels, Malykah Runyon, Anna Saiz, Bailey Salazar, Karen Salinas-Ferreira, Miranda Sams, Felicia Sanchez, Carolina Santiago, Jessica Sarabia, Cheyenne Sarmiento, Andrew Sawyer, Jaylen Schelb, Nita Schlumpberger, Rachel Schmaltz, Zackary Schneider, Meredith Seppanen, Katrina Shaw, Cole Shepherd, Greg Skarberg-Ii, Jason Slape, Ashley Smith, Guy Smith, Marnie Smith, Mikayla Smith, Olivia Smith, Paige Snair, Kodee Soetamin, Justin Solt, Jennifer Solverson, Barton Sparks, Jeneaka Spencer, Mark Speranza, Shauna Sprague, Crystal Spreadborough, Zachary Stariha, Kathryn Stewart, Jessica Stone,
Angela Stoneking, Linzy Story, Samuel Straube, Natalie Stricker, Zijing Sun, Katelyn Sunde, Mary Sutinen, Cody Sweet, Marc Swenson, Allegra Taft, Celin Taylor, Torri Thomas, Heidi Threet, William Threet, Amber Treichel, Colleen Troseth, Colby Tucker, Michelle Turner, Morgan Turner, Autumn Twitchell, Brandon Tyson, Mary Vandenberg, Gillian Vandermeer, Kaden Vanderwerf, Amanda Vanmeter, Tia Verhasselt, Taylor Vossen, Kari Wallace, Ben Wallin, Marcus Weaver, Georgia Welte, Kennedy Werner, Elizabeth Wheeler, Sidni Willet, Caitlin Williams, Laurie Williams, Sylvia Winningham, Haylee Yakovich, Amy Yanez, Cody Young, Perrin Zahn and Tiffany Zwiefelhofer.
Dean's list
Kaitlynn Adams, Jovan Alvarez-Walton, Amelia Andersen, Olivia Andersen, Courtney Arn, Aira-Shannica Aromin, Matthew Arrera, Madalyn Arrowsmith, Paige Arrowsmith, Kenneth Bailey, Elizabeth Bartleson, Howard Beer, Mario Beltran, Trudi Bemisdarfer, Macy Blodgett, Miriana Boling, Mercedes Bornstedt, Melissa Breien, Benjamin Brittell, Kyle Broadway, Mikayla Buck, Angela Buckiewicz, Hallie Buffham, Ellie Burt, Latrisha Burton, Emily Busack, Jabriel Butler, Luther Buttrell, Hunter Byman, Joseph Caddel, Marissa Candela, Brittany Carey, Jaide Carlstrom, Russell Case, Andrew Casillas, Brooke Chandler, Crystal Chapman, Tristin Chapman, Natalie Chavez, Jiahui Chen, Jamie Chhav, Ethan Chung, Brigitte Clary, Kaylee Cline, Scott Colson, Bailey Conway, Tarah Crotty, Bethany Curtis, Sabrina Davis, Thomas Davis, Tensaye Degefe, Maya Delarosa-Carter, Rosa Delgado-Jimenez, Erin DelMar, Lilia Demko,
Melissa Dietzen, Abby Donald, Ariel Drager, Tammy Drury-Yu, Todd Dull, Josh Eden, Alexander Edmiston, Destiny Effinger, Breanna Eiche, Fatima El-Aouli, Brian Elbert, Jacolyn Farmer, Althea Faul, Jeana Felton, Michelle Fiant, Tallyn Flemming, Colin Floyd, Alexandria Friedman, Mariko Fujita, Kortney Gallagher, Zachary Garoutte, Katherine Garr, Christina Garver, Kyndra Gates, Lynsey Gates, Aunnastasia Gaylord, Lana Gekelman, Alaya Gentry, Felicia George, Joshua Gerhardt, Kaitlyn Gerhardt, Lindsay German, Kathryn Gipson, Avalon Gonzales, Juan Gonzalez, Karen Gonzalez, Maria Gonzalez, Jane Gott, Travis Gould, Hailey Graham, Greta Grangroth, Kami Gray, Hayden Greelman, Page Gregg, Emmy Greig, Leanne Gribble, James Grubb, Katelyn Gwin, Stephanie Hake, Mary Hansen,
Lizzy Hardwick, David Harlin, Abigail Harner, Koda Harpole, Noelle Harriman, Rhett Harrison, Sara Havnar, Alexis Hayes, Jess Henke, Casimira Hernandez, Avaly Hibberd, Mackenzie Hill, Brooke Hixson, Mackenzie Hodnot, Alena Hoffman, Zachary Horne, Eric Horness, Senia Huhta, Valree Irwin, Amanda Jenkins, Katelyn Jenkins, Nicklaus Jennings, CJ Jones, Kayli Jurvakainen, Clarissa Keele, Haley Keeling, Sandra Keeling, Kara Keplinger, Brynn Kershaw, Zachary Kettleson, Elaine Kimball, Henry Kindall, Kahler Kirk, Mollie Kissinger, Jaime Kittleson, Hannah Komes, Sallie Kramer, Igor Kravchenko, Makenna Kuljis, Kelvin Kuniara, Jenna Lafontaine, Chris Landers, Asher Lange, Ginger Lee,
Kelsey Lee, Drake Lehto, Courtney Linnemeyer, Morgan Lockwood, Shasta Lofgren, Mikayla Lorentson, Alan Luff, Lauren Lunt, Erica Maldonado-Medina, Jonna Mallery, Max Mann, Holli Mansker, John Marcus, Justin Marvin, Amanda Massie, Amber Masters, Chase Matheny, Makenzie Matthews, Peter May, Riley May, Jennifer McCarl, Kelsey McDaniel, Justine McElvain, Wyatt McKay, Ryan McKay-Beach, Ian McNew, Madelyn Mejia, Sarett Merino, Nathan Metzger, Trista Miller, Christy-Lee Mobley, Zechariah Moldenhauer, Randy Mondello, Zoe Morrison, Ariana Morvee, Corey Moses, Stevie Moyer, Brooke Myers, Brian Neal, Jasmine Neely, Matthew Nein, Austin Nelson, Caroline Nesterkin,
Ashley Nickles, Heather North, Shannon Nylund, Kurstin Oliver, Matthew Osier, Cameron Parsons, Kyle Parsons, Lydia Partridge, Travis Patrick, Odalys Perez, Rylee Perkins, Samantha Pestner, Annika Peterson, Eric Philbrook, Makenzie Pickner, Kasidy Pierce, Rance Pittman, Mary-Kate Poole, Britney Porter, Melissa Prieto, Meggan Rakoz, Esmeralda Ramirez, Evan Ransom, Chelsea Rau, Peyton Reed, Yaritza Reyes, Ali Reykdal, Jacie Rismoen, Mikayla Risner, Madison Riutta, Kylah Robinson, Samuel Roger, Haylee Rogers, Aub Rongroven-Thompson, Darlene Rothwell,
Tanner Roulette, Miranda Rubash, Sarah Russell, Krystal Rutherford, Theresa Salsbury, Aurora Sandoz, Ayden Sanger, Mason Sarkinen, Zack Sarkinen, Katlyn Sarysz, Tatiana Scardino, Kindy Schneider, Matthew Schultz, Jessi Schulz, Mikayla Scott, Katharine Seaman, Abigail Sebens, Oluwatosin Sebens, Megan Seidl, Ashton Service, Benjie Sheldone, Kyla Shoddy, Destiny Shoemaker, Maxwell Shulke, Olivia Shulke, Clifford Siltala, Magdalena Simons, John Sitko, Randall Sleeper, Kylie Smith, David Sofianos, Allie Soyars, Melissa Spencer, Madison Spicer, Makenna Spillett,
Kristen Stanik, Shawnee Stevenson, Aaron Stewart, Quinten Stewart-Otto, Dawn Stickley, Maddie Stimmel, Tracy Stone, Hayley Storie, Niki Strano, Tyler Summers, Anna Sund, Megan Sutherby, Kerri Taft, Olivia Taormina, Kelly Taylor, Mackenzie Taylor, Maria Teed, Karsyn Teigen, Alexa Tello, Kylee Thomasson, Timothy Timmreck, Alicia Tinoco, Stacey Tomaselli, Richard Travis, Svetlana Tsybikova, Grant Turner, Miriam Valdivia, Elias Valdovinos, Madison Vanderwerf, Sophie Van Tassel, Olivia Villa, Preston Viltz, Camden Vinton, Conrad Von Schirmer, Blake Wagner, Gabriele Wagner, Haileymay Walden, Sara Waldman, Keygan Waliezer, Madison Ward, Rachael Warren, Payton Welch, Casy White, Ashlynn Willis, Kayla Willis, Charisse Wimer, Jordan Wingfield, Kelsey Woelk, Cassandra Woods, Tylin Yardas, Abigayle Yeaman, Ratanan Yoopat, Cymone Young, Greyson Young, Katherine Young, Mason Young and Corin Zahn.
Be the first to know
Get local news delivered to your inbox!