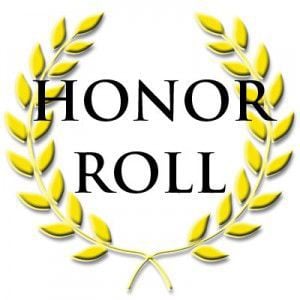 The Lower Columbia College president's and dean's lists for the 2016 fall quarter have been announced.
To be named to the president's list, students must attend school full time and maintain between a 3.8 and 4.0 grade-point average.
To be named to the dean's list, students must attend school full time and maintain between a 3.25 and 3.79 grade point average.
PRESIDENT'S LIST
Brittney Abbott, Karen Abel, Tise Afuola, Michelle Aguayo, Marina Alber, Kaitlin Baker, Anthony Barrios, Tayla Beavers, Tiffany Belieu, Jerrica Binkley, Gordon Bolar, Rex Boswell, Samantha Boyce, Joseph Boydstun, William Braack, Katelyn Brandenburg, Connor Braune, Melissa Breien, Britany Brett, Trevor Brett, Anna Brigden, Haley Briggs, Christopher Brotherton, Kady Bruce, Richelle Cain, Thomas Carpenter, Jared Carter, Micah Cash, Jingen Chen, Xuxin Chen, Carmen Clinch, Kristen Cole, Justin Collins, Davina Colvin, Rachael Compton, Lawrence Cooney, Eugene Cooper, Allison Coordes, Cora Cornell, Katlyn Cramer, Cassidy Crawford, Madison Crews, Skylar Cruz, Sarah Culp, Erika Currier, Kenneth Curtis, Brenda Cusick, Roger Dahl, Eric Dalinger-Jr, Dawson Dang, Liam Darden, Duncan Davis, Katarina Davis, Nicole Davis, Brooke Deering, Thuong Derby, Chloe Devin, Olivia Doerr, Jennifer Donald, John Donovan, Shanay Dotson, Christopher Dunleavy, Shannon Dunnagan, Stephanie Durgeloh, John Durham, Jenny Earnest, Taylor Eaton, Karlie Eichmeier, Charlotte Elkins, Derek Fanning, Tiffany Farrar, Jessahna Farrier, Chynna Farris, Tawny Felton, Claire Fisher, Shana France, Amanda Franck, Ayleen Frasier, Joshua Free, Shane Fretwell, Sophie Gann, Vanessa Gavino, Molly Gebhart, Christopher Gelinski, Caitlin Giamello, Jodi Gilliam, Caje Golden, Kristina Goldinov, Tatiana Goldinov, Thomas Gomez,
Michael Gonzales, Felicia Gonzalez, Leslie Gonzalez, Tyler Gorley, Alison Gower, Victoria Gower, Valinda Greer, Qiuyi Gu, Michelle Guajardo, Monica Guisinger, Harrison Guler, Katelyn Gwin, Hannah Hadden, Karla Hallstrom, Kayli Hallstrom, Laina Hallstrom, Devin Hamm, Kara Haney, Delia Hanly, Keilah Hansford, Athena Hanshew, Fawn Harris, Khyrsten Hart, Corin Heath, Abby Heckel, Broderick Helton, Avery Herbert, Michael Heywood, Micah Higgins, Danielle Hillendahl, Jacob Hoffmann, Steven Hogg, Izek Hornbeck, Bethany Houtchens, Clinton Howard, Coty Howell, Andrew Huffman, Chase Hunter, Akitora Ishii, Taylor Jacoste, Jade Jennings, Brandon Jenson, Ayla Jessop, Dilan Johnson, Katherine Johnson, Wendy Johnson, Brenna Kandoll, Jocelyn Kiffe, Ashlin King, Danielle Kirk, Wesley Klecker, Danielle Klee, Jacob Klopp, Brittany Komes, Holly Korpinen, Maksim Kostenko, Daphne Kraabell, Jacob Laes, Megan Laird, James LaPorta, Briana Lewellen, Craig Lewis, Wenyu Li, Brayden Liebe, Autumn Little, Sara Livingston, Kyler Lopez, Emily Louthen, Wesley Louthen, Brittany Lovely, Pamela Luckey, Nolan Luedke, Caleigh Maffett, Ijaz Mahmood, Savanna Manuel, Caleb Martinot, Louie Marx, Ethan Mason, Ashley Maury, Savanah McCarthy, Kyla McCoy, Jenna McEntire, Daniel McMillan, Wendy McVay, Autumn Mendez, Mariah Mendez, Brett Mettlen, Jeffrey Meyers, Blake Middleton, Kileen Miller,
Christopher Millward, Scott Mitchell, Wyatt Mitchell, James Montgomery, Chayse Moseley, Barrett Neal, Karen Ngo, Christina Niles, Kortney North, Kasey Norton, Constanc Obrien-Larsen, Rian Orr, Cheryl Palm, Praise Paradis, Lianhua Parr, Tyler Parsons, Matilda Partridge, Joseph Pasetto, Nickolas Pasetto, Mckenna Paul, Janelle Paxson, Bianca Pearson, Ashley Perdue, Karena Pierce, Yevgenia Pisarchuk, Julia Plumer, Monya Pohahau, Levi Poole, Eric Powell, Kelsi Quindiagan, Luke Rahn, Vanessa Ramirez, Whitney Reavely, Todd Reese, William Reid, Scotty Renslow, Alexis Richardson, Veronica Riley, Janelle Risner, Mikayla Risner, Robert Riutta, Christine Robbins, Shelby Robinson, Joseph Rodgers, Debrah Rolfe, Kayelyn Rowton, Alex Rushmer, Kelby Sandvick,
Noah Scarbrough, Isabella Schafer, Andrew Schiffman, Brandan Schlais, Andrew Scott, Jake Sebens, Miriam Sebens, Alayna Seely, Katherine Sharer, Jonas Sharron, John Shaw, Bailey Silva, Jessica Simpson, Nicholas Simpson, Ethan Smith, Lauren Smith, Madison Smith, Rose Smith, Tandra Smith, Sarra Soladey, Julia Spalding, Makenna Speed, Lane Spenker, Kolby Spicer, Haylee Stack, Trisha Stahley, Miranda Stanley, Catherine Starr, Shannon Stein, Dawson Stenersen, Jesse Stewart, Krysten Stewart, Marinda Strine, Kurin Stroud, Zijing Sun, Cynthia Surber, Mary Sutinen, Camden Swanson, Samantha Swires, Christian Teal, Charity Tevis,
Christine Thomas, India Thompson, Elena Tinoco, Kurt Todd, Aleksandrs Toombs, Olivia Trekas, Samuel Trend, Julia Trevino, Mitchell Triplett, Ian Turner, Linda Turner, Dustin Vance, Mary-Kate Vanderpool, Heather Varner, Diana Vidal, S Villasenor-Cervantes, Kyle Voos, Daron Wallace, Alexander Wallis, Blade Ware, Halley Ware, Brendyn Warrilow, Kelsey Wason, Mackensie Welch, Jennifer Westlund, Dustin Williams, Trevor Williams, Sarah Williams-Morgan, Rose Wilson, Amethyst Wirkkala, Gavin Wolfe, Mikkayla Wotton, Jinxin Xiong, Zhuo Yao, Cymone Young, Katherine Young, Michael Yuen and Perrin Zahn.
DEAN'S LIST
Cody Aceveda, Luis Aguilar, Jisela Alba-Estrada, Thomas Almer, Nolan Alvarino, Amy Alvey, Ivan Amezquita, Teran Amnotte, Jacob Anderson, Paula Anderson, Megan Anthony, Marena Araujo, Raul Arellano, Aira Aromin, Emily Ashby, David Aslin, Christina Bailey, Larry Baker, Leah Bardal, Kelsie Barnett, Matthew Bartness, Michael Barto, Angel Beaudoin, Carl Bennett, Gabrielle Bennett, Kendal Bishop, Limhi Blackburn, Erin Bohannon, Alan Boles, Andrea Bond, Lori Boucher, Jenna Bowman, Mathias Bowser, Zachary Bradford, Elizabeth Brassfield, Brittany Braswell, Morgan Bray, Anthony Brink, Angela Brock, Dusty Brown, Katie Brown, Cory Bryan, Malachi Bryant, Angela Budd, Arielle Burnett, Gabrielle Burrell, Blaise Byman, Brielle Byman, Carrie Byman, Yili Cai,
Kyler Cain, Robert Caldwell, Octavio Camba, Johnathon Campos, Carissa Cannon, Yarazet Carino-Sanchez, Rodolfo Carrasco, Jacob Carroll, Natasha Cauley, Korissa Chaska, Jacey Clark, Jeffrey Clark, Cassidy Clemetson, Hayley Coalter, Samuel Cochrane, Lily Cockrill, Tiearra Conaway, Kendra Cook, Sage Cook, Carean Cooper, Jasmine Cooper, Kendra Cordero, Brandon Cotton, Sean Coulter, Brittany Craig, Matthew Crawford, Joseph Critelli, Cherene Crowson, Amanda Croy, Chalina Cutts, Alayna Dalgleish, Janine Damschen, William Darling, Tara Darvell, Taylor Davis, Ashlynn Dean, Alexander DeJaynes, Caleb Delamarter, Jeran DeLapp, Brian Delmar, Daryl Diefel, Blake Dill, Maksim Diriyenko, Yevgeniy Diriyenko, Alexis Doble, Nicholas Donaldson, Taryn Downing, Julie Ducharme, Ahisjel Duperron, Sabrina Dupras, Elizabeth Dyer, Hank Dzur, Payton Ebberts,
Heidi Edwards, Jodi Enbusk, Kelsey Engh, Jessica Fanning, Trevor Feeney, Lacey Fierst, Nickole Fike, Austin Fisher-Gehring, Tallyn Flemming, Brooke Flint, Ian Ford, Tiffany Foster, Madeline Frakes, Benjamin Frauenfeld, Stacie Freeman, Joshua Fretwell, Michaela Frick, Anthony Garcia, Brianna Garcia, Silvia Garcia-Munoz, Jordan Garrett, Melissa Germunson, Charise Giberson, Jessica Gibson, Cheyenne Gilbertson, Alyssa Gipson, Jacob Gisby, Terryn Glenn, Bruce Glor, Dana Glovick, Patricia Gonzalez, Jocelyn Goodnight, Tanner Graff, Meghan Griffith, Zach Groves, Brian Guinther, Lori Hall, Wesley Hall, Zoey Hamper, Zorion Hampton, Camryn Hansen, Ricky Harper, Blair Harris, Jessica Harris, Desirae Harrison, Tyler Hartshorn, Anna Hatfield, Lovina Hayes,
Melissa Heaton, Daniel Hegdahl, Ryan Helms, Alicia Hemberry, Omar Hernandez, Savannah Hernandez, Carly Hieber, Lillian Hill, Alicia Hillger, Madison Hinrichs, Chase Hodkinson, Veronica Holyk, Zachary Horne, Eric Horness, Joel Horton, Martin Hoseneder, Jamie Hoskins, Scott Houston, Jaden Howard, Savanah Hoyer, Semere Huckleberry, Trevor Huddleston, Hannah Hunsucker, Megan Hurst, Leeman Hylton, Adam Ith, Samantha Ith, Keith Jackson, Julia Jacky, Audrey Jacobs, Kerry Jacobs, Cole James, Lily James, Devin Johnson, Katelyn Johnston, Ariel Jones, Jensen Karn, Haley Keeling, Christie Kemp, Kara Kent, Megan Kern, Tsewang Khejongtsang, Mey Khim, Sandra King, Shealyn King, Rebecca Kirkwood, Mya Kirzy, Sandy Kleger, Sheri Kleger, William Knape, Jaren Koistinen, Lily Kolditz, Lyudmila Kolomiyets, Shannon Kretz, Justice Krickeberg,
Adam Kysar, Yuho Lai, Erick Lake, Carly Lam, Connor Lane, Gabriel Larson, Quinn Larson, Kristi Latshaw, Aurora Law, Evan Leak, Laura LeFebvre, Robby Leidig, Cole Leppert, Spencer Lester, Kaitlin Lewis, Theresa Lewis, Heidi Liasjo, Anna Linares, Keenan Lindsey, Ian Little, Matthew Little, Jake Livermore, Derek Lockhart, Nicholas Long, Aaron Lopez, Crystal Lorensen, Cody Lovell, Danene Lucero, Luis Luna, Adriana Magallon, Lindsey Marander, Jessy Marinetti, Brenden Marker, Christopher Marthaller, James Martin, Elsie Martinez, Ashley Masters, Ashley Masters, Darvin Masters, Kristie Matthews, Isobella Matzen, Casey Maxwell, Emily McCoy, Tyene McDaniel, Wyatt McKay, Emma McLaughlin, Micah McLeod, Hailey McNally, Paightyn Medford,
Mason Meeker, Talib Meeks, Candace Melerine, Kanaly Meyer, Erryn Miller, Payton Miller, Taylor Miller, James Mills, Sydnee Monroe, Kayli Montgomery, Andreea-Monica Moraru, Kayla Morris, Megan Mueller, Mauro Muro, Richard Muzzy, Dimitri Myers, Danny Neal, Raeann Nelmark, Laura Nelson, Lily Olson, John OMalley, Amber Osmanberg, Sarah Oswalt, Mistie Ottosen, Mark Outland, Miranda Paine, Robert Painter, Jennifer Palmer, Nicklaus Palmer, Stephanie Paredes, Namita Patel, Dexter Patterson, Elizabeth Payne, Travis Paynter, Valerie Peerboom, Jeffery Pelletier, Chanc Pelletier-Hellem, Megan Pelton, Lillian Peterson, Tammy Phelan, Ross Philbrook, Rebecca Pickner, Jacob Piper, Shaina Piper, Pavel Pisarchuk, Keith Pitts, Molly Plough, Timothy Porter, Kari Powers, Jay Rai, Jaret Rakoz, Esmeralda Ramirez, Tony Ramos, Sarah Randall, John Rankin,
Austin Ray, Jeremy Reed, Jeffrey Reeves, Marie Rich, Sierra Richards, Cassandra Richey, Radley Risner, Shelby Risner, Shiloh Rister, John Roberts, Steven Robinson, Rosa Rocha-Andrade, Jacob Roes, Ashlee Roeschen, Melany Roggow, Hannah Rothwell, Gary Rotz, Hannah Rowell, Cody Russell, Maria Sanchez-Felix, Kyle Sandstrom, Spencer Sarkinen, Haylee Savage, Martin Schmoyer, Jessica Schrader, Sydney Schrader, Travis Schutter, Brandon Scott, Katelyn Sedig, Chris Seines, Alexander Sheldon, Jacob Shirley, Haley Sisson, Alivia Smith, Brenda Smith, Kylie Smith, Mikayla Smith, Samantha Sosa, Allie Soyars, Haley Spears,
Jeneaka Spencer, Eleanor Stalick, Trevan Stanturf, Brady Steveson, Kathryn Stewart, Jarrett Strickler, Alison Suek, Tyler Summers, Elizabeth Swanson, Taylor Sweeney, Spencer Sweet, Alexa Swett, Kerri Taft, Joseph Tapani, Anton Temanson, Jessica Thomas, Mg Thomas, Keun Thompson, Scott Threet, Eileen Tietje, Machia Toews, Taylor Toftemark, William Tomlinson, Chasity Toney, Skyler Towns, Jeffrey Tripp, Liliana Tsybikova, Oksana Tsybikova, Troy Turley, Erin Turner, Brian Ure, Alexandreah Vaughn, Monica Vera-Alvarez, Shelby Vermeulen, Saul Vidal-Bueno, Alexis Vigoren, Taylor Vinton, Dominic Vitale, Haley Walker,
Katie Wangler, Chrissena Weaver, Mekenzee Weikum, Elijah Welch, Traci Wells, Shelby Wendel, Courtney Werner, William Wesley, Kelton Wheeldon, Maya White, Budd Wilkinson, Harlan Williams, Katie Wilson, Robert Wilson, Ellie Winn, Ty Wisti, Kelsey Woelk, Kendyl Woelk, Ellie Woodard, Gloria Woods, Erin Woodward, Qianqian Xu, Kylea Young, Korryth Yund and Joseph Zdilar.