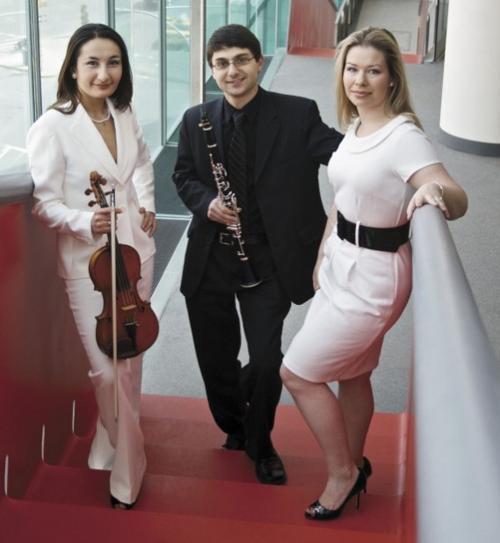 Members of the Prima Trio have plenty of impressive music schools on their resumes: the St. Petersburg Conservatory of Music and Tchaikovsky Moscow Conservatory in Russia, and the Julliard School and Cleveland Institute of Music in this country.
What all three have in common is attending the Oberlin Conservatory, one of the most prestigious music programs in this country.
Eight years after meeting at Oberlin, the trio has a full concert schedule with 50 events this season, including one in Longview on Sunday. They will play a program ranging from Khatchaturian to PDQ Bach.
All three musicians came from countries in the former Soviet Union.
Pianist Anastasia Dedik graduated from the St. Petersburg Conservatory of Music in Russia. In a phone interview from her New York home, Dedik said she "hadn't thought of leaving Russia because I was pretty comfortable there. But I got a full ride scholarship (to Oberlin) so of course I was going to go."
She said a scholarship also lured clarinet player Boris Allakhverdyan to Oberlin. Allakhverdyan was born in Azerbaijan of Armenian descent. He received a degree from the Tchaikovsky Moscow Conservatory before going to Oberlin.
The third member of the trio, Gulia Gurevich, who plays violin and viola, was born in Uzbekistan to an opera singer and concert pianist. She made her solo debut with the Uzbekistan National Symphony Orchestra at age 14. Gurevich moved to the United States as a teenager to study at the Interlochen Arts Academy in Michigan before moving on to Oberlin.
It was a lucky coincidence when the three Russian-speaking musicians met in 2004.
"It was our first year for all of us," Dedik said. "We barely spoke English at the time. Boris came up to me and was very shy and started talking to me. We started to play together."
The Prima Trio debuted at the Kennedy Center for the Performing Arts in Washington, D.C., in 2006.
"Then we decided to apply for a chamber music competition," Dedik said. "We won it." That Gold Medal in the Senior Division at the Fischoff Chamber Music Competition in Indiana in 2007, bested 136 other entries. The award brought the trio a domestic tour and booking at Italy's Emilia Romagna Festival. Since then, the group has performed more than 100 concerts.
After Oberlin, all three musicians went on to higher degrees: Dedik went to the Julliard School, Allakhverdyan got a master's degree from the Cleveland Institute of Music and Gurevich attended Indiana University.
The trio currently is on a 50-city tour of the United States. "This year will be very intense, but it will be very satisfying," Dedik said.
Though the members are classically trained, the group will play everything from the classics to Jewish Klezmer music.
The program opens with three pieces by Max Bruch and a suite by Darius Milhaud. Then comes "The Klezmer's Wedding," a piece in the style of Jewish festival music by the Canadian composer Srul Glick.
The trio by Aram Khatchaturian is a high point for the players, Dedik said. "This is very special for us because it was the first piece we played together seven years ago." After a piece by the Argentine composer Astor Piazzolla, they'll play a work by Peter Schickele, the comic classical composer also known as PDQ Bach. "It goes crazy at the end," Dedik said of the concert.
In addition to their work together, the musicians also have busy careers individually and all three musicians have won numerous individual honors.
Gurevich played in Carnegie Hall last year. Allakhverdyan plays clarinet in the Kansas City Symphony and has appeared with orchestras across Europe. So has Dedik, whose schedule in the past year included returning to St. Petersburg to play a Tchaikovsky piano concerto with that city's symphony. "That was a big deal to go back there" and perform before 2,000 listeners, she said. "It was very fun, a very warm feeling but at the same time very scary."