Ed Hayes doesn't have a bucket list: The 91-year-old said he just does what he wants to do.
Which is why the Longview resident and former Lower Columbia College machine shop instructor took to the sky on July 10 in Molalla, Ore., for a tandem sky dive.
"What I really thought I wanted to do was to just jump out, open the parachute and float gently to the ground. I wasn't really thinking about skydiving," Hayes said.
The last year has been one of many first for Hayes, who turned 91 in March. In September, Hayes floated above the hills of Prosser, Wash., in a hot air balloon and in June, he flew in a helicopter from Hoffstadt Bluffs to the Mount St. Helens crater.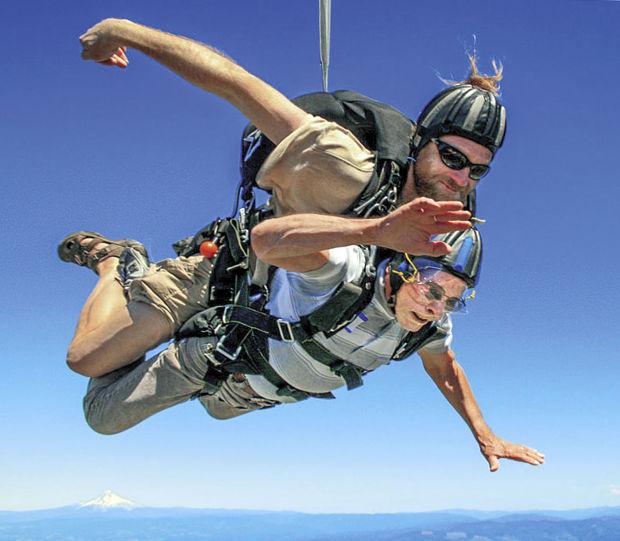 "I thoroughly enjoyed that," he said. "I had done search and rescue, doing ham radio with the searches, and I've fished some of those lakes with my wife and the kids. It was fun to see how the area was really laid out."
Afterward, his daughter, Barbara Cross of Longview, asked Hayes what his next experience would be. She was supportive, when he told her he wanted to parachute from an airplane.
"He and my mom never shied away from experiencing life," she said. "And at 91, he continues to be as engaged as when he and my mom were together."
Hayes said aviation has been his passion since he was at R.A. Long High School, from which he graduated in 1939. After he and his late wife, Emma, were married, he tried to join the Army Air Corps during World War II to become a pilot, but his color-blindness prevented that.
"So, a month later, I heard that the Coast Guard was going to take people who were color blind for below-deck work only," Hayes said.
He got in and became a fireman second-class, assigned to stoking the fires in the boilers that ran the old ships.
With some machine shop experience under his belt — and despite his color blindness — the young man soon found himself doing what he had dreamed: Studying aviation.
"And I got to fly. It worked out good," Hayes said.
His job duty was on PBY's, an amphibious plane produced by the Consolidated Aircraft Co. The "large flying boat," Hayes said, carried either life rafts during rescue missions or depth charges under the wings to destroy subs.
The Louisiana native, who moved to Longview with his family in 1926, said despite the presence of parachutes in the PBY, he never got to use one. The only training the men had in using the chutes was how to get out of them if they had to abandon the plane over the ocean.
"They pulled us up and down to about 10 feet above the floor of the hangar," Hayes said. "The idea was that they wanted to teach us how to get out of a parachute harness before we hit the water."
During his recent jump in Molalla, Hayes didn't end up using a parachute on his own. During a tandem jump, an experienced sky diver and the student are buckled together; the instructor has the chute attached to his back and releases it at the right time. The technique is used by many first-time skydivers.
"The people were wonderful, they helped you get into it the harness, got you fastened up. You really didn't have to do much of anything," Hayes said.
A $2 million Cessna took Hayes and the other solo jumpers up to 13,000 feet. Hayes hired a videographer to record the experience for him.
"I had no fear," he said.
At 13,000 feet, he and the instructor stood at the edge of the plane. Hayes hooked his feet under, as he had been instructed, and his partner asked, "Do you want to do this?"
"If you hesitate at all, they pull you back, and you can ride the plane down," Hayes said. "I said, 'Yes,' then looked down and thought, 'Oh my gosh. Wow!'"
There was no time to change his mind — the two were out the door and jetting 120 mph toward the ground.
"You free-fall for 8,000 feet, then come to a screeching stop," Hayes said. "It's like going to 120 to 0 in zero seconds," Hayes said. "Then you just float gently to earth."
The cameraman shot video and took still photographs along the way.
"When we popped our chute, all of a sudden, he disappeared," Hayes said. "He was still falling at 100 miles an hour so he could get to the ground first and take pictures of us coming in."
He and the instructor came in for what's called a "butt landing." Instead of landing on their feet, the men skidded in gently for about 10 feet on their posteriors.
Hayes ended up with a seven-minute movie of the jump and the experience of a lifetime, he said.
"It was so much fun," he said, smiling broadly.
His daughter watched the jump from the ground.
"My excitement watching him was only surpassed by his thrill of the jump," she said.
Hayes has told many of his friends about it and is surprised at many of their responses.
"People tell me, 'I've always wanted to do that.' I don't know why they don't," he said.
Friends ask him what's next, but Hayes said he hasn't come up with a definitive plan. He is intrigued by some ideas.
"I saw them towing a glider out at Toledo (airport) the other day, and I thought ... gliders?" he said.
A friend of his with whom he used to work took glider pilot lessons when he was 80, Hayes said. He has no desire to do that but said he'd like to take a ride in one.
"But I don't have a 'hot list,' no," he said. "This has been pretty ultimate."