Birds and those who love to watch them can flock together at unlikely places.
A recent outing by the Willapa Hills Audubon Society included stops at an industrial park, a sewage lagoon and a mothballed nuclear power plant. All the stops produced a bounty of birds, including several species rarely seen in these parts.
The 11 birders gathered at 8 a.m. on a Saturday at the Old West Side home of John and Margaret Green, both of whom are avid birders with more than 300 birds on their life lists. The first sightings were out the back door -- a dark-eyed junco, a white-crowned sparrow and varied thrush attracted to the Greens' backyard feeder.
The Greens piqued everyone's interest with predictions of birds that are much less commonly seen in these parts. "We saw a really nice male Northern harrier at the Mint Farm yesterday," John Green said. At Willow Grove, "we saw a red-shouldered hawk. They're pretty rare up here." And a bounty of big white tundra swans and trumpeter swans were predicted to be paddling about ponds near the site of the Trojan Nuclear Plant.
The well-organized birders were assigned to vehicles that were linked by walkie-talkies, and the little caravan headed out. Lake Sacajawea wasn't on the list of stops on this trip (other trips focus on it). As he drove by the lake, Green mentioned that he'd seen a surf scoter -- a species more often spotted at the coast -- earlier that year. "One year we had a long-tailed duck, which is very unusual this far from the ocean," he said.
The first stop of the day was the largely unoccupied inner reaches of the Mint Farm Industrial Park in west Longview. The fields and sloughs are good wildlife habitat, it turned out. A Northern shoveler was soon spotted in a slough. Green said that this kind of duck is relatively easy to identify by its large beak and the way it sticks its head into the water in search of food. "They go in circles and stir up stuff to eat," he said -- a process that would be witnessed later.
"Raptor ahead of you," Margaret called on the radio from another car. This one was a female kestrel, one of the smaller hawks. Kestrels like to sit on power lines, so unlike red-tailed hawks, they aren't often spotted along freeways.
Turning onto Weber Avenue, the birders spotted a red-winged blackbird in a swampy area, and the first sighting of "LBBs," a term even experienced birders use to describe hard-to-identify little brown birds.
The next stop was the cul-de-sac near the new Longview water treatment plant. A chorus of yipping sounded in the field. Geese? No, it was a pack of coyotes in the expanse of land between there and residential streets. Though the coyotes stayed out of sight, a flock of meadowlarks took flight with flashes of yellow. "That's the first time I've seen so many in one place," said birder Carolyn Norred.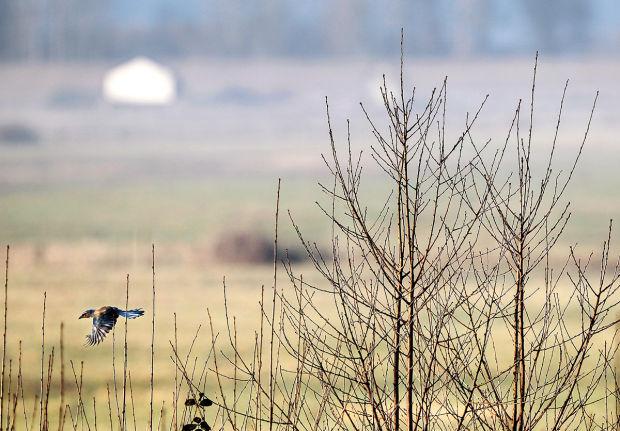 Other birds spotted in the industrial park included buffleheads, robins, green-winged teals, gold-crowned sparrows and a Eurasian collared dove. A red-tailed hawk perched in a tree. "If you see a large hawk and you say it's a red-tail, there's a 95 percent of being right," Green said. But -- the Northern harrier didn't appear that day, the only disappointment.
The birders headed west for a look around the wetlands across Mount Solo Road from Longview Memorial Garden. "This is a good place to see waterfowl in the slough right here," Green said. Indeed, he focused his spotting scope on coots -- dark-bodied birds that are distinguished by white beaks. He also pointed out some ring-necked ducks, explaining that a better name might be "ring-billed ducks" because the white ring on the birds' bills is much easier to spot than the cinnammon collar around their necks.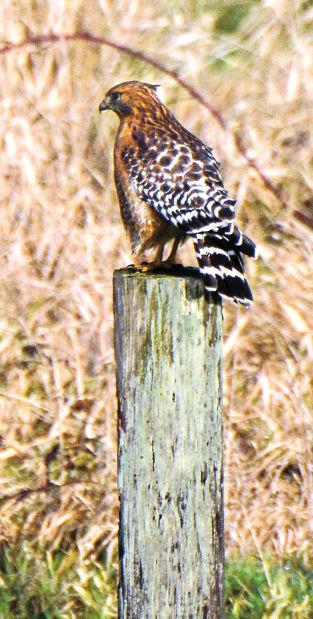 A single raven powered overhead, and Green explained that its larger size and wedge-shaped tail distinguishes it from crows, which have fan-shaped tails.
Longview's now-abandoned sewage lagoon off Coal Creek Road may not be the most scenic spot in town, but it's a good place for bird watching. In an oddly social gathering, about 50 Northern shovelers swam in a tight circle, stirring up breakfast from the lagoon where sewage used to settle. "It's like a log jam of ducks -- and they're pretty, too," remarked birder Mike Turner. The lagoon also attracted gadwalls and cormorants.
Heading out toward Willow Grove, Green said he's seen as many as eight bald eagles in one tree there. A nest on an island in the Columbia River apparently held two eagles -- it was too far away for a good view. But a flicker and flock of crows nearby were easy to identify.
The star of the day was the red-shoulder hawk (actually two of them) spotted near the west end of Willow Grove. The photo op that everyone missed was a red-winged blackbird chasing one of the hawks. Green said this could be the first recorded breeding pair of red-shouldered hawks in Washington. The bird typically isn't seen north of California.
The slough separating Willow Grove and Ocean Beach Highway yielded sightings of a great blue heron, a downy woodpecker, a pied-bill grebe and a merganser -- plus some mammalian wildlife. A trail of shells on the shore was a sign of otter activity, and several Columbian white-tailed deer rested in a field.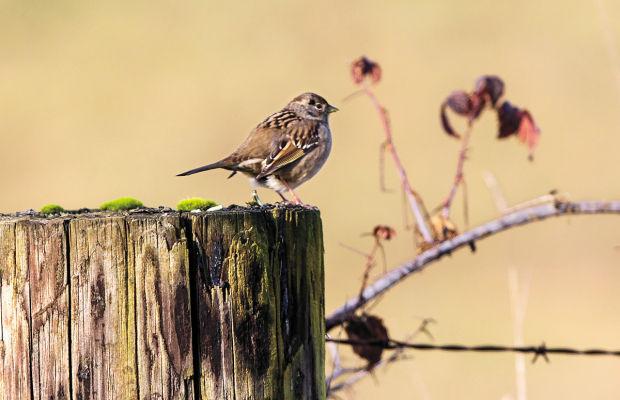 The prospect of spotting swans lured the group to the ponds near Trojan and the nearby little town of Prescott. "There are tundra swans here," Green announced, along with four larger trumpeters.
The experienced Auduboners pulled out their bird books to try to identify one bird, however. It looked like a Ross goose but the fact that it was mixed in with domesticated geese made an ID tricky. The birders snapped photos to be sent to experts.
However, there was no trouble identifying a little bird that was busily tapping on the trunk of a tree next to a now-empty Trojan office building. The red-breasted sapsucker, a kind of woodpecker, seemed oblivious to all the attention it was getting as the 51st species spotted that morning.
"That was a good way to end the trip," Green said.