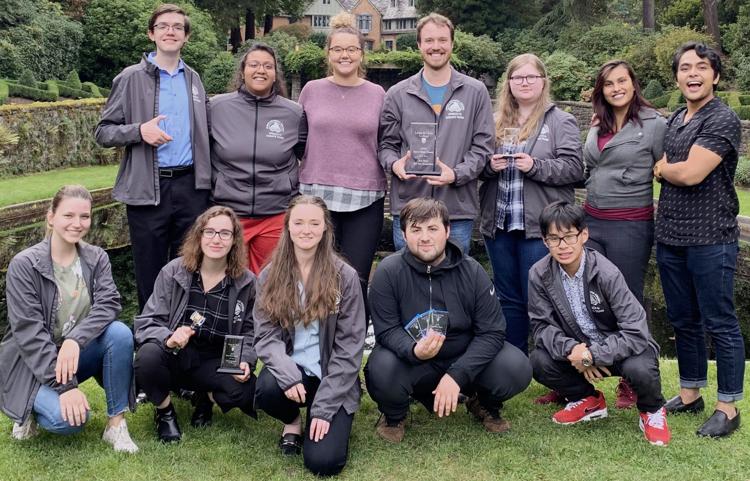 Members of the Lower Columbia College Fighting Smelt speech and debate team won second place in two-year sweepstakes at the Steve Hunt Classic Tournament at Lewis and Clark College in Portland the weekend of Oct. 11-14.
This was the first Northwest Forensics Conference (NFC) Designated Tournament of the season.
The conference represents community colleges in Oregon, Washington, Idaho, Montana, Utah and Alaska.
Five members of the Fight Smelt team received sweepstakes points across multiple competition events.
Kelso resident Julia Mitchell continued her breakout season by receiving awards in ever category she entered. She was the champion of novice Impromptu Speaking for her final round speech where she analyzed the quotation, "The key is not the will to win ... everybody has that. It is the will to prepare to win that is important." She also was named top novice speaker in IPDA ((International Public Debate Association) debate and placed fourth in novice Informative Speaking.
Eli Tovar of Castle Rock advanced to the final rounds in all three of his events.
He was runner up in the novice Persuasive Speaking and he placed third in novice Impromptu Speaking. He advanced to the quarterfinals in novice IPDA debate before he was eliminated by a split decision, affirming the resolution, "The United States should punish Turkey for its attacks against the Kurds."
Kelso resident Molly Mahoney competed in her first collegiate tournament and was the champion of novice Persuasive Speaking for her speech on fatphobia and the misconception that weight is directly related to health.
She also competed in Impromptu Speaking and IPDA debate.
Elizabeth Brown of Kalama advanced to the final round of junior Prose Interpretation. She also was named novice runner up for her performance of the essay, "A Disturbance of Birds," by Terry Tempest Williams. In addition, Brown was named the 11th novice speaker in novice IPDA debate.
Kelso resident Mitchell Levy advanced to the semifinals n junior IPDA debate, eliminating tough opponents form Boise State University and the College of Western Idaho, according to the press release.
He was eliminated in a debate that focuses on welfare reform in the United States. Levy also competed in Extemporaneous and Impromptu Speaking.
Also competing for the Fighting Smelt were Ayesha Ahmed of Longview; and Ilinca Slabu and Sebastian Tran of Kelso.
Be the first to know
Get local news delivered to your inbox!