Joel Lambert isn't one to cower under pressure. In fact, the former Navy SEAL and Kelso native is trained for just that.
"What you learn (as a SEAL) and what it does to your mind and your soul, it's never quit, never say goodbye, go until you die," Lambert said in a phone interview. "There is no other option but finishing the tasks."
Though no longer working among fellow Navy SEALs, Lambert, 41, said he's found himself depending on his navy training for a new venture — as the star of the new Discovery Channel show "Lone Target," in which Lambert competes in a contest series that places elite tracking and law enforcement teams at his coattails as he navigates new areas of the country, including a reserve in South Africa. In each episode, Lambert is dropped off at a new location. Upon landing, he is given a slight head start to navigate his way to an extraction point before the tracking team catches up to him.
In the first episode, "Safari Survival," which premiered Wednesday night, Lambert traversed through a reserve in South Africa, evading the watchful eye of both the South African International Anti-Poaching Foundation and the myriad wildlife housed in the reserve.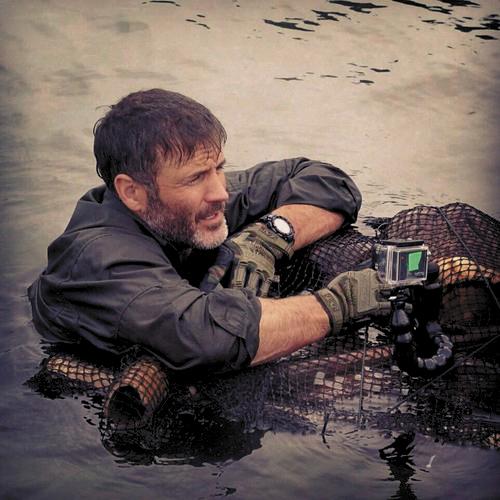 Before making the trek to South Africa, Lambert said he brushed up on the various species that inhabit the reserve. In addition to a few close calls with the IAPF, Lambert had several run-ins with lions and hippopotamuses, Africa's most dangerous animals.
"Man is a super predator and you tell yourself that," Lambert said. "You tell yourself that when a lion is walking across you. You'll know where you are in the food chain."
Each adventure was a mentally exhaustive exercise for Lambert, who admitted that knowing when to execute new tactics in the face of capture was a challenge for him.
In addition to learning about the local wildlife, Lambert also had to brush up on cloud cover, time of sunrise and sunset, elevation, weather, foliage, medicinal plants indigenous to the area and dangerous fauna and flora.
"Every place is different, so I have to bone up," Lambert said.
Aside from evading lions and trackers, Lambert divulged some behind-the-scenes issues, including a revolving door of cameramen. The team introduced — and subsequently bid farewell to — three or four cameramen throughout the filming process. One cameraman had to leave the show after acquiring a MRSA staff infection in his leg. Another quit.
Lambert admitted it was a difficult task to create a balance between filming and evading capture. Though he's an expert at finessing his way through tall grass and mud with as few tracks as possible, Lambert said the cameramen often chomped through the mud with little regard for their own tracks. The cameras also often created a glare under the hot sun – a red flag for trackers.
"It was really hard on us at times to work together," he said.
Despite the hiccups in filming, the Pacific Northwest native said his part in the series is a perfect fit for combining his acting and military background. The series, while based on reality, is enhanced by Lambert's general sense of ease as he competes on camera.
His level of comfort can be credited to his acting background. You might recognize the star from his role as part of a strike force team in "Transformers: Revenge of the Fallen" or as a guest star on an episode of AMC's "Mad Men." His role in the former film is partially to credit for his newfound part on the Discovery Channel. A former military man who acted as a military consultant for the action-packed film reached out to Lambert about the Discovery Channel role.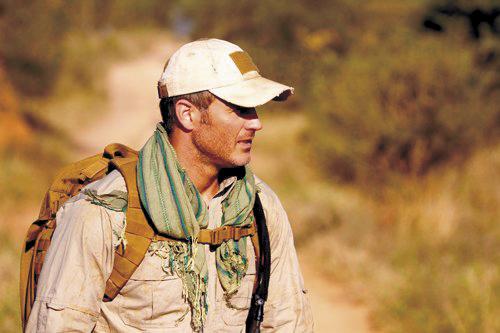 "I went out to the desert and shot a bunch of stuff and they really liked it," Lambert said. "Last December we shot a pilot and several months after that we started shooting the series, and it's been really rough and really brutal."
Lambert pursued acting after serving 10 years as a SEAL. He said he wanted to reconnect emotionally, and acting was the perfect outlet to facilitate the process.
"When you're in the military, you become kind of disconnected from your emotions," he said, later backtracking. "Not disconnected from your emotions, but they don't show."
Lambert said his role in "Lone Target" draws on who he is personally.
"This is what I would really love to do as long as I can," he added.
In the future, Lambert said he hopes a second season of "Lone Target" could bring him closer to home. The current season was unable to host a contest in the Olympic Peninsula, but Lambert said he is hoping the peninsula could be one of the adventure points for an upcoming season.
"It's the area I grew up in," he said. "I know it; it's beautiful and it's gorgeous. There's so much there."
---
Upcoming episodes (synopses courtesy of the discovery channel)
'Lone Target' — starring Kelso native Joel Lambert — airs at 8 p.m. Wednesdays on The Discovery Channel. The season premier episode 'South Africa: Safari Survival,' which aired Jan. 1, will run again this week at 1 p.m. Thursday, 2 p.m. Saturday, noon Sunday and 4 p.m. Wednesday.
Lambert is hunted across a private game reserve in South Africa as he tries to elude the specialized forces of the International Anti-Poaching Foundation. With the reserve full of deadly animals — including lions, leopards, elephants and rhinos — Lambert must be hyperaware of both the hunters behind him and the dangerous game ahead.
Lambert faces off against the U.S. Army's Phantom Recon unit. Their turf in southern Arizona is the harsh 75,000 acres of terrain surrounding Fort Huachuca military base, an area home to mountain lions and bears — and a much-favored route of illegal aliens and heavily armed drug smugglers.
Lambert has 48 hours to escape the dense jungle and the Philippines Army Scout Rangers. The harsh heat and humidity of the Philippine jungle — and an unfortunately timed typhoon — push Lambert, the Scout Rangers and the camera crew to the brink.
Lambert fights to evade Poland's elite border guard, the Straz Graniczna, and get to his extraction site
15.5 miles away. The border guard deploys all its assets — thermal camera helicopters, ATVs, motorcycles, tracking dogs and world-class field units — in an attempt to intercept as Lambert makes his way down a steep cliff in his battle for freedom.
Panama's elite anti-drug trafficking unit SENAFRONT unleash its full arsenal — ATV patrols, boat units and ground trackers — to pressure Lambert from all sides as he makes his through thick rainforest, rocky shorelines and some surprising wildlife.
Situated on the heavily populated and highly trafficked tourist island of JeJu, Lambert must alter his tactics to escape the South Korean National Police SWAT unit's web of more than 5,000 closed-circuit television cameras, in addition to their boat, air and mobile assets.