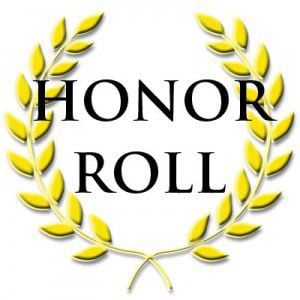 Editor's note: This honor roll appeared on Page B7 of the Saturday, Feb. 20, 2021, Daily News print edition of the newspaper.
The Kalama Middle School first semester principal's list and honor roll for the 2020-2021 school year has been announced.
Students named to the principal's list received between a 4.0 grade-point average. Students named to the honor roll received between a 3.0 and 3.99 grade-point average.
Eighth grade: Rylie Cadigan, Samuel Kalimanis, Aric Ketzbeau, Kevin Lardizabal-Orea, Isabelle Neiman, Jason Sanders, Rilyn Schinzing, Riley Staup, Logan Wilcox.
Seventh grade: Tesla Dobson, Paisley Gaches, Abel Koski, Luke Orem, Luke Schmeusser, Nolan Scott, Brooklyn Storedahl and Jayden Uhrig.
Sixth grade: Sienna DiCristina, Shade Garrido, Ellie Kushner, Makenna Lutgen, Olivia Norton and Fiona Storedahl.
Eighth grade: Aubree Hutchinson, Aiden Brown, Bridgette Hollifield, Nevaeh Olinger, Lahna Moon, Andrew Schlangen, Isaiah Skreko, Aubrey Doerty, Paxton, Holmstrom, Sam Leigh, Brooklyn LaVigne, Socorro Reyes, Meadow Smith.
Seventh grade: Emily Capen, Delaney Rinard, Daniela Breslin, Ella Lougheed, Agustina Bautista-Martinez, James Berg, Owen Kushner, Daniela Lara, Jaiden Wright, Andrew Solano.
Sixth grade: Benji Brightbill, Rylie Bromley, Lily Olmedo, Sofia Skreko, Camilla Goody, Sawyer Miller, Brookelyn Waddle, Draven Lail, Riley Mazza, Wyatt Parkhill, Hudson Moon, Henry Sigfridson, Fred Neiman, Alexus Crandall, Mason Wink, Jaycie Robertson, Leila Luna, Connar Williams and Ryker Halpin.
Eighth grade: Tyrus LaFever, Taylor Hoggatt, Andrew Roy, Erik Schulson, Jacob Steward, Elijah Fox, Sam Cruser, Quin Hahn, Mersadiez Crandall and Emori Kangas.
Seventh grade: Jacey Hutchinson, Mckenzie Lamvik, Benjamin DePace, Emma Jacobs, Isaac Mills, Marlee Harris, Gage Scholz and Riley Gerhardt.
Sixth grade: Jourdyn DePace, Brayden Torres, Aiden Coalman, Brayden Storedahl, Hailey Lacy, Connor Whittaker, Taylor Robinson and Charles Steward.