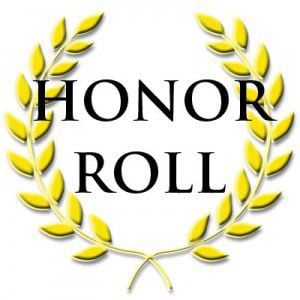 Editor's note: This honor roll ran on Page C4 of the Sunday, Nov. 24, Daily News.
The Kalama Middle/High School first quarter honor roll for the 2019-2020 school year has been announced.
11th grade: Briannan Abbott, Thomas Brandenburg, Reegan Jenkins, Ethan Jones, Matthew Rinard, Addison Smee and Justin Tucker
10th grade: Xavier Brown, Paige Chinchen, Elizabeth Green, Peyton Mynatt and Chloe Sanders.
Ninth grade: Elizabeth Bozarth, Kendal Collins, Elyse DiCristina, Jasmine Dunlap, Isaiah Hoffman, Moriah Josephson, Elliana Norton, Alena Ross, Ellie Shipley and Jenah Wolf.
Eighth grade: Rebecca Baker, Josephine Brandenburg, Madison Buschman, Alvina Gerega, Ella Jenkins, Ellie Little, Jay Peonio and Marin Ripp.
Seventh grade: Rylie Cadigan, Paxton Holmstrom, Kevin Lardizabal-Orea and Isabella Neiman.
Sixth grade: Emily Capen, Lucy Hort, Jacey Hutchinson, Zoe Libbey, Isaac Mills, Delaney Rinard, Luke Schmeusser, Nolan Scott, Brooklyn Storedahl, Jayden Uhrig, Melanie Wachob and Devon Yeoman.
12th grade: Riley Ofrecio, Dylan Holgerson, Marshall Herbelin, Sadie Wall, Monique Cornell, Brady Spiess, Lily Given, Jonah Lucente, Alex Anderson, Matthew Morris, Tanner Mills and Mary Morrell.
11th grade: Maggie Glaser, Ruby Jackson, Maggie Cruser, Shayden Jones, Jocelyn Gallaher, Joseph Reid, Wyatt McCabe, Gabriel Gledhill, Brandon Leatzow, Loren Tucker and Tristan Tuttle.
10th grade: Maycee Holmstrom, Sydney Johnson, Baylee Moss, Seth Hoseney, Ava Beck, Kailey Shipley, Jessica Lardizabal-Orea, Noah Imboden, Braydon Rauscher, Regan Cadigan, Amanda Buck, Preston Armstrong, Axel Paso, Bethany Lozier, Paden Green, Jackson Esary, Jude Massie, Mattea Suzara, Rex Reinke and Alyviah Turmel.
Ninth grade: Nathalie Cordero, Micah Gaches, Reese Holmstrom, Phoebe Jackson, Ladislao Quintanilla, Annelise Hamilton, Ethan Bethune, Amelia Jacobs, Adelina Breslin, Carter Byrnes, Mackenna Smee, Austin Beck, Ayden Armeni, Sophie Given, Zoporah "Zoe" Jones, Alana Luna, Gage Beck, Rhegan O'Neil, Alisa Wilkinson, Ella Capen, Levi Martinez, Nicolas Tinoco, Ren Cruser and Austin Wright.
Eighth grade: Luke Davidson, Gavin Kalimanis, Ava Ripp, Kylie Nichols, Reese Hollingsworth, Katrina Roberts, Trinity Stangel, Harleigh McClellan, Elsa Orem, Madison Snyder, Eva Winther, Tabitha Gish, Chase Leigh, Olivia Witt, Isabella Day, Brooklyn Gaston, Cooper Hahn, Araylia-Maria Martinez, Kynadee Berg, Destiny Parsons and Solomon Paso.
Seventh grade: Jason Sanders, Aubrey Doerty, Quin Hahn, Sam Cruser, Suri Pham, Rilyn Schinzing, Riley Staup, Bridgette Hollifield, Aiden Brown, Samuel Kalimanis, Jacob Steward, Nevaeh Olinger, Matthew Garrett, Logan Wilcox, Natalya Moore, Meadow Smith, Lahna Moon, Mersadiez Crandall, Ethan Howard, Jaylyn Gibbs and Zoey Harrell.
Sixth grade: Reece Achen, Travis Chapman, Abel Koski, Daniela Lara, Daniela Breslin, Tesla Dobson, Elizabeth "Libby" Perkins, Agustina Bautista-Martinez, Paisley Gaches, Ella Lougheed, James (Jimmy) Berg, Elizabeth Boguhn, Jason Ostrom, Gage Scholz, Noah White, Reese T. Johnston, Marlee Harris, Luke Orem, Melanie Gonzalez, Lily Harvill, Owen Kushner, Avery McClinton and Abigail Nesbitt.
12th grade: Lily Nichols, Zamias Lockridge, Alexis Kaschmitter, Chase Staup, Miranda Hepperle, Jackson Hull, Autumn Bethune, Dominick Brooks, Kohl Nichols, Matthew Buller, Jacob Coulson, Caleb Jones, Jackson Gorans, Tucker Halbert and Adam Morris.
11th grade: Korbyn McGreevy, Kenneth "KJ" Goody, Darren Hort, Josiah Flowers and Jakob Massie.
10th grade: Ian Campbell, Kyla Rutter, Cole Lutgen, Cali Tusani, Mason Elliott, Dylan Mills, Gino (Caleb) Santi, Grace Baker, ,Todd Tabo rLindy Foley, Alex LaBoa, Zakary McClellan, Elijah Wallace, Jack Doerty, Santiago Macias, Blake Vandenberg, Tarrell Lockridge, Max Cox, Syrus Schultz, Damien Alvey and Riley Scattergood.
Ninth grade: David Boguhn, Gracie Elliott, Chloe Grotting-Larsen, Irene Martinez, Audrey Norton, Kevin Cruz, Bailey Drabek, Paola Olea-Cortez, Jack Burnell JR., Calley Hutchinson, Zayben Laurion-Cranmore, Garrett Karjola, Hudson Shadduck, Sullivan Wagoner, Ty Olmedo, Christian Patino, Alex Torres and Kaden Stariha.
Eighth grade: Haily Long-Kisto, Ethan Brightbill, Kael Castle, Nicholas Lemyre, Sean T. Poppe, Mahala Borelis, Makiya Hernandez, Rubi Lemus Huerta, Laken Cochran, Maleah Davis, Wilson Hull, Phillip Ponkratov, Trent Martin, Zack Milohov, Jevan Lucente, Cesar Ortega, Pierce Hull, Katrina Rick-Mertens, Chloe Taylor, Clint Blakeman, Deklin Green, Maddox Cramer, Diego Luna, Aaron Winans, Gage Fletcher and Hayden Lawson.
Seventh grade: Kylee Moss, Annamarie Abbott, Brooklyn LaVigne, Austin Perkins, Hannah Buck, Maximiliano "Max" Cerna-Huerta, Andrew Schlangen, Roen Ofrecio, Shayne Hollingsworth, Austin Berry, Taylor Hoggatt, James Parker, Kayce Schnebele-Lute, Hayley Harvill, Yolanda Ramirez, Aubree Hutchinson, Sam Leigh, Tyrus LaFever and Kyleigh Day.
Sixth grade: Noel Ripp, Harrison Suzara, Jaiden Wright, Ivan Bailey, Cameron Parker, Dane Hale, Emma Jacobs, Payton Merwin, Lilly Hostetter, Hudson Shaw, Ryan Joey Baker, Billie Day, Brenna Armeni, Marisela Castillo-Hernandez, Jack Moon, Mckenzie Lamvik, Hannah Johnson, William Roth, Benjamin DePace and Steven Kays.
Be the first to know
Get local news delivered to your inbox!