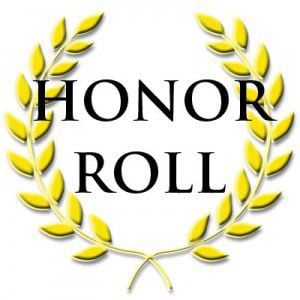 Editor's note: This honor roll ran on Page C5 of the Feb. 9 print edition of The Daily News.
The Kalama Middle School second term principal's list and honor roll for the 2019-2020 school year has been announced.
4.0 grade-point averageEighth grade: Josephine Brandenburg, Madison Buschman, Luke Davidson, Ella Jenkins, Gavin Kalimanis, Ellie Little, Elsa Orem, Jay Peonio, Ava Ripp and Marin Ripp.
Seventh grade: Rylie Cadigan, Aubrey Doerty and Isabella Neiman.
Sixth grade: Reece Achen, Emily Capen, Tesla Dobson, Jacey Hutchinson, Abel Koski, Daniela Lara, Zoe Libbey, Delaney Rinard, Gage Scholz, Nolan Scott, Brooklyn Storedahl, Harrison Suzara, Jayden Uhrig and Devon Yeoman.
3.99-3.5Eighth grade: Alvina Gerega, Katrina Roberts, Harleigh McClellan, Kylie Nichols, Madison Snyder, Tabitha Gish, Trinity Stangel, Olivia Witt, Brooklyn Gaston, Nicholas Lemyre, Eva Winther, Isabella Day, Araylia-Maria Martinez, Zack Milohov, Aaron Winans, Chase Leigh, Rubi Lemus Huerta, Cesar Ortega and Gage Trevino.
Seventh grade: Meadow Smith, Logan Wilcox, Natalya Moore, Paxton Holmstrom, Annamarie Abbott, Aiden Brown, Brooklyn LaVigne, Jason Sanders, Rilyn Schinzing, Bridgette Hollifield, Suri Pham, Kevin Lardizabal-Orea, Lahna Moon, Yolanda Ramirez, Jacob Steward, Sam Cruser, Zoey Harrell, Kylee Moss and Matthew Garrett.
Sixth grade: Daniela Breslin, Travis Chapman, Luke Orem, Paisley Gaches, Ella Lougheed, Isaac Mills, Luke Schmeusser, Agustina Bautista-Martinez, Lucy Hort, Elizabeth "Libby" Perkins, Melanie Gonzalez and Avery McClinton.
3.49-3.0Eighth grade: Kynadee Berg, Allimarie Burpee, Gage Fletcher, Phillip Ponkratov, Mahala Borelis, Maddox Cramer, Cooper Hahn, Pierce Hull, Solomon Paso, Trent Martin, Wilson Hull, Sean Poppe, Diego Luna, Reese Hollingsworth, Nathaniel Warren, Deklin Green, Chloe Taylor, Erik Sager, Ethan Brightbill, Maleah Davis and Brynden Swearingen.
Seventh grade: Mersadiez Crandall, James Parker, Quin Hahn, Nevaeh Olinger, Andrew Schlangen, Isaiah Skreko, Samuel Kalimanis, Andrew Roy, Hannah Buck, Saeya Frein, Kayce Schnebele-Lute, Jaylyn Gibbs, Riley Staup, Sam Leigh and Bryce Waddle.
Sixth grade: Reese Johnston, Elizabeth Boguhn, Emma Jacobs, Jason Ostrom, Noel Ripp, Marlee Harris, Owen Kushner, Abigail Nesbitt, Brenna Armeni, Alexandra Gravina, Jaiden Wright, James (Jimmy) Berg, Ivan Bailey and Evelina Paso.
Be the first to know
Get local news delivered to your inbox!