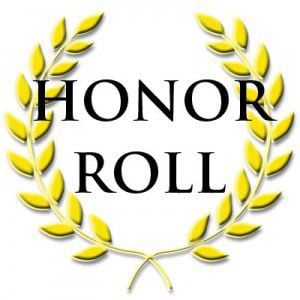 Editor's note: This honor roll ran on Page C5 of the Feb. 9 print edition of The Daily News.
The Kalama High School first semester principal's list and honor roll for the 2019-2020 school year has been announced.
4.0 grade-point average12th grade: Aspen Smith.
11th grade: Briannan Abbott, Thomas Brandenburg, Reegan Jenkins, Ethan Jones, Matthew Rinard and Addison Smee.
10th grade: Xavier Brown, Paige Chinchen, Elizabeth Green, Maycee Holmstrom, Baylee Moss and Peyton Mynatt.
Ninth grade: Elizabeth Bozarth, Adelina Breslin, Kendal Collins, Nathalie Cordero, Elyse DiCristina, Jasmine Dunlap, Sophie Given, ,Reese Holmstrom Amelia Jacobs, Elliana Norton, Alena Ross, Ellie Shipley, Jenah Wolf
You have free articles remaining.
3.99-3.512th grade: Riley Ofrecio, Dylan Holgerson, Alex Anderson, Sadie Wall, Marshall Herbelin, Lily Given, Monique Cornell, Mary Morrell, Brady Spiess and Matthew Morris.
11th grade: Shayden Jones, Margaret (Maggie) Glaser, Ruby Jackson, Margaret Cruser, Jocelyn Gallaher, Brandon Leatzow and Justin Tucker.
10th grade: Kailey Shipley, Seth Hoseney, Chloe Sanders, Ava Beck, ,Noah Imboden, Sydney Johnson, Preston Armstrong, Zakary McClellan, Cali Tusani, Jessica Lardizabal-Orea, Jackson Esary, Mattea Suzara, Regan Cadigan, Braydon Rauscher, Alyviah Turmel, Kyla Rutter, Axel Paso, Amanda Buck, Ian Campbell, Mason Elliott and Rex Reinke.
Ninth grade: Micah Gaches, Isaiah Hoffman, Moriah Josephson, Ladislao Quintanilla, Mackenna Smee, Carter Byrnes, Ayden Armeni, Zoporah (Zoe) Jones, Annelise Hamilton, Phoebe Jackson, Alisa Wilkinson, Austin Beck, Ethan Bethune, Christian Patino, Ella Capen, Chloe Grotting-Larsen, Nicolas Tinoco, Alana Luna, Ren Cruser, Jack Burnell JR., Sullivan Wagoner, Calley Hutchinson and Audrey Norton.
3.49-3.012th grade: Destyne Huffman, Autumn Bethune, Zamias Lockridge, Jacqueline Griggs, Jonah Lucente, Richard Beverage JR., Tanner Mills, Jackson Hull, Alexis Kaschmitter, Lily Nichols, Jackson Gorans and Tucker Halbert.
11th grade: Korbyn McGreevy, Tristan Tuttle, Joseph Reid, Loren Tucker, Wyatt McCabe, Gabriel Gledhill, Nathan Anderson, Kenneth Goody and Everett Hoffman.
10th grade: Dylan Mills, Santiago Macias, Syrus Schultz, Paden Green, Elijah Gould, Bethany Lozier, Elijah Wallace, Jude Massie, Cole Lutgen, Tia Burpee, Alex LaBoa, Todd Tabor, Gino (Caleb) Santi, Caleb Smith, Kasen Dubke, Max Cox, Jack Doerty and Brooke Milohov.
Ninth grade: Kaden Stariha, Kevin Cruz, Irene Martinez, Henry Cornell, Alex Torres, David Boguhn, Paola Olea-Cortez, Gage Beck, Rhegan O'Neil, Ethan Liddell, Austin Wright, Kasey Greeley, Bailey Drabek, Gracie Elliott, Drake Wooldridge, Levi Martinez, Garrett Karjola, Hudson Shadduck, Zayben Laurion-Cranmore, Brenden Greeley and Zachary Jones.