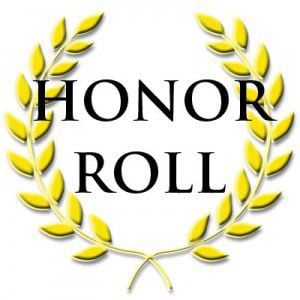 Editor's note: This honor roll appeared on Page B7 of the Saturday, Feb. 20, 2021, Daily News print edition of the newspaper.
The Kalama High School first semester principal's list and honor roll for the 2020-2021 school year has been announced.
Students named to the principal's list received between a 4.0 grade-point average. Students named to the honor roll received between a 3.0 and 3.99 grade-point average.
12th grade: Thomas Brandenburg, Brandon Leatzow, Matthew Rinard.
11th grade: Jaysen Ketzbeau
10th grade: Elizabeth Bozarth, Adelina Breslin, Kendal Collins, Nathalie Cordero, Elyse DiCristina, Amelia Jacobs, Moriah Josephson, Elliana Norton, Ladislao Quintanilla, Alena Ross, Ellie Shipley, Alisa Wilkinson and Jenah Wolf.
Ninth grade: Josephine Brandenburg, Luke Davidson, Brooklyn Gaston, Tabitha Gish, Gavin Kalimanis, Ellie Little, Elsa Orem, Jay Peonio, Ava Ripp and Marin Ripp.
12th grade: Wyatt McCabe, Margaret Cruser, Darren Hort, Briannon Abbott, Tristan Tuttle, Margaret Glaser, Jocelyn Gallaher, Korbyn McGreevy andCamryn Samples.
11th grade: Axel Paso, Preston Armstrong, Cole Lutgen, Lessica Lardizabal-Orea, Kyla Rutter, Ian Campbell and Rex Reinke.
10th grade: Jasmine Dunlap, Annelise Hamilton, Gage Beck, Ayden Armeni, Austin Beck, Nicolas Tinoco, Sophie Given, Ella Capen, Jack Burnell Jr, Isaiah Hoffman, Calley Hutchinson, Zoe Jones, Alex Torres, Sullivan Wagoner, Emily Avila-Arellano, Ethan Bethune, Ren Cruser, Austin Wright, Mackenna Smee, Micah Gaches, Levi Martinez and Chloe Grotting-Larson.
Ninth grade: Gage Fletcher, Jeven Lucente, Ella Jenkins, Eva Winther, Laken Cochran, Cooper Hahn, Maleah Davis, Kylie Nichols and Katrina Roberts.
12th grade: Isabelle Carter, Justin Tucker, Gabriel Gledhill, Josiah Flowers, Nathan Anderson, Dayanera Loiacano, Shayden Jones, Dylan Stevenson, Loren Tucker and Jakob Massie.
11th grade: Noah Imboden, Keaton Fisher, Daphne Durden, Paden Green, Chase Jaeger and Tarrell Lockridge.
10th grade: Kaden Stariha, Phoebe Jackson, Audrey Norton, Carter Byrnes, Kylie Robertson, Brenden Greeley, Hudson Shadduck, Alana Luna, Garret Karjola, Kasey Greeley and Kevin Cruz.
Ninth grade: Deklin Green, Solomon Paso, Diego Luna, Mahala Borelis, Ethan Brightbill, Aaron Winans, Noah Shaw and Chloe Taylor.