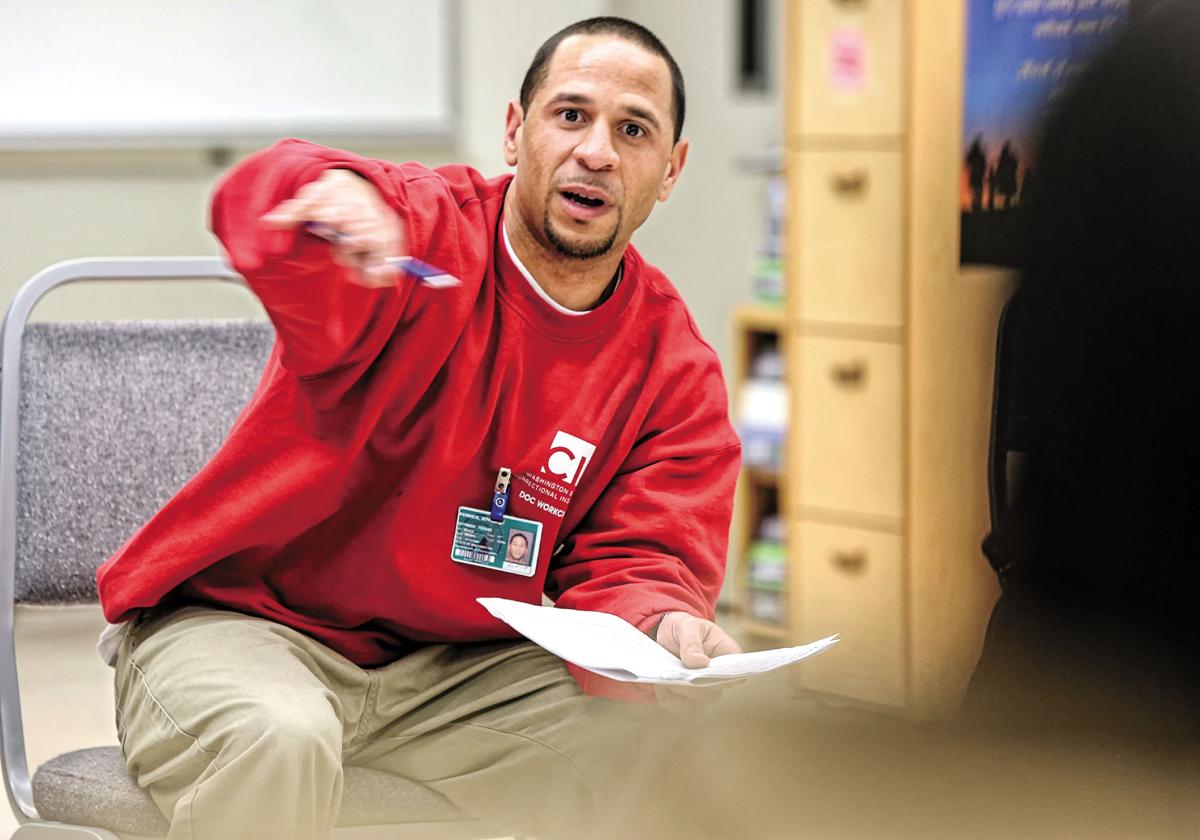 Jeff Pennick isn't one to shirk his daddy duties.
The father of two reads to his children, 8-year-old Maliyah and 11-year-old Jashon. He has participated in parent-teacher conferences. He writes letters, mails home money to help with gifts, sends Christmas cards and sings an off-key "Happy Birthday" over the phone each year.
But Pennick's best efforts to be an active father are hindered by a decision he made long before his children were born.
Pennick, 34, of Puyallup is serving more than 23 years in prison for the fatal stabbing of a 17-year-old Puyallup boy. He was 17 when he killed the boy during a brawl at an elementary school playground that ended with one dead and two others injured.
As he serves his 278-month sentence, Pennick's face-to-face time with his children is limited to the visiting room at Cedar Creek Corrections Center, a prison 23 miles southwest of Olympia that houses minimum-custody male offenders.
Pennick utilizes programs available to incarcerated fathers to help bridge the gap between him and his children. Still, his reach is limited. After all, no prison programs can recreate a school production, a soccer game or a major childhood milestone.
"I ask for pictures ... but it's nothing compared to actually being there in the moment," Pennick said last month from a white-walled room at the corrections center.
"There's a big gap. Even though I get to see (my children), I still missed everything."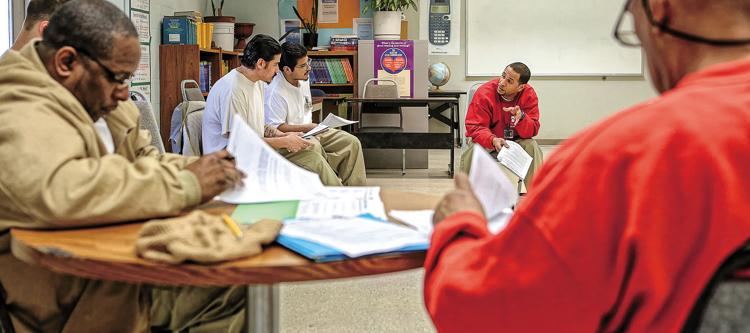 On a Saturday morning at the center, Pennick isn't just an inmate. He's a facilitator for Long Distance Dads, one of Cedar Creek Correction Center's programs for incarcerated fathers. He leads the eight-week program in a room crowded with metal chairs, bulky computers and glossy books with such titles as "Best Resumes and Letters for Ex-Offenders."
Pennick sits at the front of the room. He wears the same crimson sweatshirt and khaki pants as the nine other inmates in attendance. Pennick is clean-cut with a warm smile and playful demeanor. He greets inmates by their first name or nickname as they shuffle in one by one for their morning class.
When Pennick was preparing for the birth of his son Jashon, he enrolled in a Long Distance Dads class at McNeil Island Corrections Center. Pennick was asked to become a facilitator when Jashon was about a year old.
"When I sat through it before I had my son, I was just a sponge," he explained. "I'm not in this alone. There's other broken homes in here and how they're dealing with their children or how they were dealt with by their fathers — it was enlightening. And it helped me start to create my own path as far as how I wanted to raise my children per se."
"These men — they're inspiring me," he added. "I'm teaching the class essentially, but they inspire me."
During the class, the men reflect on parenting styles, talk candidly about their own upbringing and share parenting obstacles they face. One inmate expressed frustration about the mother of his child changing her phone number.
Another inmate, 53-year-old Anthony Heller, spoke openly about abuse he witnessed growing up. His dad abused his mom, he said. In turn, he abused his children's mothers. "But I stopped the cycle," he added, solemnly. "I haven't had a domestic violence (charge) since '93."
'This is where it starts'
Inmates enrolled in the class are allowed one excused absence. If an inmate has an unexcused absence or more than one excused absence, they have to take the course again. The strict policy is a lesson in itself, said Chuck, a former inmate who volunteers as a facilitator. Chuck served an eight-month sentence in 2000 on drug-related charges. He declined to provide his last name.
"In the streets, they can't say 'time out, I can't be a dad right now,'" Chuck explained. "This is where it starts."
Jeremy Reed, 28, also has taken the Long Distance Dads class, which he said taught him how to be available mentally and physically to his kids, who live in Cowlitz County.
Reed was incarcerated January 2012 and was released earlier this month. He said the Long Distance Dads class taught him how to be an active father.
"Before (I was incarcerated) I wasn't too active in their needs. I was physically there. I wasn't mentally there, so I went to the Long Distance Dads parenting class, and I've learned how to be more interactive through communication and participate more in their lives," he said.
Reed said he regularly calls his children — ages 5 to 11 — and sends them hand-drawn pictures.
"I'm going to show them the positive change by my actions that I'm doing now and then when I get out there. They've already seen a positive change in me, and it's awesome. It's really awesome," Reed said in February, a month before his release.
"I love how far that I've came from where I was."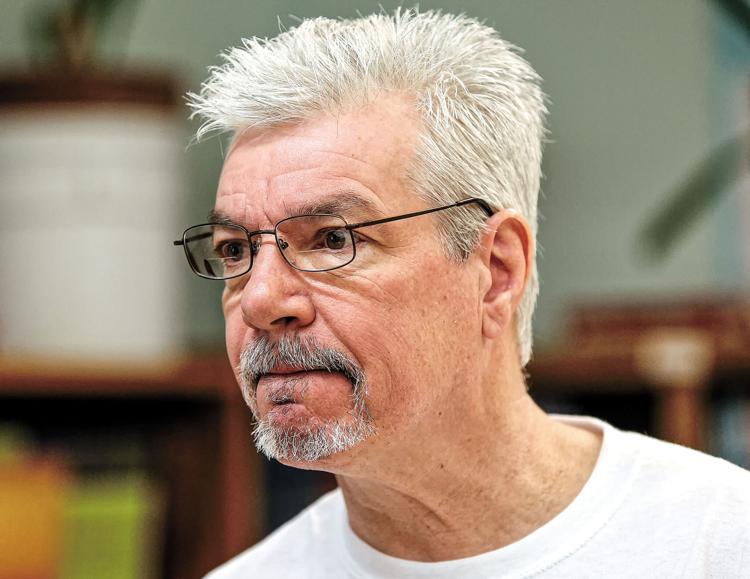 Pennick sees his two children once every three weeks in a modest visiting room shared by as many as 20 to 30 other incarcerated fathers. Visits are no more than four hours long and can be scheduled up to four times a week.
Inmates and their children can play games and exchange hugs and kisses. Still, it's limiting, Pennick said.
"You can hug on (your kids). You can kind of tousle a little bit, but you can't get too rambunctious; there's not a lot of space," he said.
Outside of his regular visits, Pennick has participated in family events, including a father-child gift exchange at Christmas. Other programs that help connect inmates to their children include Read to Me Daddy, in which an inmate can record video of himself reading a book. The book and DVD are then sent home to the children.
Parent-teacher conferences also are an option. They are conducted over the phone.
"You sign up and after the approval process happens with the children's caregiver, then we will forward content for the school and get (the conference) scheduled," said Kim Govreau, community partnership program coordinator. "Now we're moving into Skype, so I think we'll be Skyping in the near future."
When Pennick was still with his children's mother, he supplemented his normal visits with extended family visits. During such visits, families spend one to two nights together in a trailer. They can bring pre-approved movies and food.
"With the extended family visits, there's a lot of criteria that's attached to it," Govreau said. "After that approval process happens, (the visits) are scheduled as frequently as the location is available. So right now I think it's about once every three months you can spend two nights with your loved ones. Everything is pre-identified and there's a packet put together."
Pennick said he's in the process of getting his mother approved to stay for extended family visits.
There are 480 inmates currently housed at Cedar Creek Corrections Center, which Govreau said is average for the Washington prison. However, it's not known how many of the inmates are fathers because not every inmate has taken the measures to prove their paternity, Govreau added.
Growing up, Pennick's own father was in and out of jail. As an adult, he ended up serving time at the same prison as his dad — twice.
Pennick and his former wife planned the pregnancy of his first child when he was incarcerated at McNeil Island Corrections Center. Though he said he wasn't aware at the time of the programs available to imprisoned dads, he did know one thing: he didn't want his son following in his footsteps.
"On my mind was, 'I don't want this life like me and my father,' " he said. "I can't do this like I was raised. It's a similar situation because I'm already in prison and my dad's been in and out of jail all my life, but that doesn't mean this is (my child's) future."
Children who have an incarcerated parent are 10 times more likely to be involved in the criminal justice system, according the Bureau of Justice statistics. About 7.3 million children in the United States have a parent behind bars.
Though the odds are stacked against him, Pennick said he doesn't want his children making the same choices he made.
"I want them to be better than me," Pennick said. "I think that's what all parents want, is they want their children to be better than themselves, and I have very high expectations for them, and they know that."
Though Pennick planned the birth of his son while in prison, that's not the case for all inmates.
Steven Mahoney, 57, traded in a life with his five children for time in prison. He described himself as an active parent prior to his arrest. His family was a "camping family," he said. He attended the obligatory ice cream socials and carnivals. At the time, he was a "functioning alcoholic," he said.
"I would drink after they went to sleep and so I tried to hide it as long as I could. Then it finally broke loose, and I couldn't hide it no more," he said. "Fortunately they never saw all the things that really went on behind the scenes of my alcoholism. But now they're painfully aware of it because they've been away from their father for so long."
Mahoney was incarcerated for first-degree assault in 2004, one week after his youngest daughter's first birthday.
"When I first fell, I didn't see my children — the three youngest ones — for almost two years," Mahoney said. "I haven't seen my oldest daughter since I've been incarcerated, and I've seen my oldest son once, and it took him 10, 11 years to come see me."
Mahoney chokes up when he recalls the first time he saw his youngest three children at the prison.
"My mother and her friend brought my three youngest children, and I think my sons were about 9 and 4 and Felicia is just a couple years old. And (Felicia) hid behind one of my sons and asked, 'Is that my daddy?'" Mahoney said, stumbling over his words.
"After that I changed the way I thought. I'm not going to allow the way I feel to affect them anymore, and I immediately got involved after that point in becoming the best father I could possibly be while I was in here," he said.
Mahoney regularly writes letters and journal entries, which he mails to his children. He also draws a picture of his hand to send to his youngest daughter — a gesture, he said, to show her he's always there for her.
However, many of his efforts aren't reciprocated. He said he doesn't blame his children, though.
"It's painful, but it's OK because they weren't taught that dads are supposed to be in prison," he said.
Mahoney has already made plans with his three youngest children upon his release, which is set for March 16, 2016. His modest proposal: to climb Mount Hood.
Mahoney — a thin, muscular man with a head of white hair and goatee to match — said his preparation for the climb is an example to his kids.
"I don't think a 58-year-old man is going to climb Mount Hood without being in shape. I don't lift weights or nothing, but I work out a lot and I tell (my kids) that, too," he said. "I say, 'You're not going to just go do something without preparing to do it,' and so I'm preparing every moment I'm away. I'm preparing to do this, and I plan on doing it."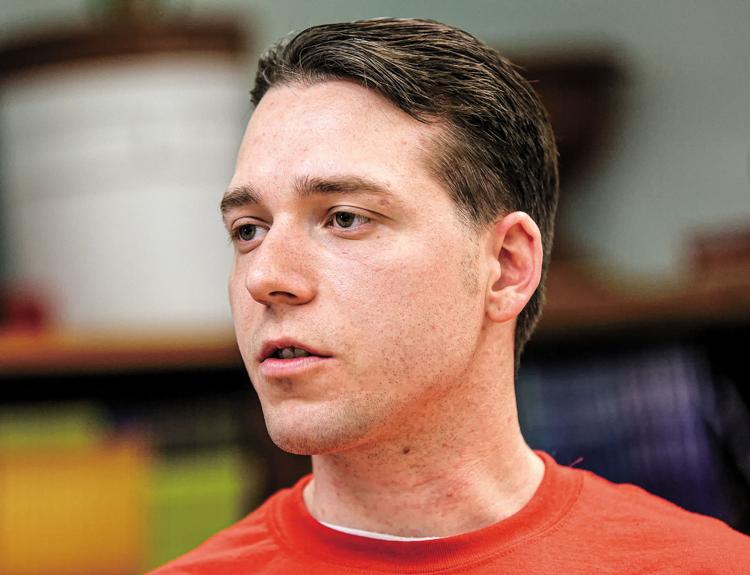 Pennick doesn't fit a stereotype, at least not the one so often associated with inmates. At a Saturday Long Distance Dads class, he's talkative and lively. As a facilitator, he's there early, bantering with inmates as they come in.
But that positive demeanor can quickly shift when he approaches certain topics related to his kids.
Maintaining communication with his children isn't the only hurdle he and other incarcerated dads face.
The men housed at the corrections center are doing time for a felony or two: burglary, assault or, like Pennick, murder. Those with young children dread the day they have to discuss the reason for their incarceration.
Pennick doesn't skirt around the anxiety he feels about discussing his crime with his son, now 11, and daughter, now 8.
"I'm gonna cry. I'm gonna cry," he repeated. "It's coming. It could be any day. It could be tomorrow if they came to visit."
Pennick recalled a time his daughter came to visit. It was several years ago, shortly after the April 2013 Boston Marathon bombing. She asked Pennick why he's in prison. It was during an extended visit, so Pennick was able to take her to a different room.
"I start asking her questions like, 'What do people come to prison for?' Pennick said. As his daughter answered, she busied herself by playfully jumping on the bed. To the 8-year-old, the topic was simply conversation.
"She's answering, she's like 'making bombs' because it was on the news," Pennick said. "I was like, 'Well, what else?' She's like 'hurting people.' She's still jumping. It's a game."
Although Pennick's daughter realizes people end up in prison for doing bad things, she hasn't yet made the connection that her father is doing time for breaking the law.
"It just goes right over her head. She doesn't get it. Because that's not me to her," he said, his lip quivering. "Those are the moments — do I (tell her) or do I just wait? Because clearly I don't fit that category because I'm dad."
Though difficult, discussing the "why" of incarceration is important.
Carrie Kendig, family services program manager for the Department of Corrections, advises being frank.
"I have spoken to parents. There's a lot of them that tell kids 'we're going to visit daddy at work' and they take them to the prison. "Well you know that's a lie, and kids don't have to be very old before they figure out that's not the case," she said.
Kendig said children who understand why their mom or dad is in prison have a better chance at avoiding the same fate.
"Not saying 'I'm here by mistake' but saying 'I'm here because I made a bad choice,'" Kendig said.
Pennick's children still don't know the exact nature of his crime. But the time will come, and Pennick is hopeful.
"I don't want my crime to define me. It's not who I am. It's something that I did. It's a mistake that I made, and essentially I hope they can see that too," he said.
"That's not who Dad is. That's just a mistake that Dad made."
The future is still uncertain for Pennick, who has several years left before his release. For all he knows, his release could be a party to his children. One thing he's sure of: his daughter, who lives with her mother, already has her bags packed, ready for her dad to come home for the first time.
Be the first to know
Get local news delivered to your inbox!