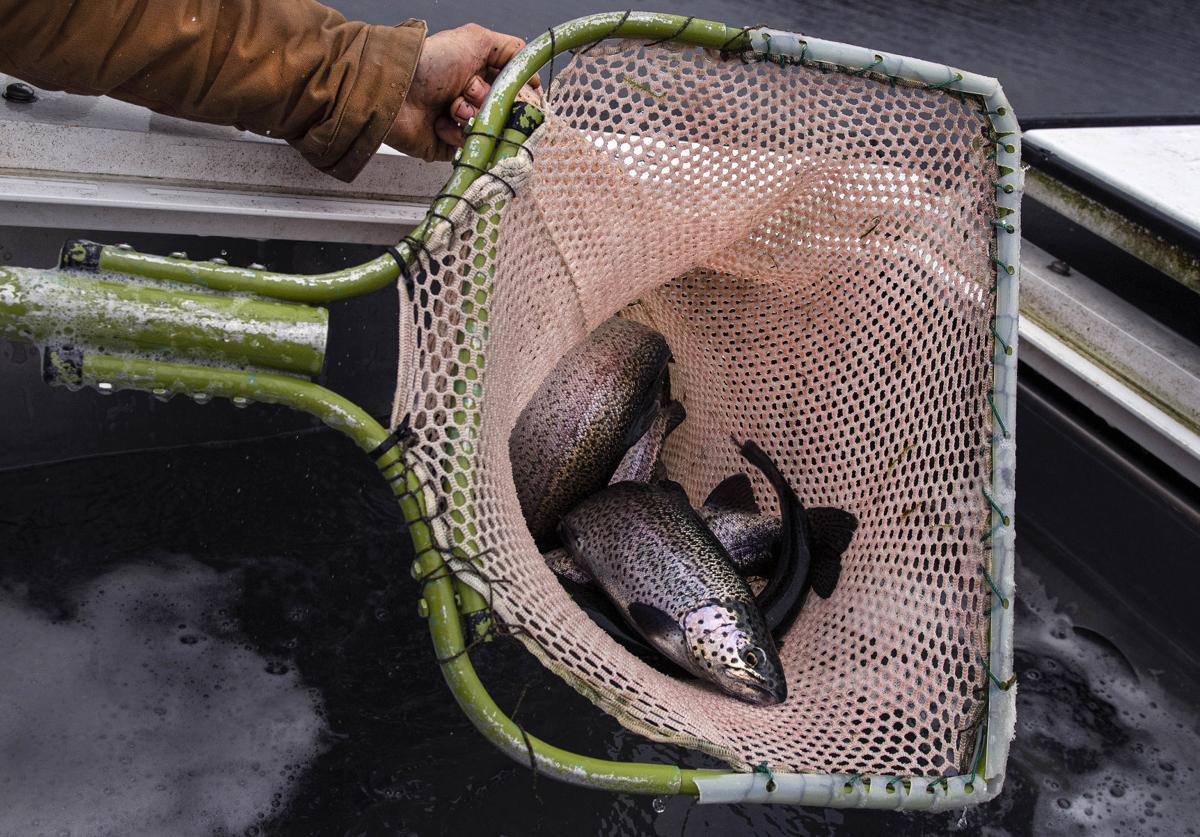 The average ambient temperature may be plummeting like a skipped stone in a pond but that didn't keep trout-fishing prospects from heating up rapidly this week.
That shift in the mercury comes thanks to a pre-Thanksgiving hatchery fish stocking effort by the Washington Department of Fish and Wildlife and left local waters roiling with thrashing transplants.
In normal years those rainbow trout are stocked in advance of the holiday in order to keep area lakes and ponds brimming with fish for a big "Black Friday" opener. This year, though, COVID-19 safety considerations have changed the name of the game.
"We usually attempt to plant them as close to the Black Friday event as possible," Tim Summers, a hatchery specialist with the WDFW, said Tuesday morning after dumping 1,000 rainbow trout from a truck into South Lewis County Park Pond.
"Normally they post it and then we stock the pond and then they close it until Black Friday. Even though this pond is open year-round they'd close it in order to get people excited about the big 'opener,'" Summers explained. "This year we're doing it differently because of COVID. They don't want people crowding together."
In order to avoid causing a logjam of anticipating and subsequently flooding area lakes and ponds with eager anglers on Friday morning, this year the freshly stocked trout are fair game as soon as they leave the truck.
This week, South Lewis County Park Pond, near the bank of the Cowlitz River in Toledo and Kress Lake just north of the Kalama River will each receive a total of 2,000 rainbow trout. Those products of the Mossyrock hatchery average just over one pound on the scale and around 12-inches in length against the measuring tape.
Other regional waters scheduled to receive shipments of the pan-size rainbow trout before Thanksgiving include Fort Borst Park Pond in Lewis County, Klineline Pond in Clark County, Rowland Lake in Klickitat County, Rowland Lake in Klickitat County, along with Black, Long, Offut, and Ward Lakes in Thurston County.
Dozens more lakes around Washington were stocked in October with tens of thousands of trout. With those reinforcements joining holdovers from spring stocking efforts, late fall can be a particularly promising time to try your luck.
"Fall trout fishing is a great way to get out with your family during the holiday season even as the days get shorter and temperatures drop," Steve Caromile, inland fish program manager with WDFW, said in a press release. "We're thankful to be able to offer fishing opportunity year-round through our trout stocking and hatchery programs."
Still, with an ongoing pandemic to consider and increasingly stringent guidelines handed down from the Governor's office, the WDFW is encouraging anglers to spread out along the bank and follow social distancing protocol in order to prevent crowding and help ensure a safer recreation space for everyone.
"The holiday season is more than just Black Friday, and all these fish won't be caught in one day," Caromile added. "Anglers should have a plan B if their preferred destination appears too busy, or be prepared to come back another time. We want everyone to stay safe and healthy while still getting to catch some trout."
All anglers above the age of 14 are required to purchase a freshwater fishing license in order to legally wet a line.