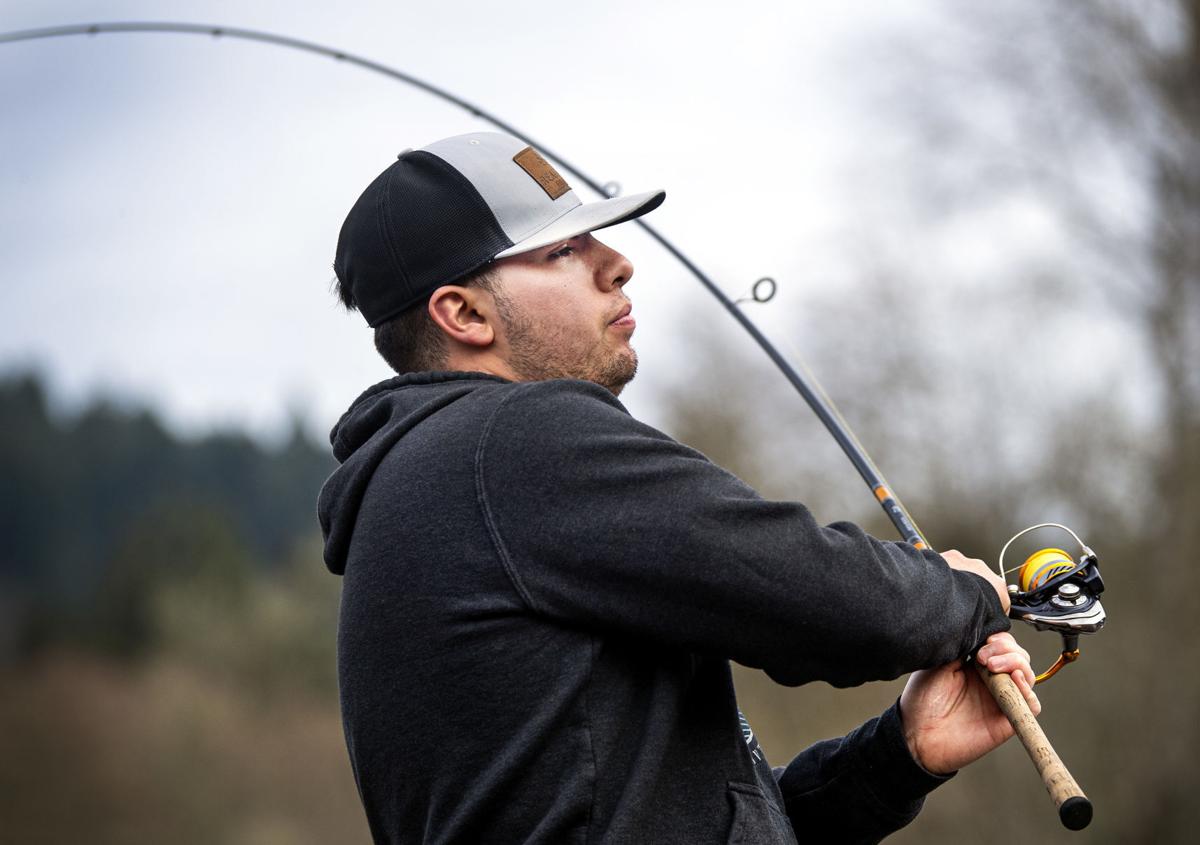 During an age of mandated screen time and in-house isolation it is perhaps more important than ever to teach the youth about the wonders of nature and our responsibility to it. With that in mind, the Washington Department of Fish and Wildlife has put together a comprehensive set of lesson plans for students in order to help introduce concepts that exist outside the confines of four walls and teleconference calls.
The "Wild Washington" project was developed in concert by teachers, homeschool parents, youth groups and other educators. Content has been tailored to fit the needs of elementary, middle school and high school students.
"Getting kids connected to nature is key to protecting the future health of our waterways, landscapes, fish, and wildlife," said WDFW Director Kelly Susewind, in a press release.
The outdoors education will begin at 10 a.m., Friday, with a live broadcast of a lesson known titled: "Beavers, Nature's Engineers." That program will include an opportunity for students to engage with a WDFW wildlife conflict specialist with first-hand knowledge of standoffs between beavers and landowners.
Other lessons in the Wild Washington program will provide up close looks and lessons on native flora and fauna. The subject matter will not deal strictly with the soft and cuddly side of nature, but will also present information on real-world problems and potential solutions.
"The Wild Washington lessons are a way for us to help caregivers, community partners, and schools bring natural science – which exists right on the other side of every window – into the lives of today's youth in relevant, tangible, and exciting ways," Susewind added.
That means even if students aren't able to get outside to breathe in the natural world as often as they should, the outside world can be piped indoors to help bridge the gap. It's not a perfect solution, but few solutions are these days.
The series of 14 lessons are considered to be interdisciplinary in nature and meet the standards of the Office of the Superintendent of Public Instruction as well as other applicable state and national standards. The lessons are also designed to meet the requirements of socially distant learning, including mobile instruction. A new lesson will be released each Friday through June 11, with different materials available for students in grades 3-5, 6-8, and 9-12.
Fishin'
The mouth of the Kalama River has been busy with bank anglers over the last week since that free-flowing entity of God washed clear quicker than other rivers while the rains were away. Anglers in the know have been forgoing Beginner's Hole and working secret hideaways in hopes of hooking an early returning winter steelhead. Soon, the reeling mind will begin to conjure visions of the spring king parade, although the actual bite is still likely to be a long way off.
WDFW creel sampling was once again limited to the Cowlitz River last week and happy anglers were recorded both above and below the I-5 Bridge near Vader. In the lower reaches, 66 bank anglers kept one steelhead and released one Chinook. Closer to the Barrier Dam the returns were far better as 34 bank anglers kept four steelhead and released another steelhead. Another 38 rods spread among 14 boats accounted for three keeper steelhead
At the Cowlitz salmon hatchery last week fish handlers retrieved 181 coho adults, 13 coho jacks, 49 winter-run steelhead adults, and six cutthroat. River flow below Mayfield Dam was recorded as approximately 14,600 cubic feet per second on Tuesday with eight feet of water visibility and a temperature of 44.6 degrees. Those flows are expected to drop to 11,700 cfs by this weekend.
On the mainstem Columbia River, anglers are currently allowed to keep hatchery steelhead and hatchery Chinook. From Buoy 10 to the I-5 Bridge in Vancouver anglers may keep up to six salmonids per day, including two adults. All wild steelhead and any salmon other than hatchery kings must be released.
Huntin'
The end is near for waterfowl hunts in Washington. While duck hunts will continue through the end of March the days are much more limited for those hoping to bag a few more geese.
Goose Management Area 3, which includes Lewis and Skamania counties, will remain open through the end of January without restrictions.
In Goose Management Area 2 hunters must obtain a special identification permit before they may legally hunt geese. The Inland section of GMA 2, which includes Cowlitz County, closed on Jan. 17 and will stay closed through Feb. 13. However, the Coastal section, including the Willapa Wildlife Refuge, will stay open on Saturday and Sunday before closing down until Feb. 13. What's more, a special brant hunt in Pacific County will continue on Jan. 23, 24, 26, 28, 30 and 31.
Small game hunts will also increase in popularity this time of year as tracks become more obvious in high country snow and other options fall off the fair game list. Bobcats, foxes, racoons, cottontail rabbits and snowshoe hares will all need to beware until the Ides of March. Additionally, beavers, badgers, weasels, martens, minks, muskrats and river otters may be harvested until the end of March, but only by means of trapping.
Cougars may also be hunted through April 30 in most areas. And, not to be forgotten, coyotes are legal fodder for hunters all year round.
Hunters on both sides of the Columbia River will have until the end of January to file hunt reports. Failure to report before the deadline can result in an extra fee the next time it's time to buy a license. In Washington, reports must be submitted for each black bear, deer, elk, or turkey tag. In Oregon reports are required for every deer, elk, bear, cougar, turkey and pronghorn tag.
Grabbin'
The WDFW is also seeking comments from the public regarding several proposed land grabs. Those six land prospective land acquisitions would purportedly be used to help buffer fish and wildlife conservation objectives while also providing greater public access to the outdoors.
Among the areas included in the proposal is 9,600 acres of the old Centralia coal mine property, currently owned by TransAlta. That area is particularly popular with birds, bird dogs, and bird hunters because of its wide open spaces and abundant wetlands.
Other proposed land acquisitions are located within Douglas and Asotin counties.
"We want to hear from people in this early stage of our land acquisition process," said Cynthia Wilkerson, WDFW lands division manager, in a press release. "Our mission is to protect land and water for people and wildlife in Washington, and this is one tool we use to determine which properties will best meet our conservation goals and recreational priorities."
The WDFW currently owns or manages more than one million acres across the state, including 33 wildlife areas and more than 500 water access sites. Written comments will be accepted through Feb. 5. Comments can be submitted by email to lands@dfw.wa.gov, or by postal service them to Real Estate Services, PO Box 43158, Olympia, WA 98504.
Whalin'
There are brand new regulations for whale watchers in Washington in 2021. In December the WDFW announced new rules governing commercial whale watching as it relates to the old Salish Sea's endangered Southern resident orca population.
"The adopted rules are an important part of a broader suite of efforts that the Department is continuing to pursue to help prevent the extinction of these animals while preserving an appropriate opportunity to admire them," said Kelly Susewind, WDFW director, in a press release.
The rules allow for a three-month window between July and September when commercial viewing of southern resident orcas may venture closer than one-half nautical mile. However, that loophole is restricted to a pair of two-hour openings per day with a limit of three motorized commercial whale watching vessels per whale pod.
The new rules also formalize the formerly voluntary 'no-go' zone along the west side of San Juan Island. That restriction on motorized vessels will open up a 100-yard corridor for kayak tours. Additional licensing and training requirements were also included in the new rules.
The WDFW is also reminding recreational boaters to adhere to previously established boundaries that require vessels to remain at least 300 yards away from all Southern resident orcas and at least 400 yards out of their path, or behind them.
"We all have a crucial role in helping to give these whales the best chance at survival," added Julie Watson, WDFW killer whale policy lead, in the press release. "We encourage recreational boaters to take steps as well to support Southern Resident killer whale recovery, including going slow and giving these whales extra space."
Snowin'
Snow is forecast for the high hills and mountains this weekend and that's sure to bring plenty of folks out of the cabin for a trip to their favorite winter wonderland.
A popular destination for powder-heads in volcano country can be found at the far end of Spirit Lake Highway in the morning shadow of Mt. Saint Helens. The highway is currently closed past Coldwater Lake but the best sledding hills can be found a few miles before that dip in the road. Before heading out, though, be sure to bring along supplies that can keep you dry and happy in case you wind up in the ditch with anything other than your favorite sled.
At White Pass ski area the prospects are promising for powder this weekend, too, but if you don't have your ticket already it's too late to try. All daily lift tickets for Saturday and Sunday have sold out in advance meaning that only plank and board riders with a season pass will be allowed to share a lift seat.
On Thursday morning the slopes at White Pass were seeing light snow falling upon a machine groomed terrain with a temperature around 27 degrees. Over the previous 36-hours a total of two inches of snow had accumulated. That snowfall brought the total snowpack up to 76 inches near the top and over 40 inches closer to the base. Lifts are currently running 8:45 a.m. until 4 p.m. The Nordic ski area is open Thursday through Sunday each week, plus holidays. The tubing area opens Wednesday and Friday starting at 11:30 a.m., along with Saturday and Sunday starting at 9:30 a.m.
At Mt. Hood Meadows the snow is even deeper. On Thursday afternoon the temperature was closer to 36 degrees with only one new inch of new snow over the previous two days. However, the total snowpack at Meadows has reached 117 inches in the mid-elevations with 74 inches piled up at the bottom.
On Thursday conditions were reported as "firm and fast" but that terrain should soften up with the arrival of fresh snowflakes. The lifts at Meadows are currently running 9 a.m. until 9 p.m.