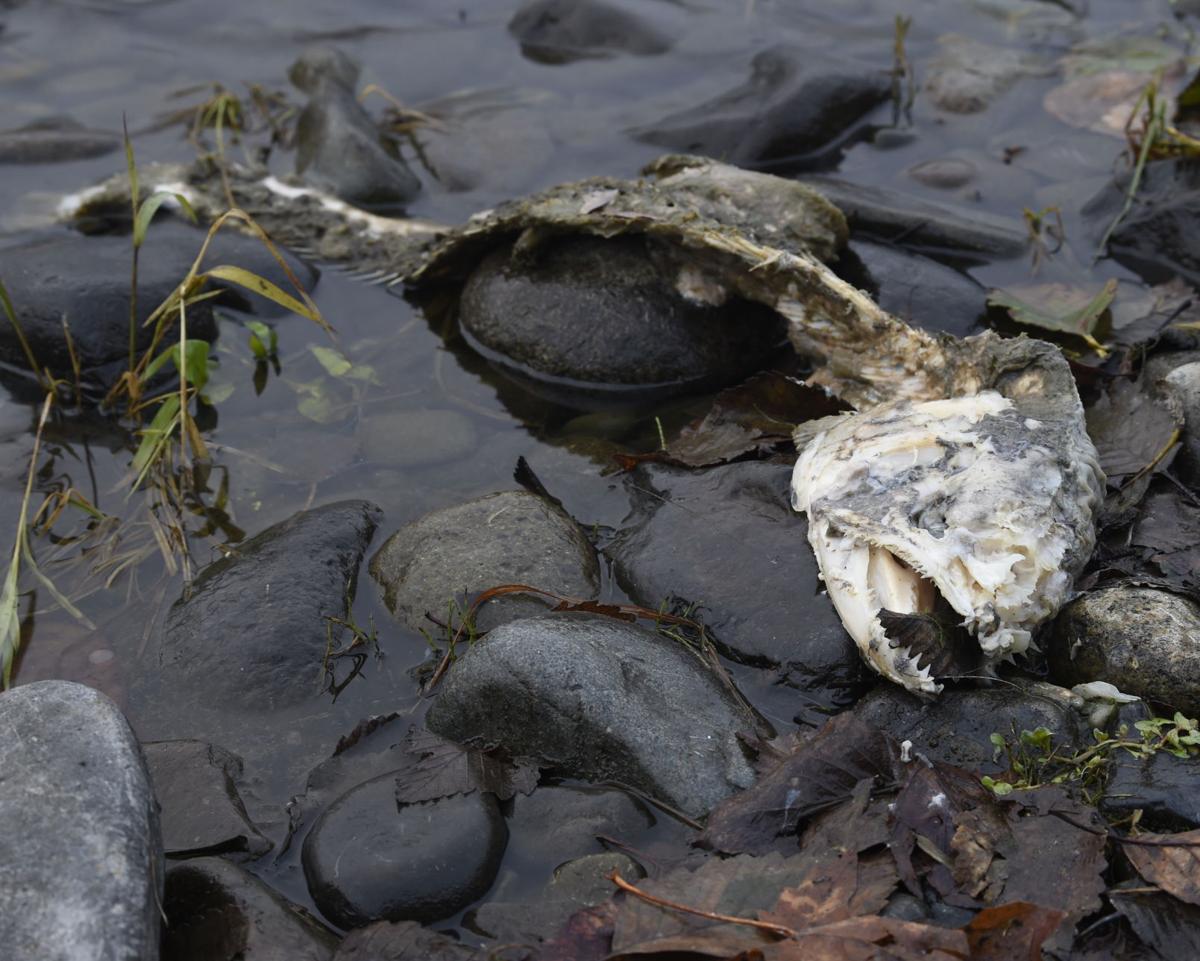 FISHIN'
The arrival of snow in the highlands and puddles in the lowlands are sure signs that the seasons are changing. As such, anglers in area waters have surely noticed that the makeup of fish running the gantlet from ocean to headwaters has taken a hard headed turn.
As fall salmon continue to push upstream on the mainstem Columbia River the returns on area tributaries are slowly beginning to feature more winter steelhead and far fewer fall kings.
Salmonid fishing is currently open on the Columbia River from Buoy 10 up to Pasco with a daily limit of six fish, including up to two adults, of which one may be a hatchery steelhead. All salmon other than Chinook and coho must be released. Below the Hood River Bridge anglers must also release wild coho.
There were no creel sampling stats provided by the Washington Department of Fish and Wildlife for angling efforts on the mainstem Columbia last week. However, fish counters at Bonneville Dam confirmed what anglers had already figured when they tallied 20 Chinook, 15 coho and eight steelhead passing through the chute on Wednesday.
Although Chinook salmon are legal for harvest on the Cowlitz River not many anglers have been taking the State up on that offer since those kings have been showing up a little long in the tooth and with too much color in their scales. On the Cowlitz River, anglers can keep up to six fish per day, including hatchery Chinook and coho. While winter steelhead are still few and far between they can almost always be counted on to begin showing up in droves in early December.
Last week on the lower Cowlitz River below the I-5 Bridge creel checkers from the WDFW sampled 26 bank anglers with two keeper coho and two silver jacks. Another nine boat rods kept two coho. From the I-5 Bridge up to the Barrier Dam creel checks on 49 bank anglers turned up five keeper coho, three silver jacks and another 18 Chinook and three coho tossed back. Six more boat rods had no catch at all.
At the Cowlitz salmon hatchery last week fish handlers retrieved 1,390 coho adults, 828 coho jacks, 411 cutthroat trout, 55 fall Chinook adults, and six summer-run steelhead. Those crews also trucked 681 coho adults, 340 coho jacks, and three cutthroat trout into the Lake Scanewa reservoir. In Tacoma Power's one-a-week river report on Monday river flow below Mayfield Dam was reported at around 4,870 cubic feet per second with water visibility of 11 feet and a water temperature of 50.2 Fahrenheit.
On the Lewis River anglers are also allowed to keep six salmon per day, including two adults. Last weekend the WDFW checked 54 bank anglers with two keeper Chinook and one coho tossed back. Another two dozen boat anglers kept two kings and three coho while releasing eight Chinook and three coho.
The Kalama River also saw a fair amount of angling action last weekend. According to stats provided by the WDFW, 37 bank anglers kept two coho and two coho jacks while releasing four Chinook on Saturday. Another 15 boat rods kept four coho and released three kings.
Trout fishing prospects will also start to trend up as November trudges on. The WDFW will begin stocking thousands of trout in lakes and ponds in the days prior to Thanksgiving in order to give folks an out of doors alternative to Black Friday shopping. Area lakes set to be stocked later this month include Kress Lake and South Lewis County Park Pond.
HUNTIN'
Out in the great wet wild, hunters have less than one week to tag an elk in the late general season. That opening got off to a slow start last weekend due to calm and clear skies but that script is set to flip this week.
Long cold, wet and windy nights make big bulls sleepy and encourage them to bed down for cover. Inclement weather also nudges bulls to sleep in late so that hunters can take up position early to be in better position once the sun finally rises.
The late general hunt for elk in Washington will come to a close at dusk on Nov. 18. Late hunts for black-tailed deer will then take center stage, ever so briefly, from Nov. 19-22.
Both species have strongholds in the hills and drainages around the Lower Columbia region. The Mt. St. Helens and Willapa Hills elk herds are two of the most productive in the state. Meanwhile, deer hunts are often most plentiful in the clear cuts of tree farm territory or the wide open lowlands adjacent to farmlands and flood plains, and there's plenty of both to choose from.
In Oregon hunters were recently granted an extra special opportunity when the Port of Astoria received permission to open their runway to night time deer hunts.
According to airport manager, Gary Kobes, the airport was granted 10 kill permits from the Oregon Department of Fish and Wildlife after surveys found that a congregation of the animals are putting aircraft at risk on takeoffs and landings. In the early 2000s a Learjet from the Canadian military collided with an elk at the airport and caught fire. Recently, the Coast Guard has reported gatherings of up to ten deer within the fences that surround the airport.
The airport will rely on volunteers to conduct the nighttime hunts with the use of spotlights. Airport officials have noted that meat from the harvested animals will then be shared with food banks. The nearby Airport Dike Trail will be closed during the hunts.
While Washington archers and musket men will be able to follow up for elk and deer later this month, hunts for black bears are set to close at dark on Sunday. Those bear hunts kicked off hunting seasons back in August.
However, hunts for big cats still have some legs. Cougar hunts in Washington will continue through at least the end of the year before officials crunch harvest data to determine which areas may stay open.
If you're hoping to put a wild turkey on the table for Thanksgiving, and you don't want it to be in liquid form, there's still time. Wild turkey hunts will remain open through the end of the year in GMUs 101-154 and 162-186, where hunters are allowed two beardless birds and two gobblers of either sex.
Similarly, hunting seasons for forest grouse and crows will remain open through sundown on New Year's Eve. Meanwhile, open seasons on California quail, mountain quail, and northern bobwhites will run through dusk on Nov. 30. Likewise, pheasants will also be open from 8 a.m. until 4 p.m. each day through Nov. 30
Duck hunting season took a bit of a break in late October but hunters can now blast those water birds freely through Jan. 31. Coot and snipe hunting will also continue through the end of January.
Goose hunters in Goose Management Area 1 can bag the big birds through Nov. 29 before taking a short break. In GMU 2 (Coastal) hunters can target geese on Saturday, Sundays and Wednesday through Dec. 6 before a mandated break. Meanwhile, Goose Management Area 2 (Inland) will remain closed through Nov. 25, but geese can be bagged uninterrupted in GMU 3 through the end of January.
Small game hunts for bobcat, fox, raccoon, cottontail rabbit and snowshoe hare will continue through the Ides of March. Trapping seasons for beaver, badger, weasel, marten, mink, muskrat and river otter will continue in the underbrush through March 31.
And, of course, there is no end to coyote hunting season in Washington. Any legal weapon may be used in their pursuit and they can even be hunted at night so long as there is not an opening for deer or elk in the same area.
BIRDIN'
The arrival of winter weather means that flocks of swans will be arriving in Washington over the coming weeks. Those birds are particularly prevalent in Skagit, Snohomish and Whatcom counties, but they are keen to stopover anywhere near the Pacific Flyway that has ample space and snacks. Specifically, short shorn corn fields are known to be their favorite rest area.
The return of those trumpeter and tundra swans is great news for bird watchers but hunters must take extra precaution not to set them in their sights since hunting of those big birds is illegal. What's more, the WDFW is asking the public to report any sick, injured or dead swans that they observe.
"Because of the recent cold temperatures to the north, we are seeing swans throughout western Washington a little early this year," said Kyle Spragens, WDFW waterfowl section manager, in a press release. "We typically start to see them arrive in significant numbers just before Thanksgiving – but it all depends on temperatures hundreds to thousands of miles away, as these birds spend their summers in Alaska, western Yukon, and northern British Columbia."
Despite efforts to reduce the prevalence of lead poisoning, swans are still very much susceptible to that often fatal malady. Although lead shot has been outlawed for hunting since 1991, some hunters still ignore the law. Moreover, with their long and strong necks, swans are uniquely suited to forage long forgotten pellets from beneath the muck and mud.
"We advise people who observe sick, injured, or dead swans not to handle or collect the birds," Spragens added. "Instead, people should call the hotline."
Last season the Whatcom Humane Society was able to save four trumpeter swans from injury or illness.
Anyone who sees a dead, sick or injured swan is encouraged to call (360) 466-4345, ext. 266, in order to report their observation. Callers should be sure to leave a detailed message including their name and contact number along with the last known location and condition of the swans. That hotline will stay open through March.
MEETIN'
Washington's coastal residents have been invited to an "online" open house next Tuesday in order to discuss the future of razor clam digs as well as other outdoors topics important to locals.
The coastal region, as defined by WDFW, includes Pacific, Grays Harbor, Thurston, Clallam, Jefferson, Kitsap, Mason, and Pierce counties.
The meetings will be hosted by WDFW director, Kelly Susewind, as well as WDFW coastal regional director, Larry Phillips. Joining in on the meeting will be Long Beach Peninsula visitors Bureau executive director, Andi Day, and Long Beach Mayor, Jerry Phillips.
Topics of discussion will include the role that razor clams play in regional tourism, outdoors recreation and community culture. The open-house will include a presentation from officials and questions from the public will be solicited in written form.
"We always have a lot going on with razor clams and it's important to us that community members are able to engage with us on the topics that matter to them," Susewind said in a press release. "We know that people in this region care about our work and we're looking forward to having a chance to find out what's on their minds – clams or otherwise."
The meeting is slated to take place from 7-8 p.m.
Be the first to know
Get local news delivered to your inbox!