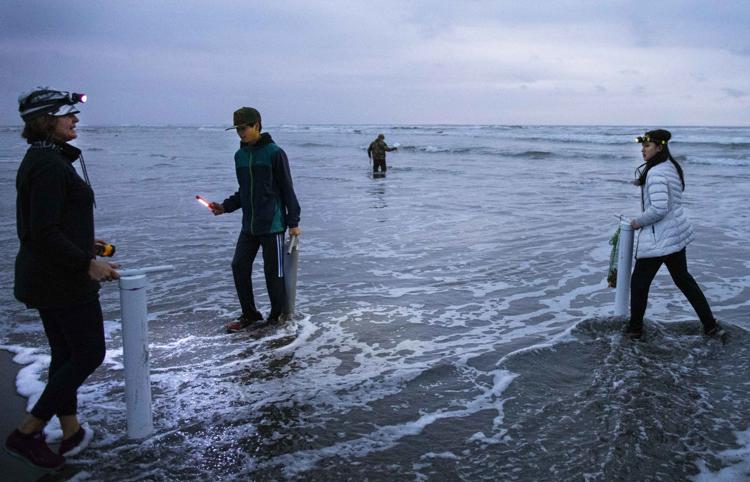 The year 2020 continued its assault on all nice things this week when the scourge of domoic acid returned to Washington's offshore waters. That return of the potentially deadly marine toxin put the kibosh on coastal razor clam digs just as succulent bivalve diggers were getting back in the habit of making regular runs to their favorite beach.
The untimely arrival of domoic acid caught even the top clam man from the Washington Department of Fish and Wildlife off guard. Last week, Dan Ayres, WDFW coastal shellfish manager, noted that water conditions on the coast were looking good with proper salinity and marine toxin levels that gave no indication of what tainted waters would begin washing ashore this week.
"We did have a little blob earlier in the summer but the recent storms have really helped to improve that," Ayres told The Daily News in an interview last week.
That forecast held true through the weekend and even the beginning of this week as a six-day coastal razor clam dig marched on. However, by Wednesday afternoon an emergency closure was announced by the WDFW after additional marine toxin testing showed that the meaty mollusks were now longer safe for human consumption.
Wednesday evening the WDFW sent out a press release confirming the immediate shutdown of all approved razor clam digs, including the final dig of the six-day opening that had been set for that night at Long Beach, Twin Harbors and Copalis.
"State shellfish managers will consider openings tentatively scheduled to start October 31, depending on the results of upcoming marine toxin tests and public health officials' ongoing monitoring of COVID-19 trends," wrote Larry Phillips, WDFW's coastal region director, in a press release.
Domoic acid is a naturally occurring toxin produced by marine algae. Warm water exacerbates the production of the toxin which can be lethal or cause extreme illness when consumed.
A decision on the fate of upcoming proposed digs is expected to be announced by the WDFW next week. In 2015 the vast majority of the razor clam digging season was eliminated due to the lingering presence of domoic acid.
FISHIN'
Angling on the mighty river went off under predominantly sunny skies over the last week and turnout spiked as a result. Effort on the mainstem continues to push upriver along with the fall salmon run but several area tributaries have been treating anglers well.
On the mainstem of the Lower Columbia River anglers between Buoy 10 to the Hood River Bridge are allowed to keep up to six salmon per day, of which two may be adults. Only Chinook and hatchery coho salmon are eligible for harvest.
The lion's share of the effort last weekend was beyond the big bend at Vancouver. In the Camas/Washougal area on Saturday the WDFW sampled 88 boat rods and found six keeper Chinook, three king jacks, six coho and one more Chinook that had been tossed back. By comparison the busiest stretch in Cowlitz County was near Kalama where a dozen bank anglers had nothing to show or tell state samplers about. Another 11 boat rods did manage to keep one Chinook and one coho.
Last week area anglers saw the rules relax in their favor when Chinook salmon became eligible for harvest on the Cowlitz and hatchery coho options opened upon the Lewis. On the Cowlitz River, anglers can fish from the mouth to the deadline below the Barrier Dam with a daily limit of six salmon, two of which may be adults.
Creel sampling conducted by the WDFW came up empty on the Cowlitz River last week, but stats from the salmon hatchery indicate that there are indeed fish in the river. Last week crews recovered 3,930 coho adults, 2,852 coho jacks, 477 fall Chinook adults, nine fall Chinook jacks, 924 cutthroat trout, and 59 summer-run steelhead. As part of a fish recycling and habitat expansion effort crews also trucked 1,691 coho adults, 1,324 coho jacks, and five cutthroat trout to Lake Scanewa, and released another 1,337 coho adults, 850 coho jacks, 301 fall Chinook adults, seven fall Chinook jacks, and seven cutthroat trout into the Tilton River.
According to the once-a-week river report provided by Tacoma Power river flow below Mayfield Dam was around 3,590 cubic feet per second on Monday. Water visibility was recorded at nine feet with a water temperature of 54.3 degrees Fahrenheit.
On the Lewis River anglers are now allowed to fish for salmon from the mouth to the power lines below Merwin Dam, with a daily limit of six salmon including two adults. Last week on the Lewis River the WDFW sampled 20 bank anglers with two keeper coho and another six Chinook and one coho tossed back. The angler armada included 17 more rods but had just one released Chinook jack and one coho to tell about.
The Kalama River was far and away the hottest tributary in the area last week as 30 bank anglers sampled had nine coho adults and three jacks bonked and in the box. Another 23 boat rods kept a dozen coho and six coho jacks while releasing two Chinook adults and one steelhead.
Out in Pacific County, where clam diggers are still wondering what to do with their trusty shovels, there are thousands of trout teeming in local lakes thanks to a shipment of one pound rainbow trout in late September. Black Lake received the largest shipment with 2,075 trout deposited. Radar Pond 1 and Radar Pond 2 were both stocked with 200 rainbow trout.
HUNTIN'
The great deer hunt continues in this verdant neck of the woods after its big opening last Saturday. That general weapon hunt for black-tailed deer will continue through Nov. 1 in Western Washington.
In GMUs 407, 418, 426, 437, 448, 450, 454, 460, 466, 501-520, 524-556, 560, 568, 572, 574, 601-621, 624 (except Deer Area 6020), 627-654, and 658-699 hunters are allowed to take any buck. Any deer can be harvested in GMUs 410, 411, 412, 413, 414, 415, 416, 417, 419, 420, 421, 422, 564, 655 and Deer Area 6020. Only bucks with at least three points may be taken in GMU 578.
Elk hunters will have to wait until November to get back in the woods but that doesn't mean there aren't other options to track.
Fall bear hunts will continue through Nov. 15 and cougar hunts will continue through at least the end of the year.
There are also numerous ongoing bird hunts. Forest grouse and crows can both be hunted through the end of the year. Additionally, fall turkeys can be hunted in GMUs 101-154 and 162-186 until the last sunset before 2021. Meanwhile, pheasants, mountain quail, and California quail are all open across Western Washington through Nov. 30. Mourning dove hunts will continue through Oct. 30.
Water birds are an option, too. Ducks, coot and snipe can all be hunted statewide through Oct. 25, and the hunt will then reopen on Oct. 28. Goose hunts are also open every day in Management Areas 1, 2 and 3, except for the Ridgefield and Willapa wildlife refuges.
Of course, hunts for bobcat, fox, raccoon, cottontail rabbit and snowshoe hare will continue through the Ides of March, and the sand never runs out on coyote hunting season in Washington.
CLAMMIN'
Although the future of razor clam digging is currently up in the air there is no doubt that the first five days of the most recent dig were a success.
According to Bryce Blumenthal, a razor clam science tech for the WDFW, there were about 50,000 diggers coastwide on the first three days of the dig alone.
"The digging conditions have been so good and we've been mainly digging in the daylight so it's real clear watching people walk back to their vehicle with bags full of clams so we've been estimating a harvest of 15 clams per person," Blumenthal noted. "People are just looking for a way to get out of the house and do something fun and entertaining that's socially distanced."
That weekend turnout total included about 15,000 combined diggers at Long Beach on Friday and Saturday. Sunday's turnout dropped to around 3,000 people thanks in part to the overnight arrival of wind and rain.
"Most people were having to dig in the dark and maybe they got their clams on Friday and Saturday so they just decided to head home," Blumenthal postulated.
However, with domoic acid now in the mix approval of additional clam digs is now in question.
The next batch of tentative razor clam digs, if approved, would take place on the following dates, low tides and beaches:
Oct. 31, 7:26 pm, 0.0; Long Beach, Twin Harbors, Mocrocks
Nov. 1, 6:59 pm, -0.1; Long Beach, Twin Harbors, Mocrocks
Nov. 2, 7:33 pm, -0.1; Long Beach, Twin Harbors, Copalis
Nov. 3, 8:08 pm, -0.1; Long Beach, Twin Harbors, Mocrocks
Be the first to know
Get local news delivered to your inbox!