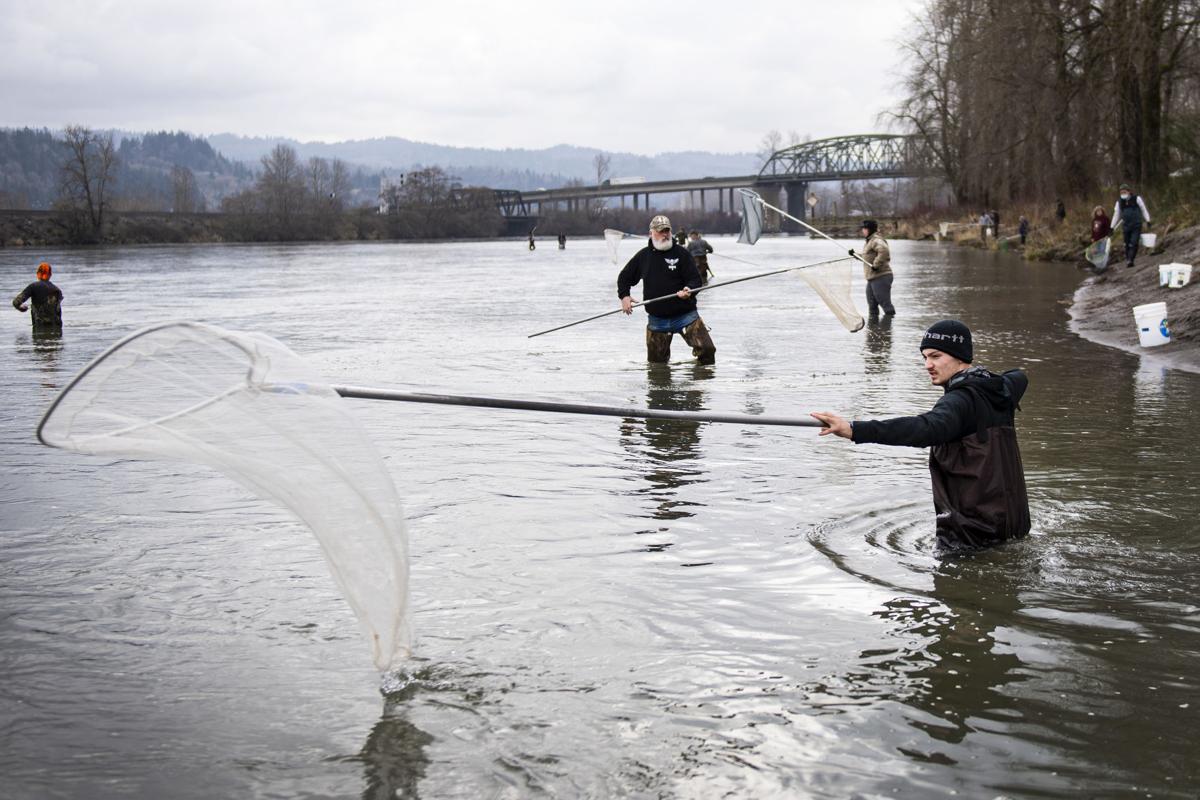 Last week came to a close with late breaking good news for fish aficionados of the Lower Columbia region when the Washington Department of Fish and Wildlife gave the green light to a one-day smelt fishery on the Cowlitz River. That momentum carried over to start the new week when Tuesday's recreational smelt dip put plenty of the tiny fish in the nets of those brave enough to get near the water.
Those returns were far from guaranteed as the last several decades of smelt dipping have provided unpredictable results. Sometimes the smelt show up when they're supposed to. Sometimes the smelt seem to disappear as soon as the nets hit the water. And sometimes the tiny little fish that are such a big part of our local traditions don't show up at all.
People from across the Pacific Northwest flocked to the Cowlitz River Tuesday for the one-day recreational smelt dip.
This year, though, the returns were reminiscent of those from generations past when grandpas would take grandkids to the river bank knowing full well that everyone would get their limit and no one would go home wondering what all the fuss was about.
Up in Toledo, a few familiar faces from the local prep sports scene made sure to get up and get out early so they could take their turn working the long handled net before the first school bell. That extra effort isn't so surprising when one considers the history of Toledo High School as it relates to smelt. With the Cowlitz River making its course just at the bottom of the hill below the school, Toledo students used to be encouraged to participate in a smelt dipping and eating contest during school hours. The exact demise of that tradition has been lost to the haze of time but locals agree that an ugly mass regurgitation incident in the school hallways brought that tradition to a close before the 1990s rolled around.
Anyhow, on Tuesday the contingent from the Toledo athletic department included coach Don Schaplow and do-it-all athlete Carlo Arceo-Hansen. According to Schaplow, his first dip in the river brought up twenty pounds of smelt in a writhing silver mass, which is twice the daily limit. Of course, Schaplow is a big proponent of sharing and caring so finding a home for the little fishies was no problem.
"Nobody out-smelts Toledo!" Schaplow said. "We're going to eat like kings tonight."
When it was time for Arceo-Hansen to try his hand at the dipnet fishery he too proved to have the magic touch that seems to be passed down from generation to generation in Cheese Town. A video shared by Schaplow showed Arceo-Hansen expertly pulling a hulking load of smelt from the river as the handle of the net bowed from all the bounty.
"Footballs aren't all he can catch," Schaplow noted.
It's not yet clear if there will be another sport smelt dip this year. The WDFW is continuing to review harvest data as well as tallies from commercial smelt operations in order to determine the overall size of the run.
If another dipping day is approved and you're wondering what all the fuss is about, be sure to get up early and then head to the river to try your luck. If you're wondering what to do once you arrive, just try to find someone who looks like they learned the tricks of the trade from their grandpappy, or at least someone in red and black Toledo garb. After all, for those who know, smelt dipping isn't so much about recreation as it is about tradition.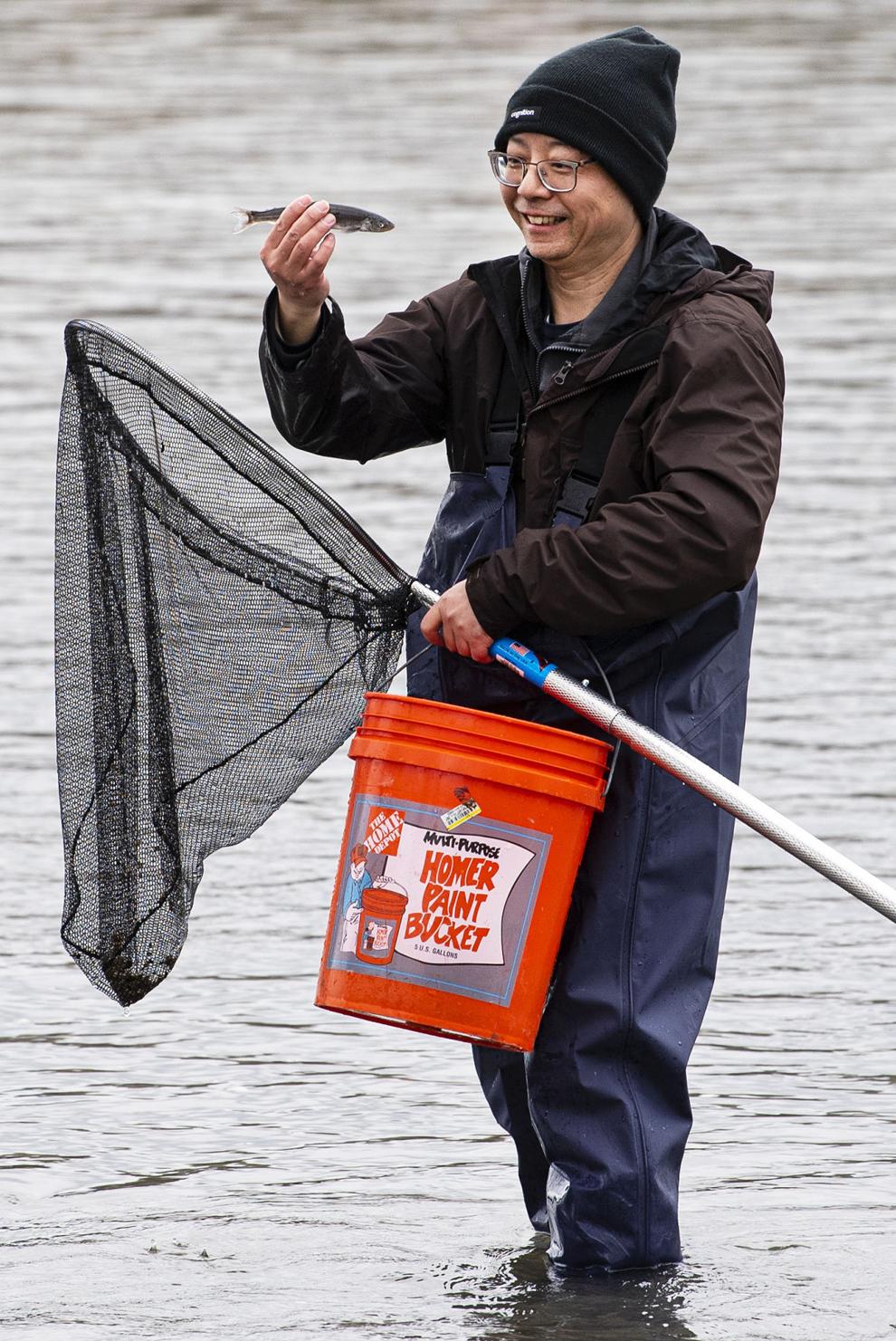 FISHIN'
If you were hoping that the good news would just keep on flowing in this report you are about to be sorely disappointed. While the spring Chinook fishery technically opened up on the Lower Columbia River this week the arrival of that fishery coincided with the closure of several others.
Currently, anglers can fish for hatchery steelhead on portions of the Coweeman, Elochoman, and South Fork Toutle Rivers, along with Abernathy, Germany, Skamokawa, and Mill creeks, but that list leaves off several essential rivers to the southwest Washington fishing experience.
On Wednesday the WDFW announced the impending closure of salmon fishing on the Cowlitz River watershed including Cispus River and the Lake Scanewa reservoir. That rule change is a result of a depressed forecast of just 1,8000 returning spring Chinook on the Cowlitz which hatchery managers say is insufficient for their broodstock needs.
On Friday, the daily limit for adult salmon on the Kalama River will also be reduced to one fish from the mouth up the 1,000 foot line below the upper hatchery. Anglers may still keep up to six fish per day, so long as at least five are juveniles and only hatchery Chinook and hatchery coho may be kept.
Anglers on the mainstem Columbia River are currently allowed to fish for Chinook salmon from Buoy 10 up to Bonneville Dam, including Deep River, through April 4. The daily limit is six salmon, of which two may be adults with one of those being a Chinook. Boat anglers need to remember that there is a restricted zone in the waters near old Coffin Rock where the Cowlitz meets the Columbia and only bank angling is allowed from Beacon Rock to Bonneville.
Last Saturday the WDFW sent creel checkers up and down the Lower Columbia River and found 31 salmon fishing boats between Bonneville and Ilwaco, with 36 bank rods on the Washington side. Similar checking on the Cowlitz River found 114 rods fishing from the banks between Mrs. Beasley's boat launch and the mouth of the river with eight keeper steelhead to show. Another set of rods on a boat were skunked. From the boat launch beneath the I-5 Bridge up to the salmon hatchery another 72 bank rods kept one steelhead and tossed another back while 265 rods on 78 boats kept 40 steelhead and tossed two others back.
If all that steelhead talk got you thinking about catching one of those fabled wild coastal steelhead, go ahead and start thinking about something else. That's because the WDFW announced this week the impending closure of many of the most popular rivers out where the mountains and ocean and streams all converge at the seams.
Beginning Monday, March 8, the Queets, Quinault, Humptulips and Chehalis river systems, along with the tributaries of Willapa Bay, will all close in order to provide additional protections for those wild steelhead populations. Coastal fishing had already seen restrictions imposed late last year when boat fishing and the use of baits were also banned.
The Quillayute and Hoh rivers are two of the only watersheds that will remain open to sport anglers, and even those rivers are set to close at the end of March.
"The numbers that we're seeing return are a real blow to our angling and conservation communities who have already made sacrifices and invested so much in recovery infrastructure," said James Losee, fish program manager for WDFW's coastal region, in a press release. "We were fortunate to get some days in, but the dire situation of these runs is apparent now and we have to take aggressive steps to protect these wild steelhead."
With so many traditional big fish openings closing down prematurely this year anglers might be inclined to turn their attention to the backwaters, ponds and reservoirs closer to home. According to reports from the WDFW the kokanee bite continues to produce at Merwin and Yale reservoirs in the Lewis River system. Likewise, yellow perch and crappie continue to make anglers happy on Silver Lake while the milfoil and seaweed is still relatively dormant. And at Kress Lake even greenhorn anglers have been having luck pulling Bluegills from the water.
HUNTIN'
Avid goose hunters will be busy in the upcoming week as they try to take advantage of the last big bird bagging opportunities between here and next autumn.
In GMA 3, which includes Lewis, Skamania and Thurston counties, the late goose season will run through March 10 on Saturdays, Sundays and Wednesdays only.
Elsewhere, GMA 2 (Inland) which includes Cowlitz and Wahkiakum counties, will also remain open for late goose hunts through March 10. However, hunters in GMA 2 are required to obtain a special identification permit before beginning their hunts, and all dusky Canada geese are off limits.
As the Ides of March approach, so too does the chance for small game critters to take a deep breath and relax. But that time hasn't arrived yet so bobcats, foxes, racoons, cottontail rabbits and snowshoe hares will all need to keep their heads on a swivel if they don't want them to end up on spike. Additionally, beaver, badger, weasel, marten, mink, muskrat and river otter can all be taken through the end of March, but only by legal trapping techniques.
Of course, like the pigment of the region's evergreen trees, coyote hunting is a year round event.
CRABBIN'
Last week the WDFW announced the reopening of recreational crab fisheries on the north coast. Then, just before the weekend hit, the agency reversed course and canceled the vast majority of those openings when elevated levels of domoic acid showed up in health tests conducted by the Department of Health.
"That kind of blew up in our face," Dan Ayres, WDFW coastal shellfish manager, said.
The backsliding regulations mean that sport efforts for Dungeness crab are once again off limits in Grays Harbor, except for within the Westport Boat Basin.
In a press release, Ayres provided additional context to the rapid fire rule changes.
"Marine toxins are not cutting us any slack, and despite our efforts to find windows in which we can open these popular fisheries, we are still plagued by recurring tests indicating marine toxin levels are too high," Ayres said.
While the crabs within the Westport Boat Basin were considered safe to eat last week, Ayres says that crabbers need to pay close attention to any late breaking announcements before bagging, boiling and eating their catch.
"Recent testing for domoic acid indicates the issue is with crab found outside of the boat basin," Ayres added. "Still, to avoid any exposure to possible toxins, we ask that any crab caught in the basin be cleaned thoroughly with viscera removed before consumption – as currently recommended by the Department of Health."
Crabbing is currently open north of Point Chehalis.
BIRDIN'
With springtime knocking on the door, or at least sending along its RSVP for the season, birds a new set of birds are set to begin frequenting the Pacific Flyway. Among those fine feathered returns who are set to return are sandhill cranes.
Those cranes are known to become particularly prevalent in the gathering grounds of the Vancouver Lowlands where thousands of the big birds congregate to perform a ritual mating dance. With wing spans of up to seven feet wide, those dances can make for an impressive sight before the cranes hit the highway overhead for a long trek back to the hinterlands.
The Ridgefield National Wildlife Refuge is a prime location to observe migratory birds and local avian populations alike. This time of year it's not uncommon to spy great egrets, tundra swans, belted kingfishers and a vast assortment of other members of the big beak and wing club.
A change in the weather has shut off the big flow of fresh snow on area slopes this week but temperatures remain low enough that the old powder is still hanging around. It's just that you might not recognize it due to the fact that it's all turned to hard pack slate and ice.
All daily lift tickets for White Pass Ski Area sold out before Friday so only single boarders and double plankers with season tickets will be allowed to show up unannounced this weekend. Additionally, the tubing area will be closed to the public on Friday.
As of Thursday morning, the snowpack at White Pass measured 149 inches at the summit and 95 inches at the base.
Thursday marked the final day of skiing after dark at Mt. Hood Meadows but other opportunities to etch a line across the frozen flanks still exist. Temperatures around the meadows were hovering in the mid-30's on Thursday afternoon with no new snow to report but the overall snowpack was still looking healthy with 215 inches in the mid elevations and 151 inches left near the base.
As has been the case all season long, lift operators at Mt. Hood continues to ask for the public's cooperation in maintaining a safe environment during the COVID-19 pandemic.
"Mask up—cover both your mouth and nose," read a note on the Mt. Hood Meadows snow report page. "Sticking your face in your jacket or wearing a neoprene mask with breathing holes won't cut it, and in fact, may earn you a minimum two week suspension. Cop an attitude, and the penalties are worse. Kindness and humility win you points. Help us keep us open!"