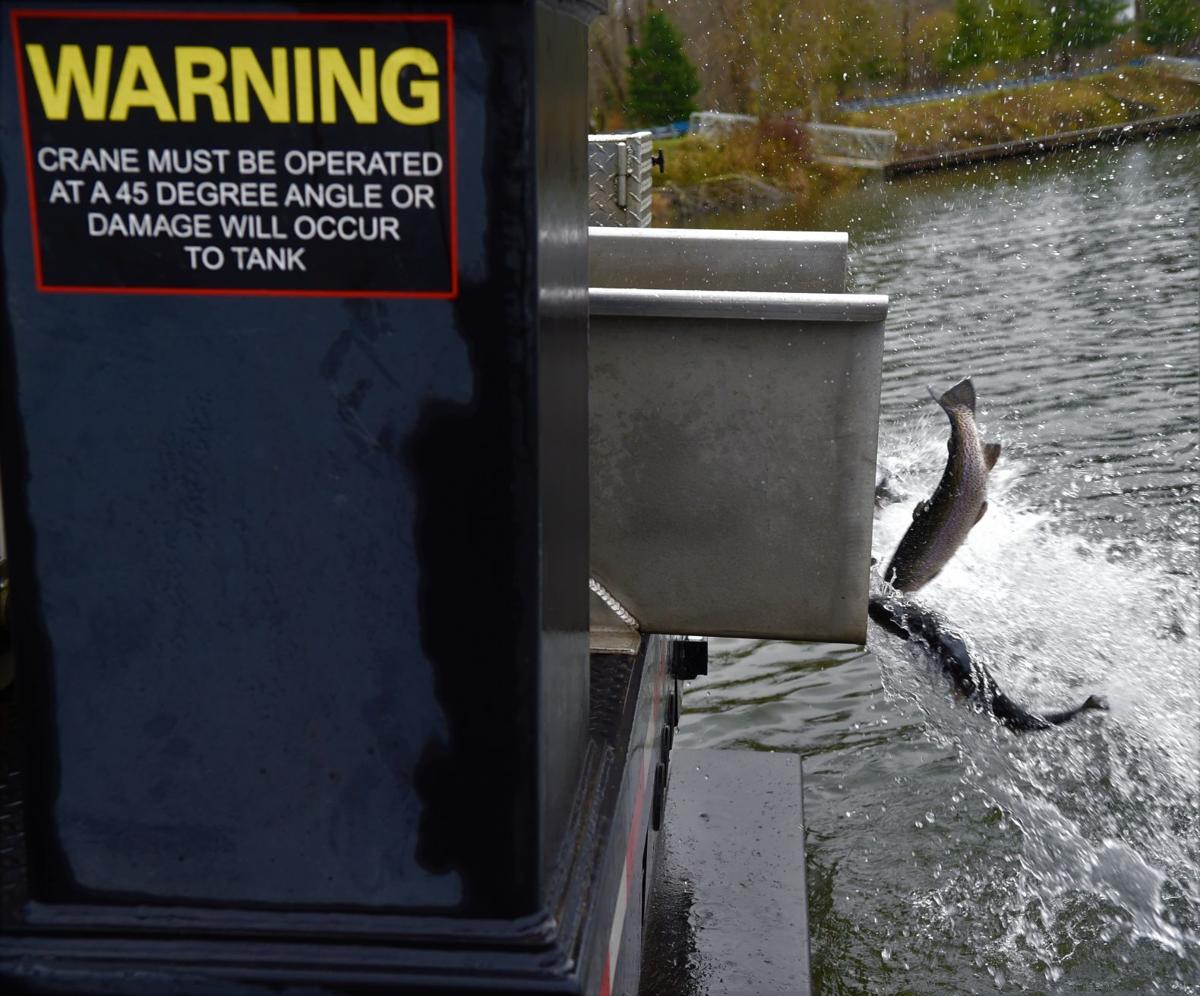 It's easy to wind up cabin-bound this time of year. Outside, the wind is usually blowing and the rain is typically falling and all the leaves have made a mess of everything by dropping all their leaves.
Back inside, all the kinks have been worked out of the woodstove and there's plenty of leftovers in the fridge. The temptation to become couch-locked can be overwhelming.
Luckily, the powers that be have provided plenty of excuses to find a backroad and map just to see what there is to see.
For instance, Friday is the final free day of the year at Washington State Parks. Those days allow visitors to use parks during daylight hours without purchasing a Discover Pass.
While there are no remaining free days at National Parks this year you can still go over the river and through the woods in the Gifford Pinchot National Forest. Many folks are hitting those forest roads in search of the perfect Christmas tree by purchasing a permit for just $5. Better yet, fourth graders in Washington are eligible to cut down their own Charlie Brown Christmas tree through the Every Kid Outdoors program.
In Oregon anglers can even fish, clam and crab for free Friday and Saturday. However, authorities are asking that non-residents refrain from hitting the Oregon Trail just to take advantage of the free fishing opportunity.
That temporary relaxation of the rules also applies to Columbia River Basin endorsements and the two-rod validation. Additionally, day use at Oregon State Parks is also free on those days as part of the state's effort to promote "Green Friday" on the day after Thanksgiving.
Great adventures are the reward for overcoming the great force of winter holiday inertia. So pick a spot, pack your gear, and exercise a little wanderlust. All you've got to do is get up and go.
Fishin'
Kress Lake, just north of Kalama, and South Lewis County Park Pond, just outside of downtown Toledo, both received pre-Thanksgiving shipments of rainbow trout this week. Beginning on Tuesday, both bodies of water received a total of 2,000 hatchery rainbows that averaged about a foot in length and a pound apiece.
Early on they tend to stick to the medium depths not too far from shore. If you see once surfacing and sending out ripples that's as good of place as any to cast your line. In the first few days since the fish were deposited anglers have been reporting having success deploying fluorescent power baits, small spinners and spoons.
While Lake Sacajawea was not on the short list for stocking prior to the holiday there's better news on the horizon for Longview's crown jewel.
"The only thing we have for Lake Sacajawea is we actually have a Christmas break type plant that we do," Tim Summers, a fish tech from WDFW who works at the Mossyrock hatchery, said. "They are similar to those Black Friday fish, pretty big fish, weighing about a pound each."
Out on the Columbia River, anglers are currently allowed to keep up to six salmon per day, two of which may be adults, between Buoy 10 and Pasco. That daily take may include one hatchery steelhead but below the Hood River Bridge anglers must release all wild Coho.
Tributary fishing has remained steady in recent weeks with the Lewis River again setting the pace for effort last weekend. Creel sample stats from the WDFW indicate that last Saturday 44 bank rods kept one king jack and three Coho while tossing back four more Coho. Another eight rods on three boats kept eight Chinook and one king jack while releasing a dozen more Chinook.
The Cowlitz River also saw a fair amount of effort as seasons began to shift. Although two bank rods below the I-5 Bridge had no catch to show there was plenty of effort closer to the Barrier Dam. According to WDFW creel stats 29 bank rods kept 18 Coho, four silver jacks, one steelhead and two cutthroat trout while tossing back another 23 Coho. Another seven rods on three boats kept five Coho and on cutthroat.
At the Cowlitz salmon hatchery last week crew retrieved 4,978 Coho adults, 1,180 Coho jacks, 578 cutthroat trout, 54 summer-run steelhead adults, 18 fall Chinook adults, and five winter-run steelhead adults. Those crews also released thousands of fish into the upper Cowlitz watershed as part of an ongoing introduction effort. Those trucked fish included 2,520 Coho adults, 662 Coho jacks, three cutthroat trout, and two winter-run steelhead adults that wound up in Lake Scanewa.
On the Kalama River a dozen bank anglers surveyed by the WDFW last weekend had one keeper Coho and two more silvers they'd already tossed back.
Huntin'
Any buck still standing after last week's late season general hunt is sitting pretty going forward as the bulk of their pursuit is now in the rearview mirror. However, there are still opportunities to tag a buck or bull if you know how to use the proper tools.
Archers and musket-toters are now allowed to take their turn for black-tailed deer in Washington through Dec. 15. Bowmen can also take aim at elk in Western Washington through that same date but the rules are a little more complex for muuzzleloaders. The good news is those hunts remain open through at least Dec. 8, with one area (407) staying open until Jan. 20.
It's too late to scare up a Thanksgiving bird but if you've got a hankering for wild turkey there's still time to take your shot. Wild turkey hunts will remain open through the end of the year in GMUs 101-154 and 162-186, where hunters are allowed two beardless birds and two gobblers of either sex.
Hunts for forest grouse and crow will also remain open through the end of the year, as will openings for cougars.
Lucky duck hunters have free range through Jan. 31. Coot and snipes can also be taken through the end of January, but goose hunts get much more complicated.
Goose hunters in Goose Management Area 1 can bag the big birds through Nov. 29 before taking a break through Dec. 12. In GMU 2 (Coastal) hunters can target geese on Saturday, Sundays and Wednesday through Dec. 6 before a mandated break. Meanwhile, Goose Management Area 2 (Inland) opened back up on Wednesday for an weight week run, and geese can be bagged without interruption in GMU 3 through the end of January.
Clammin'
Last week the WDFW canceled a set of tentative coastal razor clam digs due to ongoing issues with domoic acid. Those digs had been set for Dec. 1-4.
Although the most recently reported domoic acid numbers were trending in the right direction there has been no additional announcement regarding clam digs that are tentatively scheduled through the end of the year.
Approval of those prospective digging dates will be contingent upon the results of additional marin toxin testing by the Department of Health. Those digs will also be subject to COVID-19 numbers in coastal communities.
The next set of the tentative razor clam digs, along with low tides and beaches, are listed below:
Dec. 12, Saturday, 4:44 pm, -0.8; Long Beach, Twin Harbors, Mocrocks
Dec. 13, Sunday, 5:32 pm, -1.4; Long Beach, Twin Harbors, Copalis
Dec. 14, Monday, 6:19 pm, -1.7; Long Beach, Twin Harbors, Mocrocks
Dec. 15, Tuesday, 7:05pm, -1.7; Long Beach, Twin Harbors, Copalis
Dec. 16, Wednesday, 7:50 pm, -1.5; Long Beach, Twin Harbors, Mocrocks
Dec. 17, Thursday, 8:35 pm, -1.0; Long Beach, Twin Harbors, Copalis
Dec. 18, Friday, 9:21 pm, -0.4; Long Beach, Twin Harbors, Mocrocks
The news isn't any better in Oregon, either.
Last Friday the Oregon Department of Agriculture and ODFW announced the closure of the entire Oregon coast to razor clamming. Previously there had been a small section of beach still open following a series of previous closures.
The all inclusive closure announced last Friday came after marine toxin testing revealed concentrations of domoic acid that exceeded the safety threshold. The naturally occurring marine biotoxin builds up in the tissues of marine critters, especially bivalves like clams, and can cause extreme illness or death in humans.
However, mussel, bay clam and crab harvesting remains open along the entire Oregon coastline.