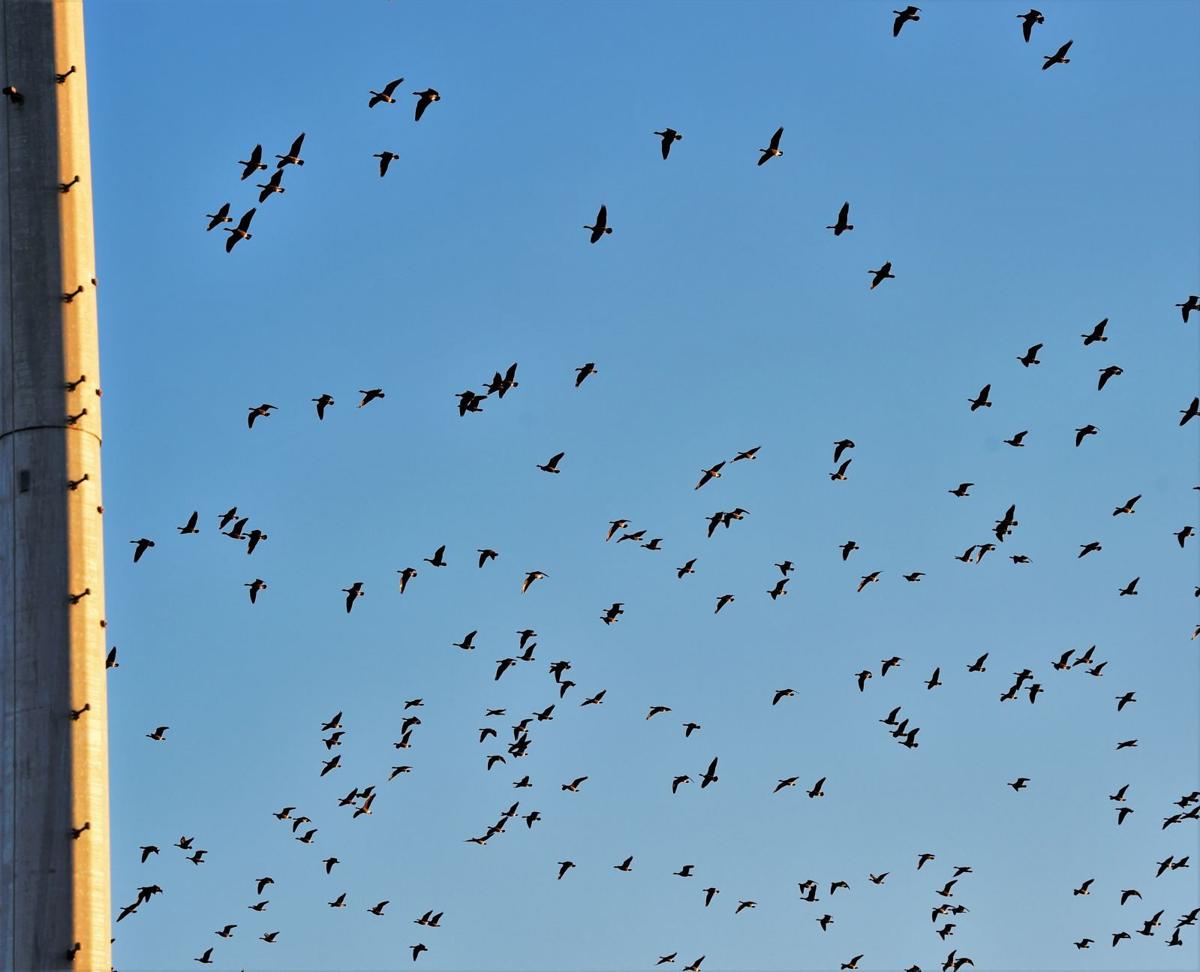 It may seem counterintuitive, but the arrival of inclement weather is actually quite a boon for the birding community. Where bluebird skies are wonderful to gaze upon and more friendly to stroll beneath, there's nothing that brings new birds to the block better than a good old fashioned Pacific Northwest storm.
Northern birds have been busy making babies in the hinterlands all summer. The arrival of winter-like storms is a sure signal that they'll soon be headed south to find a more proper place where the climate suits their clothes.
As the rains return so, too, do those migrating waterfowl. That makes November a prime month for catching a glimpse of swans, geese, ducks and other water birds on the wing.
As dry fall turns to wet fall members of the Willapa Hills Audubon Society have reported several sightings of rare species in and around Cowlitz County.
A Marbled Godwit was spotted in a Kalama wetland, marking just the second time that species has been documented in the county. Additionally, the second-ever local sighting of a broad-winged hawk was documented on a ridgeline just east of I-5 near Woodland. Pelicans have also been showing up sporadically, including a brown pelican that was observed resting on a sandbar in the Columbia River abnormally distant from its preferred saltwater habitat.
That's the thing about birding in bad weather — you never know what you're going to find. The combination of disorienting deluges and fierce offshore winds can push birds far off course from their normal routes. That means even coastal birds can wind up stopping for a breather closer to the Cascade Mountains than the mouth of the Columbia River.
What's more, the Rainier Riverside Church in Oregon wound up with the second highest total of roosting Vaux's swifts on the west coast. Volunteers documented 270,052 of the birds dropping in for a bit of sanctuary during the fall migration with an average of more than 7,000 swifts per day and a daily high total of almost 21,000 birds. Only the McNear Brickyard in San Rafael, California saw more swifts this autumn.
Next month the Audubon Society's Christmas Bird Count will begin thanks to a coordinated volunteer effort. Each year tens of thousands of amateur birders join forces to tally all the birds in their area. This year will be the 121st rendition of the CBC which is the longest running citizen science bird census in North America.
FISHIN'
Winter steelhead is the new name of the game on the mighty river. That fishery opened on Nov. 1 and will likely continue through the end of the year from Buoy 10 up to the Hood River Bridge. In that stretch of the Columbia River anglers can now keep up to six salmonids per day, of which two may either Chinook or hatchery coho adults and one may be a hatchery steelhead.
As has been the case for several weeks now the bulk of the angling effort last weekend, before steelhead were legal to keep, was focused on the waters just beyond the big bend at Vancouver. Last weekend in between Camas and Washougal creel checkers from the Washington Department of Fish and Wildlife sampled 27 boat rods with eighth Chinook, one jack and one coho. More locally, the state sampled just eight anglers with no catch at all.
Anglers on area tributaries have managed to keep busy as the returns continue to change. The Lewis River had 36 bank anglers sampled by the WDFW last Saturday with one keeper coho to show and two more released Chinook and one coho to talk about. Another dozen boat rods released four Chinook.
Action on the Cowlitz River was spread fairly evenly from the mouth to the Barrier Dam, although the lines were particularly thick just downstream of Blue Creek and the I-5 Bridge. On the lower river last week the WDFW sampled 18 bank rods with one keeper coho and two silver jacks along with two coho jacks tossed back. Two more boat rods released one coho. Above the I-5 Bridge 26 bank anglers released eight Chinook, one king jack, two coho and three silver jacks.
Although overall fish return numbers have been trending down at the Barrier Dam over the last several weeks, the cutthroat trout return continues to surpass expectations. To date, more than 4,500 of the fierce fighting trout have been counted as returners at the hatchery.
"These are really interesting fish. They have a really cool life history," Josua Holowatz, WDFW fish biologist, said. "They go to the ocean. They hang out in the estuary and they eat really good stuff so their meat is bright red."
Each week Tacoma Power employees truck a portion of those returning fish into the upper Cowlitz watershed as part of reintroduction efforts to mitigate the impact of the power companies hydroelectric dams. While those fish can't yet be counted on for sport fishing opportunities there are currently plenty of cutthroat prospects in the waters below the Barrier Dam.
"They came out of Blue Creek but they overshot a little bit. People are even catching them all the way up to Barrier Dam," Holowatz explained. "The majority of the people who are fishing out there are fishing for salmon, so they're going to catch some fish either way."
Last week crews at the Barrier Dam retrieved 1,278 coho adults, 1,014 coho jacks, 540 cutthroat trout, 111 fall Chinook adults, one fall Chinook jack, and four summer-run steelhead. In their once-a-week river report on Monday, Tacoma Power reported flows below Mayfield Dam at around 3,590 cubic feet per second with water visibility of 10 feet and the water temperature is 52.1 Fahrenheit.
Additionally, rainbow trout are continuing to bite with regularity in both Mayfield Lake and Merwin Reservoir. Meanwhile, landlocked coho are providing big fish opportunities on Riffe Lake and Swift Reservoir and kokanee are on the menu at Merwin and Yale reservoirs.
Until their waters turn too cold, anglers can also depend on Kress Lake, Silver Lake and Swofford Pond for warmwater fish. Crappier and yellow perch are particularly plentiful in Silver Lake while panfish like bluegill and pumpkinseed tend to find their way onto hooks at Kress Lake and Swofford Pond.
HUNTIN'
The modern firearm opener for elk hunters in Western Washington is set for sun up on Saturday and will continue through Nov. 18. Then, the late buck hunt will take place from Nov. 19-22 while the rut is in full effect and big racked deer have completely lost their minds. Historic data shows that up to one-third of the region's annual buck harvest is taken during that four-day hunt.
Later in the month deer and elk hunters will get another chance when archers and muzzleloaders take their turn in the forest. Rough winters from 2016-17 put a pinch on population numbers for deer and elk but a series of mild winters since then have allowed deer in particular to replenish themselves. Hoof rot and other factors have combined to keep elk numbers from bouncing back entirely and hunters should anticipate less opportunity to shoot than they may have become accustomed to.
Still, in District 10, which includes Cowlitz, Wahkiakum and Lewis counties, the elk prospects are arguably as good as anywhere in the state. In 2019 the highest general season harvests were reported in GMUs 506 (Willapa Hills), 530 (Ryderwood), 520 (Winston), and 550 (Coweeman).
To the south, the Lewis River quadrant (GMU 560) typically produces some of the best elk odds in District 9. Most of that district is located within the Gifford Pinchot National Forest. Additionally, PacificCorps offers non-motorized access to their holdings north of Swift Reservoir.
Barking up a different tree (but don't really do that because the use of dogs is illegal), seasons for black bear and cougars are ongoing. The black bear hunt will come to a close on Nov. 15 while big cats can be bagged at least until the end of the year.
Duck hunts have gotten off to a big bang of a start thanks to a gang of mallards that have been congregating in early season backwaters. Soon, though, the arrival of birds from the great white north will give the prospects a bump.
Goose hunts will resume on Saturday in Goose Management Area 3 which includes Lewis and Skamania counties. In Goose Management Area 2 (Inland) which includes Cowlitz, Wahkiakum and Clark counties, will be on hold until Nov. 25.
Upland game birds are also legal fodder these days with forest grouse, pheasant, quail and northern bobwhite all on the docket. Crows are also legal to hunt through the end of the year.
In the thickets hunts for bobcat, fox, raccoon, cottontail rabbit and snowshoe hare will all continue through March 15. Likewise beavers, badgers, weasels, martens, minks, muskrats and river otters are all fair game for trotline.
Of course, there is no sunset on coyote hunting season in the Evergreen state.
CLAMMIN'
What was presumed already was confirmed on Wednesday when the WDFW canceled a set of razor clam digs that had been set to start on Nov. 13. That action was taken after marine toxin testing conducted by the State Department of Health found that the succulent bivalves are still too poisonous to eat.
In fact, the levels have actually increased. When a previous dig in October was called off domoic acid levels were only problematic at Long Beach. Now, though, the marine toxin is exceeding 20 parts per million at Twin Harbors, Copalis and Kalaloch.
"Concentrations of domoic acid have increased rapidly beyond safe consumption thresholds set by the Washington Department of Health (DOH)," said Larry Phillips, WDFW coastal region director, in a press release. "It is entirely possible that we will see higher than safe levels, even into December. We understand how important razor clam digging opportunities are to coastal communities and citizens of Washington, and we will continue to work with our partners to reopen as soon as possible."
The disruption to the clam tides comes after a series of digs that saw near-record levels of participation on the Washington coast. In the first set of digs more than 80,000 digging trips resulted in almost 1.2 million harvested clams.
The news is bad in Oregon, too. Early last week the Oregon Department of Fish and Wildlife closed clam digging on their central and southern coast but left open digging opportunities closer to the Columbia River. However, last Friday the ODFW announced that creeping domoic acid concentrations had forced the closure of its north coast as well.
The new closures extend south from the Columbia River to the north jetty of the Siuslaw River in Florence. That area includes the popular Clatsop Beach razor clam fishery on the north coast.
The only area currently open to razor clam harvesting in Washington or Oregon extends from the south jetty of the Siuslaw River to the California border. On the contrary, mussel, bay clam, and crab harvesting is open along the entire Oregon coast.
EXPLORIN'
Next Wednesday visitors to the Washington State Parks and Mount Rainier National Park will be granted free admission in recognition of Veterans Day.
Due to unique circumstances that we don't need to explain here public lands of all stripes have seen increased usage this year. With COVID-19 safety in mind officials are asking visitors to come fully prepared while also packing a backup plan in case their first choice destination proves to be too crowded. Social distancing and mask guidelines apply at both National and State parks. Day-use visitors to Washington's public lands will also be allowed free admittance on Nov. 27, the day after Thanksgiving.
Be the first to know
Get local news delivered to your inbox!