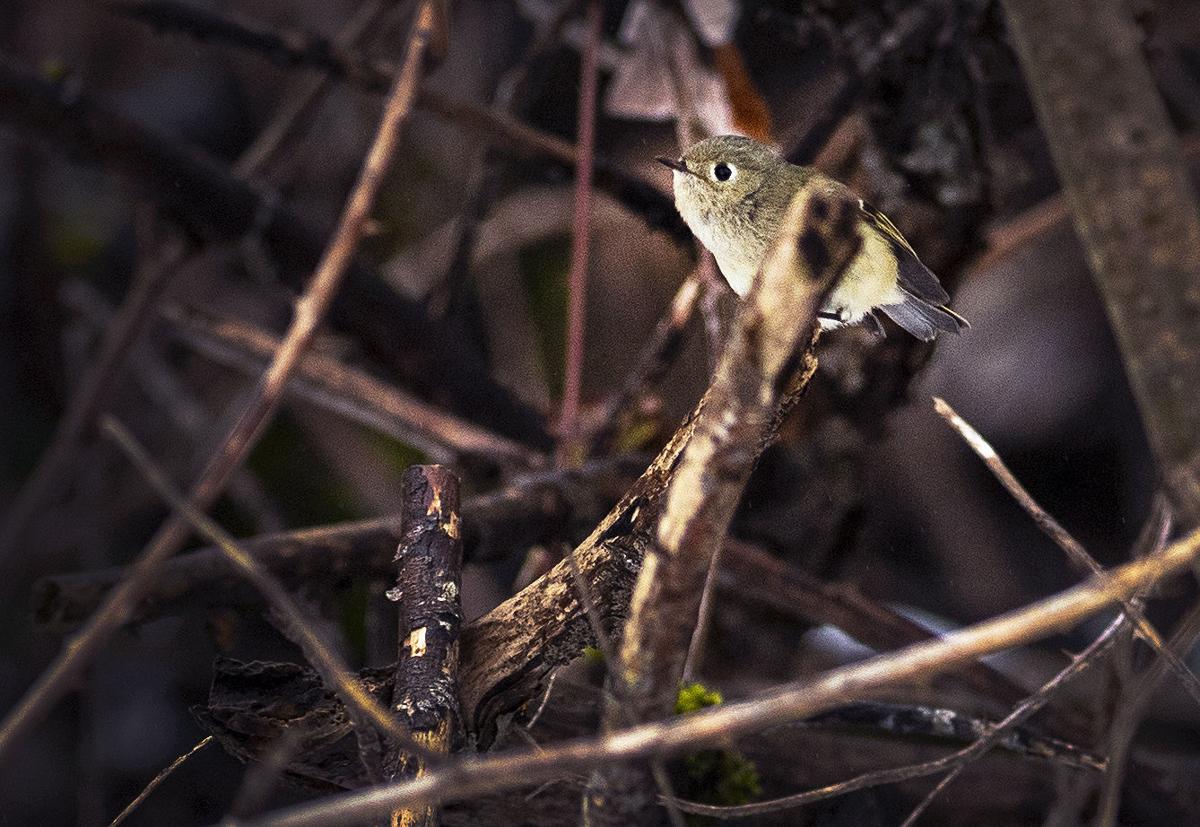 It's been said that the best life is to be a big fish in a small pond, but whoever said that obviously wasn't a ten pound steelhead landlocked in a lake lined by anglers with a taste for fish flesh.
With that in mind, the last several weeks have seen two area lakes loaded with plus size piscatorial prospects thanks to hatchery redistribution efforts. Specifically, Kress Lake in Kalama and Horseshoe Lake in Woodland have been loaded with steelies that would look great on a platter or plate.
All state-run hatcheries in Washington have an "escapement goal" for the number of adult salmonids they hope to see return each year. Those adult salmon and steelhead are then used for artificial reproductive efforts at the hatchery. In recent years many runs have come in well short of those escapement goals, which creates a pinch for hatchery managers as they try to keep production numbers high enough to see elevated returns of the region's big fish of choice.
But some years, on some rivers, more fish make their way back to the hatcheries than operators can use. In those instances the surplus fish are scooped up, packed into a tanker truck, and delivered to a nearby lake or pond in order to give anglers a chance for an oversized fish in an undersized body of water.
Over the last three weeks South Cowlitz County has been the beneficiary of those shipments of big fish. In this case, all of the shipments consisted of surplus steelhead weighing around 10 pounds each.
On Feb. 1, Kress Lake received a delivery of six steelhead that buffered a shipment of eight steelies on Jan. 25. About ten miles to the south, Horseshoe Lake received a total of 91 lunker steelhead between Jan. 20 and Jan. 29.
So, if you're a big dreamer who believes that bigger and better things lie just beyond the banks of your hometown, then by all means test your luck and try to find yourself a bigger pond to make your mark. But remember, that's exactly what those steelhead were trying to do when they left their headwaters for the endless promise of the Pacific Ocean. And we all know how that wound up for those big dreamers.
For the rest of us, there's plenty of reward to be found lurking between the banks of the same old waters we've always known.
FISHIN'
Fishing on and along the Lower Columbia River continues to experience a bit of a slump as we tread water between true winter steelhead and spring Chinook salmon seasons. Regardless, anglers on the big river are allowed to keep up to six salmonids per day between Buoy 10 and the I-5 Bridge in Vancouver. Two of those keepers may be adult hatchery Chinook or hatchery steelhead.
Last Saturday the WDFW conducted limited creel sampling on the mainstem of the Lower Columbia but found now bonked fish to report. Those skunked bank anglers included one near Woodland and four more near Longview. On the Cowlitz River, WDFW creel checkers talked to 41 bank anglers below the Mrs. Beasley's Burgers boat launch, and each of them had the same story as the last — Nothing to show. Nothing to tell. Nothing fishy about it.
At the Cowlitz salmon hatchery last week crews retrieved 58 winter-run steelhead, four coho adults, and one cutthroat trout. Fish handlers then released five winter-run steelhead adults, three coho adults, and one cutthroat trout into Lake Scanewa (Cowlitz Falls Reservoir) near Randle. One more adult coho was dropped into the Tilton River. On Monday, Tacoma Power reported river flow below Mayfield Dam at around 13,100 cubic feet per second with six feet of visibility and a water temperature of 41.5 degrees. That flow was unchanged as of Thursday afternoon but Tacoma Power advised that discharge could drop to around 8,800 cfs by the weekend.
If the successful migration of salmon and other fish in area watersheds is something you'd like to see more of then the WDFW would like to hear from you.
On Thursday, Feb. 25, the WDFW will host an online public forum from 1-2 p.m. to discuss the particulars of fish passage as the department works to create new rules regarding impediments to instream travel. The effort is being made in response to recommendations from Gov. Inslee's Southern Resident Orca Task Force. In 2018, that task force identified a lack of forage fish (see: salmon) for orcas to feed on. By working to improve the navigability of area waterways the hope is that there will one day be more fish to eat for killer whales and angles alike.
"Barriers that block fish from swimming upstream or fish movement instream, such as deteriorating culverts, outdated bridges, and diversion dams undermine the state's salmon recovery efforts and impact other aquatic species," Margen Carlson, habitat program director at WDFW, said in a press release. "We want to help landowners protect fish by creating rules that provide clear guidance."
HUNTIN'
Any hunters hoping to bag a black bear this spring need to get busy filling out their paperwork. That's because applications for spring bear tags are due by the end of February. Additional details, including application information, can be found online at, wdfw.wa.gov/hunting/special-hunts/bear.
Back in the backwoods and bogs of the here and now, bird hunters will have the opportunity to bag big birds for at least one more week. After a brief hiatus, goose hunting returned to the docket last week in Goose Management Areas 2 and 3.
In GMA 3, which includes Cowlitz, Lewis, Wahkiakum and Clark counties, late goose season will run through March 10 on Saturdays, Sundays and Wednesdays only. In all of GMA 2 (Coastal/Inland), which includes Pacific and Grays Harbor counties, hunters are required to obtain a special identification permit before hunting, and all dusky Canada geese are off limits. Hunts for small game continue to put options, if not dinner, on the table for hunters. Through the Ides of March, hunts will continue for bobcat, fox, racoon, cottontail rabbit and snowshoe hare.
Not enough options for you? Then perhaps beavers, badgers, weasels, martens, minks, muskrats or river otters are what you're after. Just remember that those critters may only be taken by using legal trapping methods.
Not to be lost in the weeds, hunts for cougars will continue in most areas through April 30. And, of course, it's never closing time on coyote hunting season in Washington.
PICKIN'
If you've been contemplating a trek to Puget Sound in search of sea cucumbers, then you better get to picking while the picking is good. That's because the state recently moved to shut down the recreational harvest, so if you wait much longer you're liable to find yourself in a sea of legal pickles.
From March 1 through June 30, the harvest of Parastichopus californicus, the California or Giant Red Sea Cucumber will be off limits in all areas of the ol' Salish Sea.
The closure corresponds with the peak spawning season of sea cucumbers as they share their juices in the salty brine.
BIRDIN'
Bird lovers will be able to learn more about their fine feathered friends on Saturday when the WDFW hosts an online forum that's been billed as Waterbirds of Washington.
The live event will begin at 10 a.m., with WDFW staff orchestrating the talk in order to educate the public on the nitty gritty details that make up the lives of waterfowl in the Evergreen state.
"As part of the Pacific Flyway, we are incredibly well located for those who want to enjoy the migration of waterfowl coming through the state," Kyle Spragens, WDFW waterfowl section manager, said in a press release. "At this event we're going to virtually take participants to three different sites to show people how they can experience waterbirds and waterfowl, plus the wetland habitat conservation partnerships that help make it possible."
In addition to WDFW staff, the Zoom conference will include representatives from the Audubon Society, Ducks Unlimited, and the U.S Fish and Wildlife Service. Topics will include:
— Participants will hear about bird watching tips, species diversity, and more from an expert birding guide from Olympic Peninsula Audubon Society in Sequim.
— At McNary National Wildlife Refuge presenters from the refuge and WDFW will discuss the national wildlife refuge system, conservation work to provide habitat for waterbirds, snow geese, and other wildlife.
— Partners from Ducks Unlimited and U.S. Fish and Wildlife Service will discuss the critical contributions of hunters to conservation of waterbirds, partnerships at Turnbull National Wildlife Refuge, and the inspiring stories of spring bird migrations in eastern Washington.
Public participation, including a question and answer opportunity, will be opened up as time allows. Pre-registration for the event is not required. Live access to the conference can be obtained online at zoom.us/j/95133923218. Afterward, a recording of the event will be available at www.youtube.com/thewdfw.
SNOWIN'
After several weeks of strong snow in the mountains avalanche danger continues to be high in the Cascade range. As a result, operators at White Pass Ski Area are discouraging the public from making any ventures into the backcountry.
On the manicured and patrolled sections of the slopes on Thursday morning temperatures were recorded at around 21 degrees. On the ground conditions included six new inches of snow over the previous 36 hours, with two inches of snow falling in the previous day. That snowfall brought the total snowpack at the summit up to 126 inches with 76 inches piled up near the base of the skiing area.
Unfortunately for the unwashed masses, daily lift tickets have already sold out for Saturday's runs at White Pass, which means only season ticket holders will be able to show up unannounced and still have a good time. However, the Nordic skiing area is open Thursday through Sunday each week, plus holidays, while the tubing area is open Wednesdays and Fridays at 11:30 a.m., and Saturdays and Sundays at 9:30 a.m.
On Thursday afternoon, Mt. Hood Meadows was enjoying temperatures just below 30 degrees with one new inch of snow to note over the previous 12 hours. However, the previous two days saw 13 inches of fresh snow pile up at the ski area. That snowfall brought the snowpack up to 172 inches halfway up the slopes and 132 inches around the base.
"Deep snow makes for great fun, and also has the potential to create great danger—so take the time to practice deep snow safety and stay close to your buddy today," read a conditions report on the Mt. Hood Meadows website. "Avalanche danger is real: respect closures and bring your safety gear (beacon, shovel, probe, and partner) so you can have an awesome and safe day shredding freshies on the slopes."